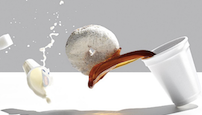 Providing great service in a restaurant isn't just about ensuring customers receive their meal on time or smiling as you take their order. It's also about the little actions you take throughout their time in your venue.
Everyone has had a bad experience while dining out – whether the server was rude, the food wasn't quite right, or the atmosphere was a little off. As a server, it's your job to make sure that your customers have an amazing experience, from start to finish – and that's where good etiquette comes into play.
But, what exactly is etiquette, and what basic hospitality tips will help you provide customers with the best experience possible?