In 2018 the average Australian consumed 224 glasses of beer, while the Czech Republic held the title for the most beer drunk per capita for the 24th year in the row! It's pretty clear that the world likes beer, in fact it's the third most consumed beverage on the planet! So, when it comes to serving it, it's best not to let things go flat.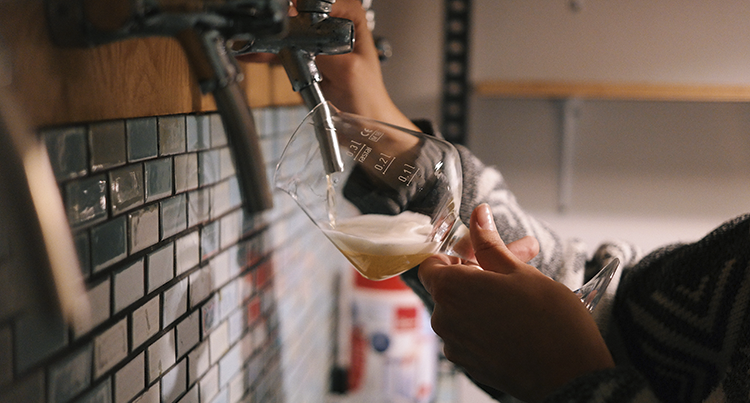 With the explosion of the craft beer market, and new breweries popping up every month, many venues have expanded their beer lists or added extra taps at the bar. While some customers are happy to stick to old favorites, a new cohort of customers are looking for more variety and tap lists that embrace new and seasonal brews.

Whether you work in a bar with a lengthy everchanging beer list, at a restaurant with seven or eight beers on offer, or at a venue that has a standard tap list with seasonal extras, it's important to learn how to sell beer like a pro. Selling and recommending beer is all about being armed with the right knowledge, and learning how to talk the talk.



Do the taste test
The easiest way to get to know a beer - which is important if it's permanently on tap at your venue - is, of course, to taste it. Get to know how it feels in the mouth, how it looks in a pint glass. And, remember that tasting isn't just about drinking the beer - there's a basic process you can follow to make sure that you are getting the full experience.

First, take a look at it. How would you describe the color? Maybe it's a bright, clear pilsner, or maybe it's a jet-black stout. Is it cloudy or clear? Is the head (the foam on top) fluffy and white, and the right ratio? Next, give it a gentle swirl. This may seem a little over the top, but it actually helps to release aromas, stimulate bubbles, and show you how well the head will hold.

Then, sniff! Smell and taste are, of course, closely related - so often what you smell will inform the taste of the beer. Can you detect any citrus notes? Is there a particular fruit you can identify, or perhaps a woody or dank smell? Whatever comes to your mind first is probably correct. Last step: it's time to take a sip. Hold it in your mouth for a minute: how does it feel? Swallow, and think about the flavors you're experiencing. How bitter is it? Is it sour? Can you taste the citrus you detected earlier? Tap into each of your senses to develop a profile of the beer.


---
Do your homework
So, maybe you don't like beer or you can't quite stomach it. Maybe you followed the steps above, but your final judgment was: this tastes like beer. Don't worry, you aren't alone! You don't have to be a beer connoisseur to sell and serve it like an expert. You just need to do a little bit of extra homework. Your venue may have tasting notes available for each beer that they sell, but if they aren't available - don't worry, Google is here to help.

Each beer has its own flavor profile, its own taste, and feel. Some are more subtle than others, and when it comes to mainstream beers, flavor profiles can be quite similar. But if you're going to be recommending beer to customers, it's important to have some basic knowledge and notes on each of your regular beers - or at least a select few, if your beer list is long.


---
Learn about your beer list
Whether you have six mainstream beers on tap or a long beer list of craft and mainstream beers on the menu, it's important that you're across your venue's offerings. Many venues have affiliations or deals with particular breweries or companies, which can make things easier when it comes to learning what is or isn't available.
Arm yourself with some recommendations: a few mainstream beers for those who aren't too interested in talking about tasting notes, any new or niche craft offerings that you can discuss with beer aficionados, and any other unique beers that are available. Figure out what's local to your area or city, and what exciting new brews you have brought in from overseas.


---
To take things to an even more advanced level, have a think about recommending beers as pairings with specific meals. You might want to suggest a lighter beer to go with a heavy meal like fish and chips, or a nice deep stout to go with a rich dessert, particularly in the winter months.
---

Don't miss out on our upcoming Draft Beer Operations course led by Lev Katsouba where you can learn how to maintain a draft system so you and your staff can pour the perfect pint everytime!
Sign up today and get the first 10 day's FREE!
---
You might also like: