Like many others in the industry at the moment, you may be looking for ways to boost business as you reopen and recover from coronavirus. Typsy Blog has posted before about logistical ways you can make your venue a covid-resistant space, but that's only going to be one piece of the puzzle (albeit an essential one).
In today's post, Greg Provance writes about the importance of making a great first impression on guests, new and returning, and the fool-proof ways you can make sure you're always putting your best foot forward.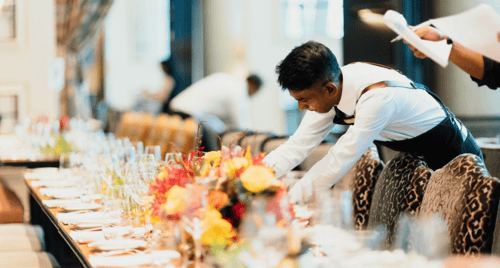 While having an amazing space, great product and stellar service are imperative to the success of any business, making a meaningful first impression often requires a bit more. To make a real impact, it is important to consider how we execute in a some key ways.
---
Mind the media
Let's face it: there are tons of dining options out there. So how do we decide where to go? Would-be customers will search online, find reviews, and ask their friends.
Often the very first impression we leave on our guests in today's world happens well before they even step foot in our restaurant for the first time. Little to no social media engagement may lower the motivation for some guests to want more of what you offer.
Similarly, a restaurant with less than four stars on Yelp might find itself eliminated from a list of options for that evening's festivities - but especially if negative reviews are left unanswered. Engaging with social media - and responding to negative reviews the right way - can set you up to make a much better impression.
This is why it is more important than ever that we pay attention to how we engage our guests through our social media platforms, review sites, and even our own website. By creating value in these arenas, we can greatly improve our chances of introducing our amazing food, ambiance, and service to customers in person.
Here are a few quick tips:
Take charge of Yelp and other review sites. Respond to any negative reviews and invite guests back. Encourage great reviews by incentivizing your staff and asking great guests to leave positive feedback.
Post on social media regularly. Share recipes, staff bios and photos of tasty cocktails.
Keep your website up to date and relevant to your brand. Posting to your blog regularly can lead to better ranking and engagement while adding value to would-be guests. Keep menus current and make sure your site is mobile friendly.
---
New to the business of social media, or looking for some creative ideas? Check out 6 of the best social media ideas for restaurants.
---
Set the stage
The appearance of the restaurant and staff is a key factor in how our guests will perceive their experience. Being a former professional entertainer, I would often refer to my restaurant as the stage, the front of house staff as the actors and the heart of the house as set directors.
Each of us has a role to play in the guest experience, and it is mainly our job to ensure every detail is set, well presented and ready to receive guests. Once the curtain goes up, we are on and the success of the show largely depends on how well we set the stage prior.
Consider the following:
Maintain a super clean environment, from the restrooms to the walk-in. The mark of a well-run restaurant can be measured in part by how clean the establishment is on a daily basis. Keep corners dust-free and counters, flatware and glasses sparkling. This is especially important as your region transitions out of coronavirus lockdown.
Check to be sure light bulbs are working, stations are well stocked and tables are set properly. These items can be easily overlooked by those working in the space every day, but guests will certainly notice even the tiniest of neglects.
Be sure staff uniforms are pressed and clean. Dirty uniforms and shabby staff appearance can be a real turnoff.
---
Roll out the red carpet
Have you ever walked into a restaurant and felt ignored by the bartender or a disinterested host? Have you ever felt like your server could not wait to get off of work and that you were more of an inconvenience than a welcome guest? These things can often happen when your staff get complacent.
Ken Dodd of M&M Hospitality recalls a great example of how to really connect with guests. "My favorite manager always made time to introduce herself to guests as they arrived. She would go out of her way to be sure everyone in the restaurant knew her name and that she was there for them if they ever needed her."
It's crucial that staff are effectively trained to consistently provide excellent service. There are a variety of ways to make sure your staff are getting the most they can out of training (something Typsy knows a lot about). What could rolling out the red carpet look like for you and your guests? These tips should get you started:
Smile through the phone. The experience begins before the guest ever steps foot in the restaurant and the phone is a huge opportunity to make a lasting impression. Be sure to ask permission before placing someone on hold, thank them for calling and provide an upbeat, super helpful demeanor when speaking on the phone.
Be ready to help. If you are looking for opportunities to help a guest at all times, you will find them. Resist the urge to get comfortable in the space and to tune guests out.
Host the party! Being actively engaged in the flow and getting to know people during service is oddly rare in the restaurant industry, but is arguably the most important way to make a huge impression. Mix it up and treat your guests like royalty!
---
Invite them back
Sometimes making a lasting first impression means creating the opportunity for the next one. One of my favorite servers of all time never missed an opportunity to invite her guests back. She would hand them her business card and ask them to request her personally when they dined. She quickly became our most requested server and was known for her amazing first impressions, which often led to five-star reviews and letters to management about her stellar service.
Here are some great ways to invite the guest back and solidify a lasting impression:
Thank them for coming. Showing appreciation for our guests can go a long way and it lets them know we care about them. Everyone from the manager to the host should regularly thank guests for coming in.
Give them a business card. The example above is a great indication of how empowering your team with a way for them to build their own clientele within the business can pay off long term.
Provide a bounce back promotion. I know one restaurant that gives away $10 off coupons as gifts at every special event and to new guests of the restaurant as a way to entice them to return again. These can also be tracked to measure how effective it might be.

The bottom line: By focusing some effort on making great, impactful first impressions, we can not only wow our first-time guests, but build lasting relationships, which ultimately become the basis for our growth and culture, making us far more competitive in the long run.
---
| | |
| --- | --- |
| | Greg Provance is the owner of GP Hospitality Partners LLC, a full service restaurant and hospitality consulting firm. For the past 7 years, he filled the role of General Manager for Vintana, a crown jewel in the esteemed Cohn Restaurant Group family of restaurants. He is also a consulting partner for Everbowl, Southern California's fastest growing fast casual chain. |
---
Have a question? We're always ready to talk.
You might also like: