Hotels often have more than just a comfy bed to offer to guests. From spa treatments to room services, your hotel can often provide your guests with extras that can take their stay to the next level. But, if your guests aren't aware of them, they aren't going to take advantage of them.
A great place to start informing guests of your hotel extras is as soon as they check-in. Your front-desk staff not only have the opportunity to encourage and discuss the latest specials but also, promote any other events or activities that are happening in or around your hotel. This technique is called upselling.
In this blog post, we share with you 10 upselling tips that will entice your guests to upgrade and take full advantage of your amenities.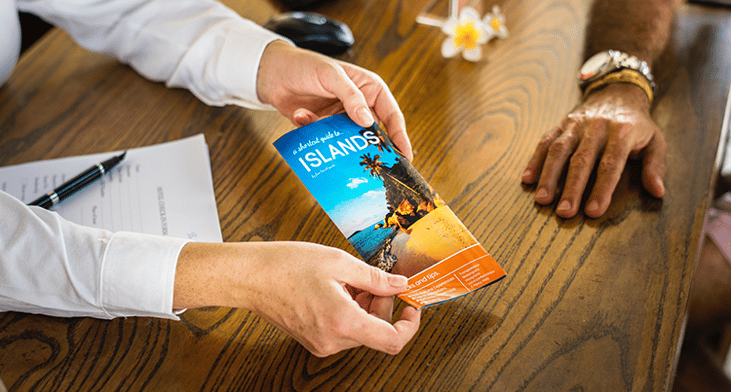 1. Understand your guests
Understand your guests by carefully reviewing profiles and developing buyer personas. These are highly detailed representations of your target audience, including demographics, location, income, challenges, and goals. When you understand your audience - in this case, a hotel guest - you can cater to their wants and needs and promote personalized features that you know will lead to a better reception from the guest.
---
2. Reconfirm their choice
One way to instantly turn a guest away from an upsell is by disparaging their current arrangements. Instead, reassure guests they've made an excellent selection and have a room they'll love. Avoid making pre-booked accommodations sound undesirable, with statements like, "The room you booked doesn't have…" or "You've only booked the standard room." Instead, assure them the room will be to their liking. Then, ask if they're aware or interested in upgrades.
---
3. Quote incremental rates
During the check-in process, don't say, "You can upgrade to the deluxe room for $200 per night." Instead, use the incremental quotation technique. Say, "For just $30 more…" Be specific about the added value guests will receive for the small increase in price. For example, the deluxe room may feature a whirlpool hot tub and fireplace, while the standard room only has a shower. The emphasis on value over cost will persuade many guests to upgrade.
---
4. Ask good questions
Many travelers - 39% of the U.S. digital booking market - choose to book through third-party booking websites like Expedia or Tripadvisor. Those who book through third-party sites don't always know what your hotel has to offer. Ask guests about any special requests they may have upon check-in. If traveling with children, will they need a babysitter? If looking to relax, are they interested in any spa treatments? Use this opportunity to pinpoint a guest's needs and offer a higher room category as a solution.
---
Unbeatable service starts with happy, confident staff.
A fully realised, optimized hospitality venue goes hand in hand with skilled, well-trained staff. Typsy can help.
Typsy's 1000+ hospitality lessons are practical, effective, and fun! You and your staff can develop a more well-rounded understanding of what it takes to deliver an incredible hospitality experience to every customer, every day.

---
5. Use rate framing
How you word an upsell opportunity can mean the difference between a "yes" and a "no". Always emphasize what something would typically cost first, then follow up with the special offer currently available. The reduction in price will entice guests to splurge for the added amenities. For example, front-desk staff could say, "The deluxe room normally runs $100. However, on your dates, I can offer you a rate of $85".
---
6. Offer pre-arrival services
Give guests a taste of your hotel before they check in with pre-arrival services. The front office team help select room amenities, book excursions, schedule spa services, and much more all before the guest arrives. When guests are aware of what's available, they are more likely to make upgrades. With pre-arrival services, hotels can communicate with guests weeks ahead of their check-in date.
---
7. Create a sense of urgency
When a guest is checking in, don't forget to mention the current upgrades. Create a sense of urgency by saying something like, "Currently, we only have one deluxe room left." Website booking has an advantage, as it can show other travelers looking at the same rooms. One study has revealed people perceive items and opportunities to be more valuable when they are less available. If there are fewer deluxe rooms available, guests are more likely to upgrade.
---
8. Know your hotel
Learn everything there is to know about your hotel and its features. Front-desk staff should be able to talk knowledgeably about offers, rooms, and benefits, as well as answer any guest questions. Focus on the value of the upgrade and only mention the price difference once you've gone through the additional features. The best way to encourage an upsell opportunity is to offer multiple options, giving guests maximum flexibility.
---
9. Sell an experience
Guests want unique experiences and many are turning to alternative accommodation sites like Airbnb. Hotels are attempting to compete by offering once-in-a-lifetime experiences. At the Gramercy Hotel in Manhattan, guests can join a workshop with Ralph Lee Hopkins, a National Geographic photographer. Hilton Worldwide also introduced "Behind the Wheel" program, allowing car lovers to drive a Lamborghini whilst staying at their hotel.
---
10. Create bundle packages
No guest can resist a good deal and bundle packages present an opportunity to save. A package deal typically includes specific room types, amenities, services, and activities. A couple's package is perfect for any duo, whether dating or just married. You might include accommodations in the honeymoon suite, a complimentary bottle of champagne, a wine-tasting tour or a couple's massage.
---
Keep in mind that upselling is an opportunity for both the hotel and the guest. While the guest is splurging, they are also getting more value out of their stay. The key is to determine what value they seek and offer the right types of upgrades. Identify what a guest needs and make it readily available.
---
| | |
| --- | --- |
| | Kacey Bradley is the blogger behind The Drifter Collective, an eclectic lifestyle blog that expresses various forms of style through the influence of culture and the world around us. Along with writing for her blog, she has written for sites like U.S. News, Hotel Online, SevenRooms, Point 2 Home and more! Follow Kacey on Twitter and subscribe to her blog to keep up with her travels and inspiring posts! |
---

You might also like: