Everyone is looking to the internet as a resource for entertainment and advice - so make sure you're there when they go searching.
In today's post, guest blogger Kristin Savage highlights 6 ways to make the most out of your social media accounts (with real-life examples for inspiration).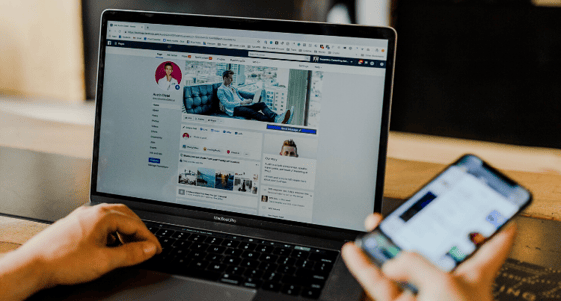 Single or smaller chain restaurants will need to start cultivating a strong marketing platform now so that they can stay current and on everyone's mind.
One of the best marketing strategies is a restaurant's use of social media to welcome customers back, market great dining-in experiences, and even to offer lots of special pricing and appealing visuals of its amazing fares.
A lot of restaurants have been doing just this on social media for quite a while now, and it may be time to take some lessons from them.
Here are six great examples of how restaurants have been using social media to promote their brands.
Social responsibility - from big business to small
The most successful restaurant social media presence posts and shares up to several times a day on a myriad of topics.
One of the most recent themes (other than COVID-19, which admittedly has become pretty ubiquitous) has been attempting to appeal more to millennials. Not sure if this is a demographic you want to target? Think again. Because of their cohort size, disproportionate presence on the internet, and global influence, millennials are not a group to be overlooked.
If studies show us anything about millennial cultural and business patterns, it's that they collectively hold a much more pronounced interest in social responsibility than the generations before them. Millennials are shown to actively support corporate social responsibility, and reject those that operate unethically.
McDonalds might be the last place you'd think to look to for social media inspiration, but its branding has actually shifted significantly in keeping with this trend towards social responsibility. Starting with its "Ronald McDonald's" houses for families with hospitalized children, this chain has moved into many other areas, including environmental sustainability. Here is a post that informs followers about coffee production: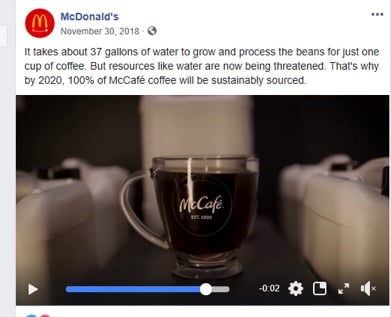 Even as a small restaurateur, what social responsibility efforts can you point to?
EAT (Everyone at the Table) is a Philly restaurant that opened its doors in 2016. It allows customers to pay whatever they can afford for a good meal. It has partnered with lots of organizations that donate food and supplies. It also offers free lunches to need kids during summer months. Its solid following on Instagram is a testament to the great work it does: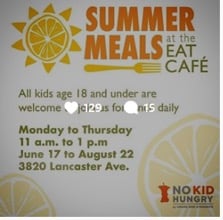 ---


---
2. Focus on holidays or create your own
There are so many offbeat holidays now, you can use or even create one. It can be a "National Take Your Mother-in-Law Out to Eat Day," if you have customers who enjoy your quirky sense of humor, or something that relates to your specific menu.
Wing Stop recently had a "National Beer Day" and posted this on Facebook: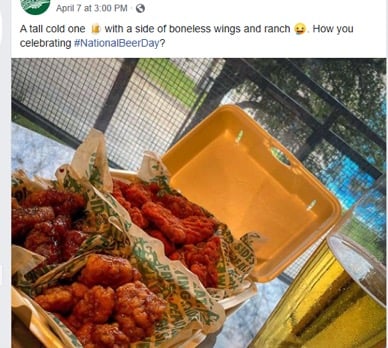 Get creative with your own "holidays". If you are a small local restaurateur, create a holiday that resonates with your local customers.
3. Go behind the scenes for storytelling that resonates
What goes on in your kitchen? And who are the people who actually make your great food happen? Consumers love to see and get a "feel" for your restaurant, either through great photos or videos.
The New York City restaurant Bon Appetit provides a great YouTube story of a Nana Wilmot, a line cook, as she works in the kitchen. In the course of the video, the entire behind-the-scenes operation is also shown. YouTube has an entire series on how signature dishes are created too. Take a look and see what else you might do.
And your video doesn't have to just be posted on YouTube. You can publish videos on all of your platforms - including Typsy.
4. Show you care by responding to customer feedback
There is no point in trying to shut out customer complaints from your social media pages. What matters to customers is how you handle those issues. Social media is a public forum, so your great responses will show that you care.
If you use social mention software (and if you don't, you absolutely should) then you will be notified whenever there is a comment that mentions your restaurant. Access that comment and respond quickly.
Here is the comment section from a recent Facebook post by Dominic's Restaurant. Customers are able to engage transparently about the quarantine situation, as well as ask questions. Dominic's replied promptly with a solution to the customer's query, leaving everybody happy. Problem solved!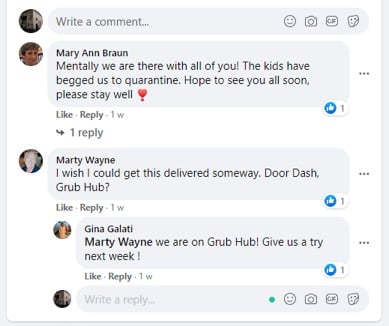 Jim Jackson, a social media marketer for two online writing services, Studyker, and WriteScout, puts it this way: "I don't care what business you are in. If you put yourself out there on the web, then be prepared for customer feedback, good and bad. Ignoring that feedback will ruin your reputation. Get good social monitoring software and make it a daily priority to respond to every comment you get."
---
Not sure how to deal with a negative comment?
Check out the blog post from Typsy: How to respond to negative reviews
---
5.
Show off your signature dishes
Amazing photos always resonate with an audience. And for restaurants, this is a no-brainer. When you can produce a mouth-watering photo, you have potential customers "in your hands" and ready to order.
Ruth Chris Steakhouse has over 47 thousand followers on Instagram, despite the fact that it has only one geographic location – St. Louis, MO. Here is an example of just one of its signature dishes featured on its Instagram account: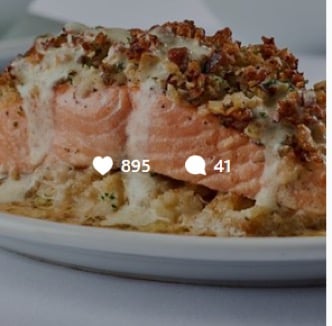 Another great idea that ties into #4 on this list - going behind the scenes - might be to film your chef making and/or explaining one of your dishes. You might create a short video lesson for your followers to help them feel like part of the magic.
Creating video content is also a great way to raise your restaurant's profile, reach new audiences, and engage with the wider community.
6. Use your social media accounts to establish long-term relationships
When both dedicated followers and casual visitors land on your social media pages, how do you foster longer-term relationships with them? It's fine to have them like and share one of your posts, but you want to find ways to keep in touch beyond this.
You can promote an email newsletter or SMS messaging notifications through food promotions, encouraging visitors to sign up. Now you have used social media for far more than just posting and responding. In the long run, this can really pay off, helping customers remember and revisit your venue again and again.
Steak 'n Shake, for example, does this frequently on Instagram: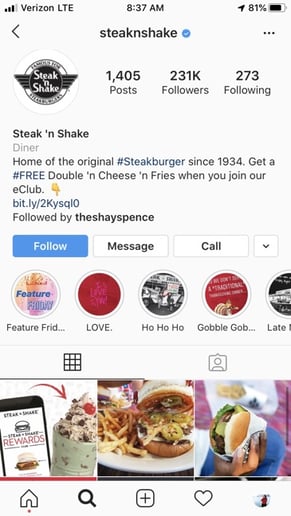 Judy Clark, a social media marketer for Subjecto, has found this to be very effective. "We have social media accounts on all the major platforms that are most popular with our audience. We post several times a day. But we never leave a post without a call to action for visitors and followers to sign up for our newsletter and our notifications. And with each CTA, we provide a reason to do this – discounts, freebies, and such. It really works."
Are there more ways to engage with social media? Of course!
Consider trending topics, for example. COVID-19 is getting a lot of coverage, obviously, but there are countless other relevant topics to cover. Think about your key audience, and what's most important to them at this moment.
You can also use social media messaging to highlight your health and safety precautions and your drive up and delivery options, helping customers to feel confident in your standards and practices. Social media also offers an opportunity to engage your followers with questions, surveys, and contests. Test these ideas out and see what type of response you get. You'll soon learn what really works.
---
| | |
| --- | --- |
| | Kristin Savage is a writer who works for writing services websites such as McEssay and GrabMyEssay. She's also a foodie who opened her own small restaurant in Austin, Texas in 2018. When she's not writing or cooking, she and her fiancé love going to see live music and concerts. |
---
Have a question about online hospitality training for a team? We're always ready to talk.