After a long period of take-away only mandates on food service venues, the COVID-19 curve is finally flattening and the hospitality engine is starting up again. But that doesn't mean we're quite out of the woods yet – restaurants, cafes, bars, pubs, and hotels will likely still need to adhere to certain regulations and requirements for some time.
It might sound like a daunting prospect to make sure your reopen is COVID-compliant – but never fear. This handy guide will walk you through what you can expect for reopening restrictions, no matter where you are in the world.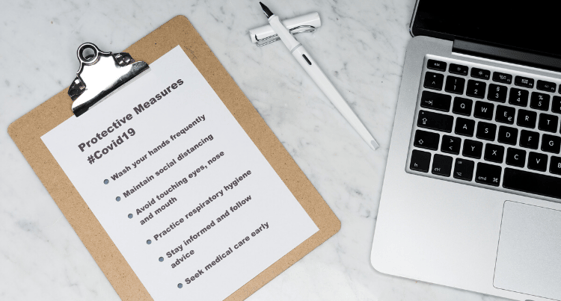 Although it's still fairly early days, a number of governments around the world have begun lifting restrictions for cafes, restaurants, bars and pubs. After such a turbulent time, many hospitality staffers are raring to go – we're all hoping life returns to normal as quickly as possible.
That said, the unfortunate fact is it may be a while before customers happily crowd around a table or book a 50-person function. Our first priority must be keeping guests, and each other, safe as we all work together to figure out the new normal. This means that although reopening for dine-in service may be on the horizon, there will undoubtedly continue to be restrictions in place – even, depending on your location, government-mandated staff training and COVID-19 certifications.
The exact legalities will depend, of course, on your location – but wherever you are in the world, restrictions are likely to be relatively similar, and will fall under five main categories: service, operations, personal hygiene, food safety, and staff training.
To help ensure you're prepared to get down to business, wherever you may be, here's Typsy's round-up of the most likely issues and requirements you'll be facing once you're legally able to resume normal operations.
Service
This is the big one – the most noticeable for customers, and likely requiring the most mindfulness from your staff. The way food service is run will see significant changes in a number of areas.
For one, as we mentioned above, large groups will continue to be a no-go as forms of social distancing measures remain in place. This also puts the kybosh on large functions – birthdays, weddings, business events, and so on. Continued social distancing may also require staff (particularly wait staff) to stand a certain distance from guests, and patrons being seated an appropriate distance from each other.
Table set up may look quite different as well. The need for strict hygiene standards may result in a need for table amenities that can easily be sanitized or replaced – for example, disposable or laminated table menus, or doing away with individual menus altogether for the time being in favor of large chalkboard menus.
Similarly, containers which are difficult to sanitize – such as condiments, sugar, salt, and pepper – may need to be made entirely disposable. The concept of hands-in 'family style' dining may be off the table (or so to speak) for a while yet.
---
Operations
The way hospitality venues operate will probably face increased scrutiny as well – both from governing bodies and patrons. As touched on above, occupancy limitations may be in place for a while – and may be quite specific.
In Australia, for example, Australian Restaurant and Catering is recommending a 50% occupancy limit, with 1.5m2 spacing between tables. Be aware that accommodating these types of requirements may involve rearranging your dining room or your waiting area.
Payment options may also be subject to mandates. Cash use might continue to be discouraged – this may result in contactless payment transaction limits being raised.
This leads us to an important point: ensure you're staying aware not only of restrictions and limitations, but of potential areas of benefit to your guests. Patrons may feel uneasy or frustrated by some of these operational changes – it will be incredibly useful to have solutions and benefits to these frustrations on hand and ready to go, should the need arise.
Personal hygiene and food safety
This one we're all anticipating – and largely involves nothing more complicated than following regular Health and Safety compliance measures. These are steps all hospitality employees should be taking anyway, regardless of coronavirus.
Thanks to government PSAs the world over, we're all acutely aware of how to effectively wash our hands – staff should be doing this before and after handling food, touching your face, blowing your nose, and so on.
Food and dinnerware should also be handled with particular caution: disposable gloves may be required at all times, especially when handling food directly. Similarly, service staff should be careful to hold glasses, cups, plates, and cutlery by their handles only – no bare fingers on any surfaces that might end up in a guest's mouth.
Your government may also require reusable dinnerware to be washed with a commercial dishwasher – machines that clean at 80 degrees Celsius or higher. This is something to keep an eye on: if your venue does not currently have a commercial dishwasher in place, you may need to consider switching to disposable options.
---


---
Staff training
Finally, effective training is going to prove absolutely essential to getting your dine-in food service up and running. In many regions, mandatory training and COVID certification is being considered for hospitality businesses looking to reopen. Venues may also be required to display proof of this certification, in the same vein as health inspection ratings. Openly displaying your compliance will not only help you breeze through inspections, but will help put customers at ease.
Above and beyond mandatory training, however, this is an excellent opportunity to revisit training with your staff to ensure their knowledge and compliance is at a high standard. Work closely with your staff to make sure they work to your venue's standards, and also that their concerns are addressed in a secure and effective way.
---
Did you know that Typsy has a variety of courses on coronavirus and best-practice health and safety for hospitality?
---
Above all, be aware that it may take time for your venue to become fully COVID-compliant. Measures such as laminating menus, standing up or hiring new staff, and reorganizing seating may benefit from a fully developed plan (as much as is possible) for how to implement time-consuming operational changes.
The hospitality industry may need a while to return to 'business as usual', but being cognizant of how your venue can stay legally, medically and ethically compliant will help ensure you and staff stay steady on the road to recovery.
---
Have a question about learning online? We're always ready to talk.
You might also like: