Did you know there's a newer, post-covid version of this post? Find it here.
It doesn't matter if you're developing your very first restaurant menu or you're planning to re-invent your current one – you need to have a strategy in place with both the food and beverages on offer.
If you've done a concept development plan, you're already on the right path. Your restaurant menu is there to give meaning to the overall guest experience while also delivering emotions and brand personality. These are the fundamentals of a restaurant's concept.
To develop a memorable food and beverage menu, however, you must have a thorough understanding of your target customers. You should also undertake an advanced hyper-local analysis (competitive analysis) and aim to understand your local economic factors.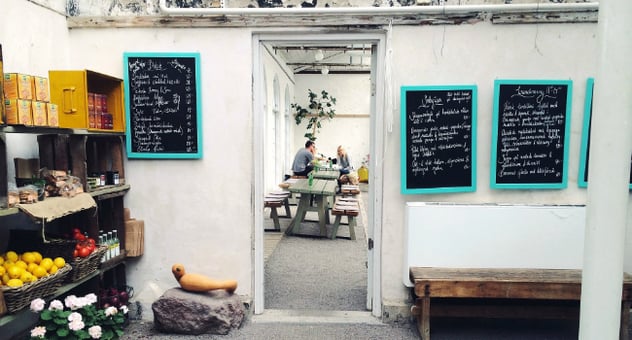 If you're just starting out, developing a menu concept will assist both you and your architect in designing a kitchen and bar layout that is going to deliver effective productivity, storage, and preparation.
Here are a few tips to help you get started!

---
Interested in how software can help you kick your restaurant into gear? Check out the 2021 Restaurant Software Guide from Storekit.
---
1. Develop your menu concept

First and foremost, you should ask yourself what you want your restaurant to be known for. The best 'what' in your area? From here, you can begin to develop a flavor profile with supporting elements such as colors and textures that will deliver that promise.
The goal is to keep it simple and memorable. Try to keep your menu under 32 items for optimal productivity, and to minimize confusion and anxiety among your guests. Remember, guests prefer to make a decision within 120 seconds.
Take this time to list out your desired menu and if it's too large, begin to narrow it down.


---
2. Develop a list of core ingredients

Developing a menu and/or new and specific dishes and drinks can take a lot of trial and error. It's important to understand your concept and target market while working with flavors that will make customers go 'wow'!
Put together a list of the core ingredients that will deliver that wow factor within your desired menu. You'll also want to consider how you can repurpose raw ingredients as much as possible to reduce food costs and waste.
When considering ingredients, try using as much product from around you as possible – for example, produce that is in season, food artisans from your area, or meats from a local farm/butcher. Take this time to list out all the main ingredients you will require.


---
3. Investigate your supply chain

Now that you know your concept and its core ingredients, where can you find them?
You want to reduce your risk (and often costs) by eliminating as many third parties as possible within the supply chain. When planning your menu(s), list out a limited number of targeted suppliers, including data on their company history, any past product recalls, their storage facilities, delivery logistics, and ethical working environment. Build a list of two to three local butchers, seafood suppliers, craft breweries, local wineries, and produce suppliers (etc.) needed for your concept.


---
4. Cost out your menu items

Using a recipe management program or simply inputting available data into a spreadsheet will allow you to begin analyzing your menu concept, its portions, and each associated item with its core list of ingredients.
Based on the concept, noted ingredients, and each supplier's cost, can the menu items be priced accordingly for your target customers and local economy? Is there enough room for profit based on your location's needs? Is there enough balance in the pricing? What is the goal for average revenue per customer?
This is where having a business plan in place will assist in understanding appropriate key performance indicators (KPIs) required to be a successful restaurant.


---
5. Visualize your plating and glassware

Now that you have the concept and initial costs figured out, you can move along to the next step. Many aspiring restaurateurs forget about this one. It's time to consider how your guests will eat and drink your menu offerings.
How will it look on the plate or in the glass? How will the colors contrast with one another? Is the dish or drink Instagram-worthy? Which elements should go on a fork or spoon together? If it's available for take-out, how will the menu item perform after being in a container for 10+ minutes on the drive home?
It's ideal to plate it three different ways, test it, take photos, and also test its longevity if it is going to be available for take-out. Again, trial and error makes perfect.


---
6. Run a test kitchen

This is arguably the most exciting aspect – testing the flavors! Do the menu items meet and exceed your expectations? Give each item a few different tweaks and decide which is best. Get others involved in the process and don't be afraid to use a soft opening to gather further feedback. You may want to take photos and put them on social media to see which ones gather the most engagement from a visual standpoint.
At the end of the day, the key to a profitable and memorable menu is to keep it small and focused with items that you want to be known for – while differentiating your concept from local competition and offering a balance in pricing. This is the recipe for success!
---
| | |
| --- | --- |
| | As the Founder & President of KRG Hospitality Inc. in addition to being the author of the book 'Bar Hacks', Doug Radkey's impressive career spans more than two decades and includes all aspects of food, beverage, and hospitality development. This storied brand has proven success since 2009, throughout a variety of markets found within Canada, The United States, and abroad by being a creative agency with a focus on planning, development, and support for independent restaurants, bars, hotels, and other hospitality related properties. |
---
You might also like