If you're dabbling with the idea of turning your cooking professional, have already started on your journey, or want an idea of the qualifications and skills required to make it in the top-level kitchen, this is the guide for you.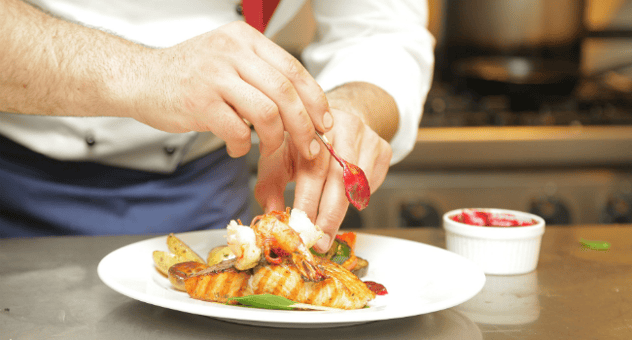 First thing's first: this is not a guide on how to quickly climb up the ranks to become an Executive Chef. Getting to the top isn't going to be a walk in the park, and in the chef world there is a fairly strict ladder to climb before you are in charge.


---
What is an Executive Chef?

The name and position description differs slightly from country to country, and even venue to venue.
Sometimes they are referred to as the Head Chef, or Chef Manager. In most circumstances, the Executive Chef is the head honcho in a restaurant, bar or hotel kitchen. There is usually only one per restaurant (or sometimes, across a couple of venues).


---
What are the key duties and responsibilities of an Executive Chef?

The short answer is: everything! Executive Chefs are hired to look after everything in the kitchen, and ensure the back of the house is running smoothly.
Here's a breakdown of their main duties:
Devising menus
Ordering ingredients and equipment
Tracking kitchen expenses
Hiring, training and managing kitchen staff
Ensuring food is going out on time
Being the face of the kitchen
The only area that Executive Chefs aren't too involved in (depending on the kitchen size and venue style) is the general preparation of the food.


---
Do you need a qualification to become an Executive Chef?

Not necessarily! However, many Executive Chefs have had some sort of training; whether it's at a specialist culinary school, a higher education institution, an apprenticeship, or under the guidance of another chef or mentor. Some venues, particularly those of a higher calibre, will likely require some sort of certificate or qualification.
One of the key traits of an Executive Chef is not just a passion for food, but the ability to be creative and innovative. Other important personality traits that you will likely need to get to the status of Executive Chef include:
An incredibly strong work ethic
Flexibility when it comes to working hours and shifts
The ability to work well under (sometimes extreme!) pressure
Great communication skills
The ability to manage a team responsibly and fairly
A knack for multi-tasking where needed
A head for numbers and formulating plans



Learn how to manage a team in the kitchen in our Leadership for Executive Chefs online course at typsy.com.
---
What does the ladder look like?

We keep mentioning the elusive ladder that you will need to make your way up to hit the level of Executive Chef. So, what do the steps look like? Again, this can differ between countries, venues, and circumstances. But usually, it looks a little something like this:
Commis chef: After you've done your apprenticeship or a bit of work experience, commis chef is likely where you will land first. A commis chef is in charge of the groundwork: chopping and preparing, cleaning and looking after equipment, learning from the chefs above you. In some areas and venues, apprentices start out as commis chefs.
Chef de Partie: This position is also often known as the line chef. The chef de partie is usually in charge of one section of the kitchen, or one type of food. For example, they may specialize in pastry, only cook the seafood or meat, or be in charge of cold items. This is often the time when chefs decide whether they would like to specialize in a specific area and focus their work and studies there.
Sous Chef: The sous chef is essentially the second in charge. They are an assistant to the Executive Chef, and not only assist with cooking and preparation, but also scheduling and planning, managing staff, overseeing orders, and working on menu creation.
And then, the Executive Chef! It's important to remember that each kitchen and venue will run differently, and the divvying up of tasks is often down to the preferences of the Executive Chef.


---
How much does an Executive Chef earn?

An Executive Chef's salary is dependant on a number of things, including experience and place of work. In the US an Executive Chef generally earns between $53,000 and $76,000 a year, though those who work in five-star restaurants in well known locations can earn more than $120,000 a year.

Here's what you can expect to earn in other countries:
Australia: average wage AUD $78,104
UK: average wage £39,523
Canada: average wage CAD $56,298
Singapore:

average wage S$86,000
India: average wage INR 964,614
United Arab Emirates: AED 12,860 per month


---

So, there you have it: your quick go-to guide on working your way up to Executive Chef level.
Just remember that it's a journey, and you won't make it to the top within the first few years. It's a highly sought after job, with lots of paths to go down and test out before you get there – so enjoy the ride.


---
You might also like