If you're a hospitality manager, you might be thinking about - or are already in the process of - restarting and reopening your venue to "normal" operations. 2020 has been a bit of a wild ride so far, so you could be forgiven for feeling a little anxious.
That's where Typsy's online course, 'COVID-19 business restart for managers' comes in. We're taking the guesswork out of reopening to give you a strategic, confident path to coming back stronger than ever.
When I restart my business after COVID, I want to do more than survive - I want to thrive. Where do I begin?
This is the challenging question currently facing hospitality business managers across the world. Our business operations, understanding of the industry, and ability to anticipate consumer behavior has been turned on its head in the last few months. How do we recover, and how can we choose the right step forward?
This period of change certainly represents a challenge, but it's a challenge we're ready to overcome. We demonstrated this to ourselves, and our customers, as we continuously pivoted and innovated to adapt to the COVID world.
Now, as we move into the next stage of this pandemic, it's important for the industry to look at what it really takes to restart and operate safely to prevent a resurgence of the virus.
In this course, Michael Bascetta, the co-founder of Worksmith and co-owner and operator of Bar Liberty, Capitano, and Falco Bakery, will share with you practical strategies to consider when restarting your business. You'll explore best-practice strategies for post-COVID-19, including how to engage guests and staff, how to rebuild workplace culture, and more.
This course is designed for hospitality business owners and managers who are restarting after a COVID-19 shutdown.
---
What you will learn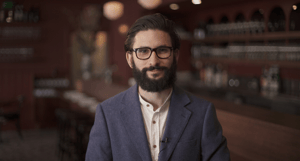 This course covers many of the concerns and issues you might be looking to address as you restart your business post-COVID-19:

Why it is helpful to evaluate your health and wellbeing in preparation for reopening your business

How to re-evaluate yourself and step back into the business owner and leadership role

Why it is time to switch from survival to a growth mindset post-COVID-19

How to identify what to consider including in your restart strategy

If your brand promise fits into the post-COVID-19 world

What was working to generate revenue pre-COVID-19 and what will be useful post-COVID-19

How to maintain operational practices following virus reducing techniques for cleaning and sanitizing personal hygiene, and employee monitoring

Your short-term cash position and how this impacts reopening

How to identify new revenue streams during COVID-19 survival or lockdown stage

What culture is and how it has been affected during this period

How to best engage with your online community
---
| | |
| --- | --- |
| | Michael Bascetta is the co-owner and operator of three restaurants and co-founder of the hospitality community hub Worksmith. His industry experience, full of mentorships, collaborations, and learning, has led him to become a leader in Australian hospitality. |
---
Have a question? We're always ready to talk.