Upselling is a crucial part of working at a hotel on the front desk, but it can be challenging to do successfully, especially if you're new to front desk or sales.
In today's blog, Typsy chats with Front desk expert Alejandro Francino about the most effective ways to approach upselling and cross-selling when you work on front desk of a hotel, and how to ensure you make a positive impact on the guest experience.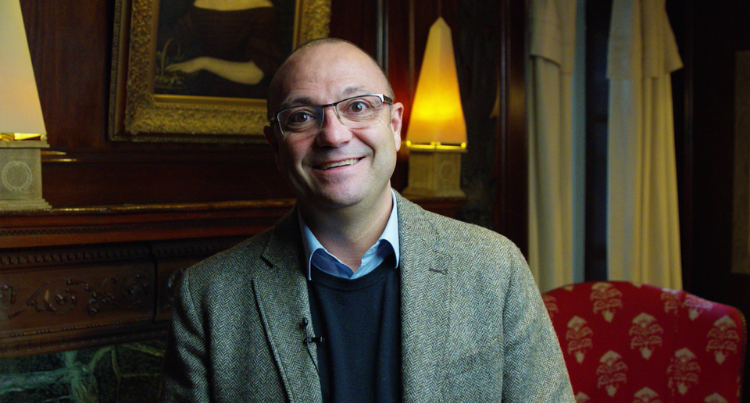 "You have the power to deliver a guest's wish. All you need to think about is how to make it happen!"
Alejandro's course on Front desk upselling is available now.
---
Can you tell us a bit about your company?

My business is called HBD Upselling Solutions. We're a consultancy company, specializing in upselling, cross-selling and ancillary revenue strategy for hotels and resorts.
More specifically, we implement upselling projects and techniques at front desks in hotels and resorts worldwide. We also do in-house training for Front Desk, Food & Beverage, and Spa and Wellness.
What is your background in hospitality?

I have more than 25 years' experience in hotels and resorts, working in different roles and having different responsibilities within hotel chains. My academic background includes: International Marketing in the USA, Masters in Hotel Management from Griffith University (Australia), International Marketing and Sales Growth from Cornell University (NYC). I am also an active member of the ISCH (International Society Hospitality Consultants).
Why do you think upselling is such a crucial aspect of front desk interaction?

To put it simply, it's to do with opportunity cost. In a hotel, the superior or more expensive rooms are usually those last reserved; naturally, your average guest will be looking to save money on their booking and overlook superior rooms during the reservation process. At the same time, depending on how the establishment is organized, up to 85-90% of a hotel's Gross Operating Profit will be based on room reservations.
It's a fact that many hotel rooms, particularly those with higher rates, go unreserved and remain empty on a typical day. So this can have a big impact on Gross Operating Profit. That's why upselling is so important!
In Typsy's course on Front desk upselling, Alejandro suggests you try calculating the difference in revenue between a standard room and a superior room over a year – this is an easy way to see how substantial the difference can be!
Successfully upselling a superior room not only generates more revenue from the higher room rate, but also frees up the standard room (which a new guest is more likely to book anyway) for reservation.
W

hat are some of the biggest mistakes you see people make when they're new to upselling?
This is such a good question! In my opinion, people struggle to upsell when they are pushing too hard for a sale. In other words, they focus more on company goals, or their own incentives, rather enhancing customer experience.
Upselling should be seamless. Ideally, a customer would feel like upselling suggestions come about organically because the suggestion genuinely benefits them. Guests respond best to upselling that's born out of great service, attention to detail, and care for the guest experience – not just to get them to spend more money.
To me, a great salesperson has a mix of many different attitudes and aptitudes – but the most important that come to mind are eagerness to learn and open-mindedness. Successful upselling requires you to combine confidence in what you know about the hotel and what you believe will make a positive impact for the guest.
Alejandro also believes in the importance of building good rapport with guests. As he says in the Typsy lesson Creating a positive impact, people tend to buy from people they like. Getting along well with guests is a good start.
There are a lot of different ways to encourage a positive relationship with guests: using their name; smiling and maintaining eye contact; making positive small talk; and using positive body language are just some of the things to pay attention to when interacting with customers.


Are there differences in how you'd approach front desk upselling at a large hotel versus a boutique venue?
In a boutique hotel, front desk staff have more time to interact with people during check-in. Sometimes, they carry out this process sitting in front of clients, or perhaps complete the check-in through a tablet while sitting in the lobby. On the other hand, the check-in process in large hotels is completely different, with less time available. Front desk staff need to keep this in mind when attempting to upsell.
We might also find a big difference in the hotel's inventory, meaning amount and ratio of superior rooms to standard rooms, depending on the hotel's size. This then also affects how the front desk manager approaches their responsibilities in a number of ways, from planning to upselling to housekeeping.
What advice do you have for someone new to front desk upselling?

Make sure your first priority is to focus on your customer's needs, not your own. Don't think of the interaction as a sale – instead, look at it as a helpful suggestion that can enhance the guest's experience.
Remember: we are not aware of our needs until they're not met or exceeded.
Looking for more in-depth advice and training on how to upsell effectively from the front desk? Alejandro's course features expert content, supported by downloadable resources, and offers a shareable certificate on completion. Front desk upselling is available now.
---
| | |
| --- | --- |
| | Alejandro Francino has been working in the hotel industry for more than 25 years. His experience has seen him work with major hotel brands before founding his own company, HBD Upselling Solutions, which specialises in upselling solutions and training for hotels and resorts worldwide. |
---
Have a question about hospitality education? Talk to us at typsy.com.