Wil Slickers is hospitality force to be reckoned with. With years of experience in hotel management, he hosts the popular hospitality podcast Slick Talk, and co-owns a company specializing in luxury vacation rentals. As if that weren't enough, this year he also founded the Destinationaire Award - a prize designed to recognize outstanding contributions and innovations in the hospitality industry (and based on a term he coined in an article for Typsy Blog!).
Wil sat down with Typsy to chat about all things hospitality, including destination tourism in the post-COVID future, cultivating a good hospitality team, and what guests really want.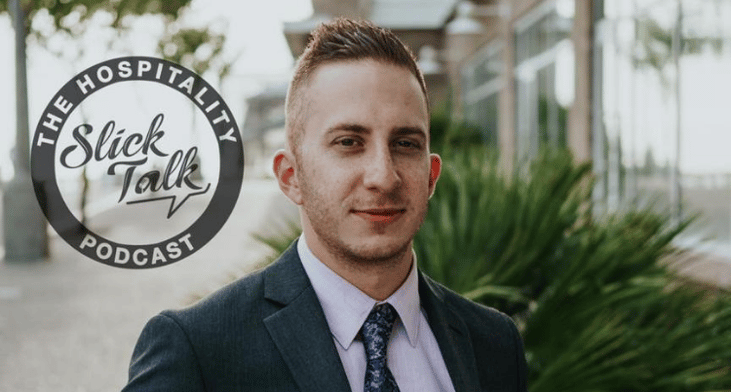 "Make your passion and your vision a reality – and then share it with your guests."
How did you get started in hospitality?

Really, most of my experience is on the spot. I fell into hospitality by accident – I needed a job, so one day I just walked into a nice hotel and asked if they had any positions available. But the longer I worked there, the more I was intrigued by what the bigwigs were doing – people who'd been in the industry for a while, working at that top level.
When I became a manager and then a rooms director, I realized I had a skill there. I could see patterns and figure out reports and follow my gut; and usually when I did it turned out pretty dang well, so it became a fun discovered passion.
---
What are your favorite aspects of the industry?
I'm a revenue geek. I love the mechanics of being competitive, but also doing the best we can to maximize property revenue in different ways – through proper training of staff, and then of course implementing strategies. And the more involved my team was in the revenue strategies, the better we did, so it's a fun way for us to bond.
And then there's the guest experience aspect. My favorite phrase lately has been 'exceeding expectations, creating destinations'. The more we focus on the guest experience from beginning to end – thinking about how they found us, where they've come from, and how that might impact how they perceive their stay – the more we're able to represent the uniqueness and beauty of a property.
"That's where I fall in love with the industry over and over again – because you get to show people what you love, and why you love it, and give them an opportunity to discover something they love as well. Beautiful stuff."
Love this quote? Tweet it!
---
Learning with Typsy is practical, effective, and fun! And best of all, you can access Typsy's 1000+ lessons as and when it suits you. Learn your way - starting today.


---
Creating a destination is such an interesting idea. Can you expand on that?

I love the idea of creating destinations out of non-destination markets or venues – when you love a place so much and you can help other people see it the way you do. Making your passion and vision a reality, and getting to share that with your guests.
---
In the post-COVID market, where people are really limited on where they can travel for vacation, this seems like a great strategy for the future.
It is! But actually this happened organically for us [before the COVID-19 pandemic]. My current business partners and I found ourselves coming across these destinations and beautiful luxury properties – big mansions and estates – which were full of unique surprising qualities that made them hidden gems that most people would never expect.
We realized that although these weren't what most people would consider a [classic] "destination", they had something so special to offer. So we started thinking about how we could make these places profitable, both for us and for the owners. Creating destinations out of thin air.
---
Do you think we're looking at a market-wide shift away from "destination" tourism?

Places like Hawaii and the Caribbean are always going to be "destinations". That will continue post-COVID. But I think we are seeing a shift in the industry, where more unlikely destinations are getting some traction.
I can't speak for anybody else in the industry, because this is something that has been my personal mission. Some hoteliers say '[classic destination tourism] is the way the market is, and we can't change that'. But we're really challenging that idea, and we're seeing a definite shift.
Once you make a destination, you will get people. It's definitely a market that can be tapped into more. I wish it [were] more of an industry standard, but [by being innovators] we really get to be creative and explore.
---
You're the host of hospitality podcast Slick Talk. What gave you the idea to put these two interests - hospitality and podcasting - together?

Audio is a really interesting space in marketing right now. The thing is, statistics show that 80% of people who stream video don't really watch. They put down their device and do other things while they listen. With podcasts, you don't have to worry about the video loading, or paying attention to a screen.
And it helps your brand stand out, because it makes you so accessible. You're in someone's pocket. It gives you another level of personalization – and that's what we talk about [in hospitality] all the time: being unique, and showing your value.
---
What's a piece of advice you'd like to pass on to someone just starting out in hospitality?
That the little things matter. I think this is something that applies to regular daily life as well. People remember the little things more than they do the big – they add up. In hospitality, we get so caught up in the mundane routine of our jobs, with our scripts we repeat again and again across, you know, hundreds of check-ins for example.
"But when we stop just going through the motions, it catches the guest's attention. Find opportunities to create small, valuable moments – that's where we build the best relationships."
Love this quote? Tweet it!
It's about taking an opportunity to relate to someone. To catch yourself thinking of people as a task to tick off your list. Let's say you have a semi-regular repeat guest – someone you don't see every day, but can recognize their face. Taking the time to learn their name, the room type they like, their preferred view – just taking the extra step. It makes their experience that much better.
Also, it's hard [laughs]. Even if you're in a role where you're not physically laboring or on your feet all day, it's very mentally and emotionally exhausting sometimes. And you have to just put that to one side.
But you've got to remember that when you do have bad moments, that's your opportunity to turn things around. How can you turn a negative situation into a positive one? It makes a world of difference.
---
Do you think that's part of what makes a good manager?
For sure! When you're in a customer-facing role, you improve the guest experience by interacting with guests directly, and the decisions you make impact them. As a manager, you're still working towards improving guest experience, but you're doing that by taking care of your team, and making sure they have everything they need to properly do their jobs and handle situations.
So a good manager needs a sense of that bigger picture – that the team experience affects the guest experience.
Proper training for your team, finding where people feel less confident or knowledgeable, and being able to support them in an appropriate way. To empower them. Giving staff the freedom to find those opportunities to go the extra mile. That's how I define good management.
---
One last question: what do you think guests really want?
At the end of the day, who doesn't want to feel special? On the job, you're dealing with people all day and, again, it's just routine to you. But for a guest on vacation, they've spent time saving up money and dreaming about this time away, and it's a special moment they've chosen to share with you and your team at your location.
So of course, what they're really looking for is that the trip was worth it – that they felt welcome and appreciated and unique. That's where hospitality comes in. That's what it's all about.


This interview has been edited for clarity.