In today's post, guest blogger Greg Provance shares seven ways for you to reach new restaurant customers.
He will cover:
1. Collaborating with local businesses
2. Inviting pets
3. Pulling back the curtain
4. Engaging with your guests
5. Hosting a themed party
6. Owning the review
7. Meeting the team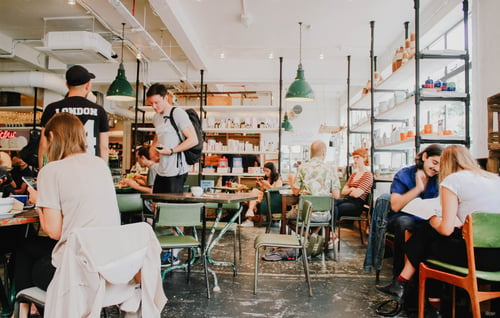 In today's competitive climate, it is more imperative than ever that restaurant owners find ways to attract new business each and every day if they are to thrive. With new restaurants opening almost daily, each with more impressive offerings than the next, the challenge to entice potential diners is ongoing and can sometimes feel overwhelming, especially in the face of managing the operation day-to-day.
With a little focus and some good old-fashioned ingenuity, you can ensure a steady flow of guests that are eager to invest their valuable time and money in your establishments.
Here are just a few tried and true ways to reach out to your future guests.
1. Collaborate with local businesses
As much as competition is vastly present in the hospitality industry, there are times where you can collaborate with local businesses to increase your foot traffic and brand awareness.
By partnering with local businesses in a way that benefits their customer base, their business becomes an advocate for yours. For instance, you might partner with a local car dealership and sell them gift cards or restaurant vouchers for them to give to new car buyers as a thank you gift You could also promote a discount to nearby gyms and offices. You can also get creative and offer to give free ice cream to kids that brought a report card with good grades.
There are as many potential partnerships as there are businesses in your area. Get creative and start reaching out to explore the possibilities!
2. Invite their furry friends
Being able to bring your dog to a local business is a perk for many customers, and as a business owner, there's opportunities for you in this. Whether you need to create a dedicated outdoor area for customers that bring in their best furry friends or add puppuccino and dog treats on the menu, having a dog friendly venue is likely to increase your profit as well as reputation. For instance, restaurants like Shake Shack and Everbowl offer doggy treats and snacks with each meal.
3. Pull back the curtain
Guests rarely get a peek at what is happening behind the scenes of their favorite venue. Even if you do not have an open kitchen, a great way to engage with your customers is to invite them to see the chefs in action.
Whether it is how your chef makes his own bread or a special dish for a birthday, you can use social media to promote your new restaurant menu items and engage with your customers.
4. Engage with your guests
This may sound counter-intuitive to the idea of going out and grabbing new business, but hear me out. The single best promotion that any restaurant (or business for that matter) can ask for is positive word of mouth. If your guests have an amazing experience, they will eagerly tell others and recommend your venue. This is especially true when regular guests feel like they have a personal relationship with your staff members.
Whether your staff remember your guests names or favorite orders, there are multiple ways to engage with your customers. By creating a culture of engagement, you can be assured that you will be amassing an army of ambassadors who will spread the word and attract new guests.
5.
Host a themed party
From pizza to trivia nights, throwing a themed night is a great way to introduce your restaurant to friends of friends. Everyone loves a great party especially when there is entertainment, great food and drink involved.
Organizing themed nights is an 'easy' way to attract the masses, and if executed well, will be the talk of the town. Wine dinners, 80's nights and jazz brunches are all fun and popular ways to increase customer traffic.
Stuck for ideas? Take the Cohn Restaurant Group for example. They feature the art of the company's employees paired with a fun and contemporary wine. There is no limit to the possibilities here, so have some fun and get ready to introduce your restaurant to droves of new customers.
6. Own the review
Online review sites like Yelp and Chowhound can be easily seen as a source of pain for restaurant owners. By recognizing and harnessing the power of these sites, you can turn a thorn into a rose rather easily. Start by training your staff to ask guests to leave a great review when they know they are enjoying their meal.
Don't forget to monitor and respond quickly to negative reviews, inviting the guest to come back for another try, perhaps with a coupon or discount. Great reviews will mean more customers and not so great reviews can be an opportunity to turn a poor experience into a new beginning.


---
Learn more about positive and negative online reviews at typsy.com from Joshua Swanson.


---
7. Meet the team
Something that customers love is when a chef interacts with guests. A great way to do so is for your chef to come out of their kitchen and personally greet and meet their customers, and why not, even serve them too? By creating this relationship, you will see guests returning to your venue and spreading the word about their experience.
You can also take another route and post recipes on social media to create some conversation. Either way, sharing equals caring and your customers will likely show their appreciation with their loyalty.


---
Whether you create a killing social media strategy, plan themed nights or partner up with other local businesses, if your guests are happy, they will boast about your business with their friends, who might also visit your restaurant too.


---
| | |
| --- | --- |
| | Greg Provance is the owner of GP Hospitality Partners LLC, a full service restaurant and hospitality consulting firm. For the past 7 years, he filled the role of General Manager for Vintana, a crown jewel in the esteemed Cohn Restaurant Group family of restaurants. He is also a consulting partner for Everbowl, Southern California's fastest growing fast casual chain. |
---
Have a question about hospitality education online? We're always ready to talk.