As the old saying goes, dogs are a man's best friend. Many people would even consider them a member of their family. Naturally, many dog-lovers want to bring their furry family members with them to lunch, the grocery store or even on vacation. Venues that welcome these four-legged visitors are the obvious solution.
In this blog post, we look at some benefits of having a dog-friendly venue and give you some ideas on how to transform your venue into a warm place for dogs.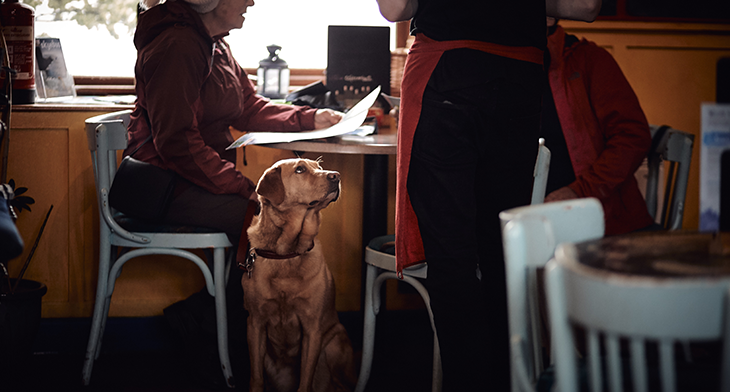 Dog owners aren't the only ones who will benefit from these dog-friendly places. Venues also experience several perks by becoming dog-friendly. Check out some of the many ways hospitality professionals can profit from touting their brand as a pet-friendly space.
Bring in new customers
The biggest perk of owning a dog-friendly venue is the influx of new customers you're sure to experience. Dog owners who otherwise wouldn't have been able to visit your hotel or restaurant will be more apt to attend your venue if they can bring their furry friends along. Likewise, your venue will draw people who might not have a dog of their own but still enjoy some fluffy company.

P
romote
brand loyalty
Dog-friendly venues both enjoy an increase in business and a boost in current customers' brand loyalty. Once a dog owner finds a pleasant place to eat or stay that also welcomes their pet, they're more likely to return.
Traveling with a dog can involve extra packing and planning. If a venue understands owners' needs and is willing to accommodate them, your customers will note your efforts. They'll probably remember you next time they head out with their pup in town.
Generate revenue
Naturally, if business booms at your venue, a growth in revenue is sure to follow. Restaurants that create a dog-friendly menu with dog treats, and hotels that allow pets for a fee will experience an even more significant boost. Welcoming and catering to pets shows dog owners that venues value both them and their interests.
Embrace unique branding opportunities
With the rise of social media, dog owners post about their dogs online around six times a week. People love pictures of animals, and they garner significant attention on social media. A photo of a dog drinking a puppuccino at your café or looking out a window in your hotel will surely create a positive brand association in potential customers' minds and increase traffic to your venue.
Consumers who learn which venues are dog-friendly through friends, family and online connections will more likely visit these places and share them with their own social circles. This word-of-mouth publicity increases natural brand awareness and social media presence without your company spending a single dollar on an ad campaign.
Host creative events
Being dog-friendly opens up new doors you couldn't otherwise access. Groups could use your venue for pet-friendly weddings, ceremonies or doggie playdates. These events create a new customer base by attracting dog-lovers from all walks of life. Your new customer base can expand to include everyone from wedding planners to businesspeople to young families, depending on the type of events you decide to host.


---

How to make your venue dog-friendly?
Now that you know all about the benefits of being a dog-friendly venue, are you ready to enjoy the perks of it? Several tips can help you transform your site into a dog's paradise.
1. Create space
Restaurants can turn outdoor patios into dog-friendly areas while keeping the inside restricted to human guests. If space is available, restaurant owners could also create an outdoor play area for visiting dogs in front of or near the eatery. This attraction may encourage owners and pups to play — and, when they finish, pop over for a bite to eat.
Hotels, on the other hand, may need to section off an area or floor of the building to specifically accommodate doggy visitors. Hotel owners may also designate no-dog zones, such as dining spaces or the pool area, where dogs are strictly prohibited. You might then offset these no-go zones by creating dog-friendly spaces where visitors can walk or play with their furry friends.
Traction is of greatest importance in any dog-friendly space. Floors made of hardwood or laminate are slippery and dangerous for dogs since their paws can't get a good grip on the smooth surface. Consider new flooring like carpet or rugs to give pups a more stable place to walk.
Choosing your facility's flooring based on durability and color is just as essential. Since dog nails can scratch up floors easily, choosing resistant flooring is key. You might also choose darker colors for carpets and flooring to better hide accidents and make cleanup easier.
3. Set ground rules
Setting up basic rules will ensure both guests with and without dogs remain happy. Post these rules on your website, in advertisements or at a prominent place in your venue to make sure customers see them. Guests should be aware of their responsibility to control and pick up after their dogs. Creating rules like mandating all owners keep their dogs leashed at all times will help keep the experience pleasant for both dog owners and other patrons.
---
A paws-itive experience for all
Ultimately, the main goal of having a dog-friendly venue is to create a remarkable experience for all guests. If your guests are happy, they're sure to tell their friends — who, in turn, may visit with their pooch along, too.
---

Learn how to provide stellar service to every customer in Typsy's Front of house essentials course led by winner of the Young Waiter of the Year award in 2015 Brooke Adey.
Sign up today and get the first 10 day's FREE!


---
| | |
| --- | --- |
| | Kacey Mya is the blogger behind The Drifter Collective, an eclectic lifestyle blog that expresses various forms of style through the influence of culture and the world around us. Along with writing for her blog, she has written for sites like U.S. News, Hotel Online, SevenRooms, Point 2 Home and more! Follow Kacey on Twitter and subscribe to her blog to keep up with her travels and inspiring posts! |
---

You might also like: