Looking to get a head start on your hospitality career, or wondering how to step it up? Typsy's got you covered. Whether you're a soon-to-be superstar in the culinary world, in beverage, or in management, we're looking at essential qualifications from around the world to send your hospitality career soaring.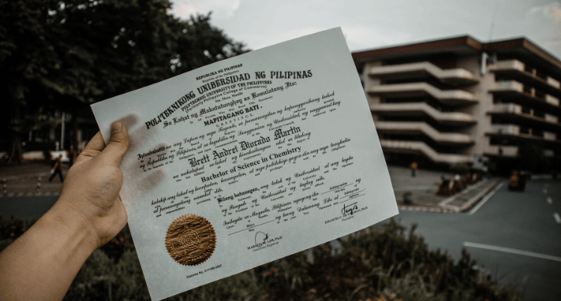 You might be feeling a bit stuck at the moment. Thanks to COVID, many of us are feeling like our careers are suspended in a bubble of unknowns – ambitions on pause, waiting for the crisis to be over so we can resume ordinary scheduling.
In some ways that's true. But for many of us, this is the perfect time to dive even deeper into our goals than we did before - to take a step back and re-evaluate what you want out of your career, and the best way to achieve it.
There are a few ways to climb the hospitality ladder, but qualifications are a great way to put you ahead of the curve. Learning on the job is possible, but can be risky – you can't know for sure if you're being taught outdated, wrong, or even dangerous information that could get you in hot water down the track. Formal qualifications are instantly recognizable, prove your work ethic, and are always hard to look past on a CV.
So if you're thinking about your next career move, Typsy's here to talk you through the certification, qualification, and education you need to take your hospitality career to the next level.
Culinary schools and institutes
For those of you dreaming of becoming a chef, there are an enormous number of options available across the world. Culinary schools have a formidable reputation in the hospitality industry for a reason – you can come to earn a great deal of knowledge and respect by choosing courses and mentors wisely. Because culinary schools have a great track record of producing globally acclaimed chefs, they can attract a certain amount of prestige (and can add an impressive edge to your resume).
Different institutions offer diplomas of different lengths and types: the prestigious Institute of Culinary Arts (USA) is a great option, with courses running between 6 and 13 months, while the ICA (South Africa), one of the top three culinary schools in the world, offers diplomas ranging between 2 and 3 years in length.
Another great option for its great quality diplomas, sterling reputation and accessibility is Le Cordon Bleu – with locations across Australasia, North America, South America, and Europe.
---
Off to culinary school and want to feel as prepared as possible? Typsy's got all the courses you need to start your journey on the right foot.


---
Beverage courses
Alcohol
You may be wondering: what qualifications do I need to serve alcohol? It's a great question, because your government is likely to have restrictions in place that limit who can serve alcohol and in what circumstances.
This is highly specific to your country's laws – in some regions, this may involve an age restriction; in others, your government may require you to undergo specific training.
If you're applying for a job where there's even a chance you'll come into contact with alcohol, make sure you understand what is legally required of you as a server of alcohol before you walk into your interview!
In regions where a certification is required, employers will look very favorably on your CV if you already took the initiative to undergo the training and learn about your country's alcohol laws.
Outside of the legal issues, there are many places that offer bartending courses where you can learn all about how to make different cocktails, the differences between classic bartending and modern bartending, specialist wine and beer knowledge, and even sales skills!
Or maybe you're passionate about wine, and interested in becoming a sommelier! The Court of Master Sommeliers (available internationally) provides introductory and advanced courses and certifications.
Coffee
Coffee is becoming increasingly specialized across the world - in cities like London, Seattle, Seoul, and Melbourne, baristas with the skill and knowledge to prepare specialty coffee are in high demand. Going through training courses and earning certifications are a great way to give yourself a leg-up, especially if you don't have much experience with coffee.
Start with a beginner's course to learn the fundamentals of espresso with institutes like the London School of Coffee or the Texas Coffee School. If you're already familiar with the basics, there are many courses available around the world that teach latte art and more advanced coffee brewing techniques. Already a bit of a pro? Take an advanced course on the science of coffee extraction, or bean production! The Academy of Coffee Excellence (USA) offers a variety of advanced courses, including roasting.
In the constantly evolving world of coffee, there's so much to learn and explore - even if you've been in the industry for a while. An extra course and certification could be the difference between good coffee and legendary coffee.
---
Interested in how food and beverage pair together? Check out Beer's cheers: A home-cook's guide to pairing food and beer
---
Management
Management in hospitality is often (incorrectly) thought of by newbies as being largely a service role – but we differentiate the two for a reason. There's a lot to get stuck into if you're interested in management, including finance, logistics, compliance, and of course business! For a successful career in hospitality management, particularly if you're aiming to work in a corporate environment, a bachelor's degree is a great idea and is an addition to your resume that can really help you stand out from the crowd.
Depending on your ultimate goal, one option may be to gain a bachelor's degree in business management or administration. You might undertake a Bachelor of Commerce or similar business degree from a university, but these degrees aren't specific to hospitality and may be too broad for your goals.
A huge variety of hospitality institutions, such as EHL Swiss School of Hospitality and Tourism (Europe), Pacific International Hotel Management School (Oceania), or FIU Chaplin School of Hospitality & Tourism Management (North America) offer undergraduate degrees tailored to hospitality, such as a Bachelor of Hospitality Management.
Thanks to the QS World University Rankings, you can easily search for the best hospitality bachelor degrees in your area. (You can also find Typsy's own run-down of your options here.) These bachelor's degrees cater directly to your interest in hospitality, with the added bonus of offering you a pathway to post-graduate study (i.e. a master's degree) if you'd like to gain further qualifications down the track.
---
Not sure if a bachelor's degree is right for you? Check out Should you study hospitality at university? - tips from an Oxford Brookes University alumnus
---
Whatever your passion, wherever your ambition takes you, you can be sure that taking a bit of time to secure a qualification will put you on the right track to achieve whatever you're aiming for out of your career.
And to help keep your skills up-to-date before, after, and all the moments in between, Typsy is here for you.
---
Have a question about learning hospitality skills online? We're always ready to talk.
You might also like: