This year has been all about figuring out how to adapt, and learning to expect the unexpected. This has really brought to light the ways we need to start thinking seriously about making our venues future-proof - not just attracting customers in a way that works now, but in ways that will continue to work no matter what comes next.
Enter remodeling. To be clear, we're not talking about blowing your budget. There are a lot of ways you can revamp your aesthetic, operations and workflow to provide a better, more efficient service. Adrian Johansen is here to explain how.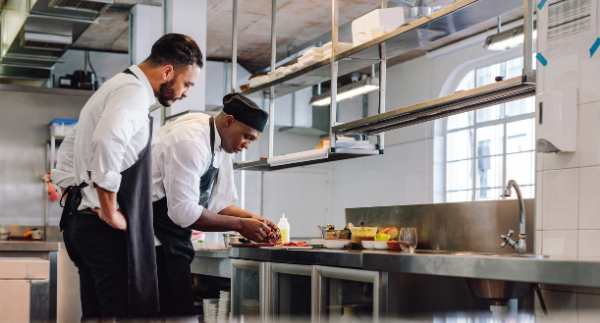 Getting into the restaurant business can be both exciting and nerve wracking all at once. If you've worked in the food industry for any length of time, you already know the risks involved and the hard work required to stay afloat.
Thanks to the impact of the COVID-19 pandemic, this year has been shakier for restaurants than ever. If you own a restaurant that has managed to make it through the pandemic, you're already ahead of the game. But you've undoubtedly had to change the way you do business to manage customer expectations while keeping everyone safe during these uncertain times. Unfortunately, no one is out of the woods yet as this pandemic isn't over.
With that in mind, now may be the perfect time to consider a restaurant remodel. Even if you're on a budget, there are things you can do to attract more guests back to your business and start fresh. Let's look at some benefits of remodeling, and how you can make positive changes to your restaurant.
---

How will a remodel benefit your business?
People want to get out and support local businesses right now. But, many are still worried about the effects of the pandemic. A remodel can benefit your business in a variety of ways, from simply telling people you're open and ready to serve them safely, to giving them a sense of comfort and stability in an unstable world.
Restaurants can feel outdated and out of touch very quickly. It's important to stay relevant to attract new customers. A remodel can benefit your business by:
Improving the dining experience.
Utilizing your space more efficiently and effectively.
Improving energy use and reducing waste.
Boosting

employee morale and performance

.
A restaurant remodel can make your business feel brand new. As a result, it will attract new patrons as well as entice loyal customers who have been visiting for years.
When you reopen your restaurant, make sure you have clear signage all over. Communicate regularly with your patrons before you reopen to let them know what they can expect. Not only do you need to market your remodel, but you will need to make sure everyone remains safe once your restaurant does reopen.
---


A fully realised, optimized hospitality venue goes hand in hand with skilled, well-trained staff. Luckily, Typsy can help you take care of both.
Typsy's 1000+ hospitality lessons are practical, effective, and fun! You and your staff can develop a more well-rounded understanding of what it takes to deliver an incredible hospitality experience to every customer, every day.
Best of all, you can access Typsy as and when it suits you.
Learn your way - starting today.
---

How can you remodel on a budget?
When most people think about remodeling, major projects come to mind. Dollar signs running through your head might quickly follow.
But you don't need to spend thousands of dollars to remodel your business. If you're on a budget (like many restaurants are at the moment), there are still things you can do to give your restaurant a new look and feel.
One of the easiest ways to change the look of your space is to apply a fresh coat of paint. Make sure to take the psychology of color into account when you do. While bright colors might seem inviting at first, they can look harsh in areas with low lighting. Instead, choose colors like:
Gray
Lavender
Wheat
Plum
Rich green
If you're trying to brighten up your space or make it look bigger on a budget, use a combination of natural lighting and minimalism. By letting in more natural light, you can make your space look warmer and more inviting. By getting rid of excess furniture, you can create more space to move and make your patrons feel more comfortable.
There are plenty of ways to DIY your remodel. For example, if you don't have the money to update your furnishings, you can stain or reupholster your existing tables and chairs on your own.
If you do decide to tackle some remodeling projects on your own to save money, make sure you're taking the necessary precautions to stay healthy. Older buildings, like those built between the 1940s-1970s, may have used materials that contain asbestos. Tearing down walls to create more space can cause the particles to be released into the air. If it is inhaled, it can lead to a series of serious health conditions, including lung cancer and mesothelioma.
---

Things to consider before you get started
It's exciting to have new remodeling ideas in mind. But there are a few things you should keep in mind before you get started.
You may not necessarily have to change much about the way your restaurant looks. If you feel like an aesthetic upgrade isn't necessary, consider other ways in which you can make the experience better for your customers. That might include using technology and data to upgrade the experience. In these strange times, using tech in your restaurant can allow customers to:
Order online.
Make reservations online.
Track when their order will be done or delivered.
Check-in once they've arrived at your restaurant.
Another thing to consider is what your customers really want. Restaurants need to continuously evolve in order to stay fresh and relevant. But, it's not about what you think is trendy. It's about what your customers are looking for. Don't be afraid to send out surveys or questionnaires. Getting a feel for what people in your area want to see can help you to make positive, effective changes that will draw them back in.
Restaurants have gone through a lot this year. A remodel could be a perfect way to attract a new crowd while giving yourself a clean slate to start from, too.
---
Adrian Johansen is a writer and businesswoman in the Pacific Northwest. She loves discussing what businesses can do to thrive, especially during hard times. You can find more of her writing on Contently

.
---
Have a question? We're always ready to talk.
You might also like