While 2020 may be behind us, the COVID-19 pandemic is still in full force across the globe. Many countries are still facing restrictions, especially when it comes to restaurants and bars. Others have started to re-open, but there are still safety risks to consider, including post-lockdown burnout for employees who have been stressed for months and are having a tough time getting back to normal.
As a restaurant employee, however, it's important to understand that there are still other issues to think about. Business might be slow right now. Or, maybe you're trying to figure out a strategy to stay afloat and re-open with safety and security in mind. COVID won't be around forever, and having an atmosphere that focuses on health and safety for both your customers and employees is crucial for your business. Now might be the perfect time to analyze your restaurant's strategies and create new ones that will keep everyone safe no matter the situation.
Not sure where to get started? Let's cover some common concerns that should be addressed, and what you can do about them.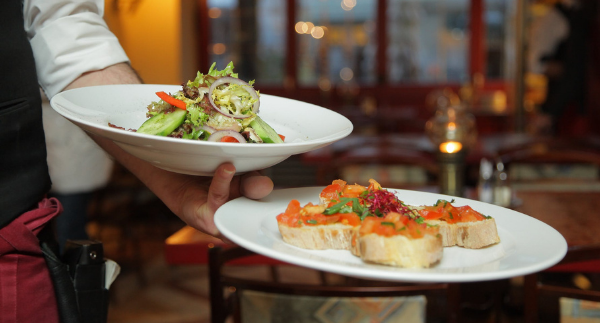 Current concerns
Again, COVID-19 won't be around forever. But, at the moment it's an impossible problem to ignore. As lockdowns start to ease, your restaurant may already be open or you may be preparing for that day. But, even after it does, your priority should always be keeping your staff and customers safe.
The public health officials in your state are already doing their part by putting guidelines in place, including things like:
Sufficient virus testing
Antibody testing
Vaccine administering
But, it's up to your establishment to go the extra mile. Your guests want to feel safe when they come to dine, and your employees deserve a healthy environment. Be willing to communicate with empathy and know how to manage conflict. This virus has been hard on everyone and things may not go smoothly right away as your restaurant reopens. One of the best things you can do for customers and employees is to have clear rules/guidelines in place. That could include everything from mandatory mask-wearing to making sure your employees sanitize tables and chairs between each use.
---
Unbeatable service starts with happy, confident staff.

A fully realised, optimized hospitality venue goes hand in hand with skilled, well-trained staff. Luckily, Typsy online training can help you take care of both.
Typsy's 1000+ online hospitality lessons are practical, effective, and fun! You and your staff can develop a more well-rounded understanding of what it takes to deliver an incredible hospitality experience to every customer, every day.

---
Keeping your customers safe
Other issues can still quickly become problems in restaurants without taking active steps to control them. When it comes to your customers' safety, consider the atmosphere of your restaurant. What kind of crowd typically comes in, and does that change depending on the time of day?
If you have a bar, or your restaurant serves alcohol, be prepared to keep a closer eye on your customers. Train your staff on making sure everyone in the restaurant stays safe by teaching them to look out for signs of threats, or potential sexual assault of one customer by another. Make sure they understand the importance of that training because it can be easy to ignore or overlook some of those signs on a busy night. The more aware your staff is about the possibility of something happening, the easier it will be for them to pay attention.
Make sure you don't overlook the overall structure and design of your restaurant when considering customer safety. Sometimes, people aren't the problem. While you should be consistently getting reviewed by the Department of Health, it's up to you to make sure everything remains up to code throughout the year, so you don't risk your patrons getting sick, slipping and falling, or getting involved in any other type of accident on your property that could have been avoided.
---

Taking care of your employees
Restaurant employees have had an incredibly strenuous year. Many were laid off or fired due to COVID-19. Others have had to learn completely new rules and comply with strict restrictions during every shift just to make ends meet. Unfortunately, many others are stressed and trying to save money during these trying times, too. There have been plenty of stories about people yelling at servers or getting upset. Some people have refused to leave tips, while others have chosen to "dine and dash," leaving both the restaurant and the server at a loss. What's worse, however, is some states have allowed employers to take whatever was owed on the 'dasher's' bill and subtract it from an employee's paycheck. That isn't a good way to take care of your employees. Instead, do what you can to make sure diners don't dash in the first place. Try things like:
Always keeping an eye on the front
Building a rapport with your customers
Remembering anyone who doesn't pay their bill so you can confront them if they come in again
Your servers, cooks, and every other member of your staff needs to feel valued and appreciated, now more than ever. Do what you can not only to make sure they're getting fair pay but make sure they aren't working so much they are becoming fatigued. If your employees are overworked, they could start making mistakes, lose focus, and even cause accidents that hurt themselves, other staff members, or customers. Your restaurant's safety depends on the wellbeing of your employees, so make them a priority.
Take this opportunity to make necessary changes in your restaurant that go beyond COVID. By making choices that will improve restaurant safety now, you can have peace of mind knowing your customers and employees will be in a secure environment each time they enter.
---
Adrian Johansen is a writer and businesswoman in the Pacific Northwest. She loves discussing what businesses can do to thrive, especially during hard times. You can find more of her writing on Contently

.
---
Have a question? We're always ready to talk.
You might also like