In the hospitality industry, especially, there are so many unexpected situations that could happen daily. As a manager, the ability to think on your feet is a soft skill that you already need to have; flexibility and adaptability are also important.

That's where creativity and problem-solving come into play. By thinking outside the box and realizing every situation isn't a "cookie-cutter" occurrence, you can be a better manager. Not only will that benefit your guests, but it can make you more of a positive force with your staff, too.

In this blog post, we look at different ways to help you think creatively and adopt a problem-solving mindset to manage day-to-day tasks as a great manager.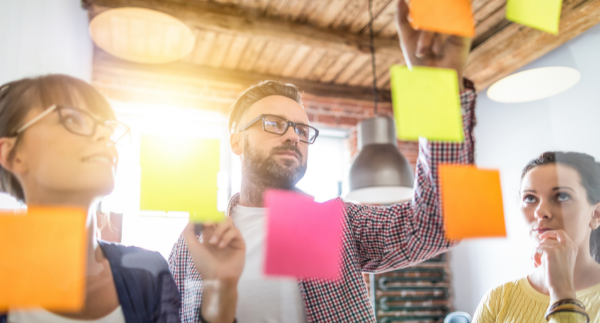 Staying on top of your hospitality training is always the best practice you can take. But, allowing yourself to use your natural creativity in tandem with your training will yield better results.
So, how can you do that?
---

Work with your staff
In a 2018 poll conducted by Monster, 76% of employees in the U.S. said their boss was "toxic." When your team feels micromanaged, underappreciated, or overworked, their productivity and morale will suffer. You might even deal with a high turnaround rate or find it difficult to keep people on board for long periods of time.
Including your staff in your decision-making processes as much as possible can make a big difference. That doesn't mean getting them to do your job for you. But, hearing their input is important. Consider having brainstorming sessions at least once a month with an outlined agenda of things like:
Describing a problem to solve
Asking questions to inspire your team
Allowing everyone to give their input and new ideas
Elaborating on those ideas
Discussing next steps
Everyone wants to feel like their voice is being heard. You never know what great ideas your staff might have unless you're willing to listen and learn. Doing so will help to improve your communication skills and burst through any managerial plateau you may have been stuck on.
---
Unbeatable service starts with happy, confident staff.
Typsy's 1000+ hospitality lessons are practical, effective, and fun!
You can develop a more well-rounded understanding of what it takes to deliver an incredible hospitality experience to every customer, every day.

Access Typsy as and when it suits you.
Learn your way - starting today.
---

Promote positivity
The best managers always seem to have a plan in place. That's a good thing. But, in the hospitality industry, the unexpected can happen at any moment. So, plans may not always go the way you want them to. Allowing yourself to get frustrated by that can quickly rub off on your employees, creating a culture of contention and frustration rather than peace and contentment.
Additionally, if you're trying to be too strict as a manager to earn respect, you might be faced with the opposite response. Instead, try to promote positivity and a healthy work environment in every situation. The benefits of a positive work environment include:
Boosted productivity
A team that is more willing to work together
Employees that are willing to be more creative
A better attitude when your team is working with guests
A positive workplace culture isn't always easy, and it takes effort. Things will happen that can trip you up. But, even when you're frustrated, maintaining that environment is essential to keep your team at their best.
Don't be afraid to have some fun with this idea, too! Put together team-building games, host healthy internal competitions, and provide incentives for team members who excel with guests.
---

Be a leader
Sometimes, despite your best intentions, it might be easy to get caught up in the "manager" title. But, a good rule of thumb is to humble yourself as often as you need to. Your job is to be a leader, not a ruler.


But wait, aren't those the same things?

Not exactly. As a leader, your team will look to you for guidance. It's your responsibility to set an example. Think about the childhood game follow the leader where everyone has to copy the actions of the person in the front of the line. The concept is the same in the hospitality industry. Make sure, as a leader, that you're setting examples in the most crucial areas, including:

● Equality
● Fairness
● Communication
● Listening to concerns from employees

When you choose to be a ruler, instead, your team might spend their shifts on pins and needles, hoping to avoid making a mistake. Or, they might constantly be under stress thanks to countless rules.

Rules are crucial. But, how you implement them is just as important. Letting your team know they can count on you and come to you rather than fearing you will make you an incredible leader that they'll want to follow.
---
A strong sense of professionalism is expected in the hospitality industry. However, that doesn't mean you should be rigid. Allow yourself to be flexible as a manager and be willing to think on your feet using creativity and problem-solving for everyday routines, as well as unexpected situations.
---
Adrian Johansen is a writer and businesswoman in the Pacific Northwest. She loves discussing what businesses can do to thrive, especially during hard times. You can find more of her writing on Contently

.
---
Have a question about online hospitality training? We're always ready to talk.
You might also like