Customer satisfaction decides the level of success for all businesses.
Customer Relationship Management (CRM) for hotels, a tool used to monitor customer satisfaction, is based on three core principles; fostering new leads and customers, protecting its current customers, and enhancing the value of all attained customers within the organization.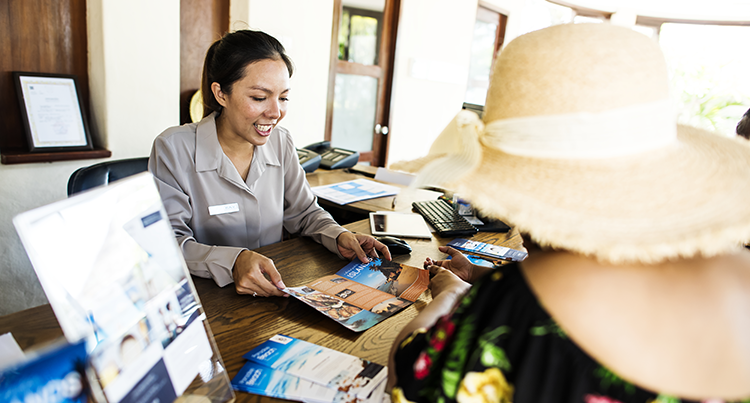 Customer Relationship Management can, in fact, be the strongest and the most efficient approach in both maintaining and creating relationships with your customers (no matter your business model).
We operate, however, in an industry that is oversaturated - with properties facing an abundance of challenges including how to attract new customers, retaining customers, engaging customers, and managing day-to-day operations.
We also now operate and live in an era of personalization, customer emotion management, the need to generate memorable life experiences, and instant gratification.
How can your business navigate these challenges?
Once a personal and emotional linkage is built within your business, it can now be very easy for any hotel property to identify the actual needs of its customer and help them to serve them in a better, more efficient (instant) way, through the use of a modern CRM system.
A winning Customer Relationship Management system for the hotel and hospitality industry in this era supports the management of many different customer types and functions; including members, guests, corporate customers, events, promotions, lead generation and more – all in one easy to use system.
A winning system allows customer-facing staff to make fast, informed decisions to improve the customer experience. It also enables sales and marketing staff to identify new clients and effectively 'manage' its relations with key customers – via personalized, targeted campaigns to encourage loyalty, based on known customer preferences from historic activity tracking in addition to now, the use of social media.
That's right, the hotel and hospitality industry offers an open opportunity for what is called 'Social CRM'. If your property, no matter its size, is not taking advantage of social engagement (and I mean engagement, not just posting a random photo every other day on your social media feeds), you are not maximizing your full potential to enhance the overall asset value of your hotel and its customers.
The industry now thrives on two basic factors; segmentation and uniqueness.
Apart from the regular promises of customer satisfaction found within every single hotel, it is the brand identity or rather the 'human' aspect or personality of the hotel that really matters to customers, which can be obtained through social media. It's time to humanize your brand in the digital world.
These factors contribute towards the building of trust and customer loyalty, and eventually sustainable profitability. Implementing a winning CRM system that combines both fundamental relationship solutions and social media solutions, might involve considerable time and investment.


---
The benefits of CRM
CRM software is adaptable. It can be set up and installed based on your hotels specific goals. It is important that your hotel is aware of what they are trying to achieve and improve from their prior customer interactions before they implement what should be a winning solution.
Customer Relationship Management helps hotel properties gain an insight into the behavior of their customers moving forward and a way to modify their business operations to ensure that customers are served in the best possible way, day-in and day-out.
Development of a 'conversation map' by positioning you to listen and understand the social media conversations from advocates to influencers and from detractors to customers. From there, your hotel brand can engage in meaningful and authentic conversations, therefore building a tracked conversation or relationship.
Development of a 'social graph' of all your customers. This is very important as it refers to the current customer in your marketing database. Are they on Facebook, Twitter, Instagram, Snapchat, LinkedIn, Email, Blog Posts, or Third-Party Apps, etc.? Once you understand your customers social preferences, you can engage in stronger relationships.

CRM also contains each and every bit of detail of your customer, hence it is very easy to track a customer accordingly which can then be used to determine which customer may be profitable and which may not (or who may need more nurturing). Employees should be made aware that the data provided by a CRM solution will be to their advantage. CRM data should give employees day-to-day practices they can implement to reward, manage and assist customers.
One of the strongest aspects of Customer Relationship Management is that it is actually very cost-effective over time. The advantage of accurately implementing a winning system is that all of the details in your CRM system should be kept centralized which is available anytime-anywhere, reducing staff processing time and increasing staff productivity elsewhere throughout your hotel.
For example, events like add-on purchases or upgrades, customer complaints, and service incidents can be set as triggers for an instant campaign or auto response – which will then be sent to appropriate account managers for immediate follow-up, where every detail of the customer will be available to them, therefore further personalizing the experience generating quality service, open communication, and what will hopefully be – customer loyalty.
It allows your hotel to effectively adapt to change. Restructuring customer benefits and interaction is quite an investment for any hotel. The data from your CRM system means your hotel isn't changing with its eyes closed, it can be a slow process that adapts to the feedback provided by your customers' experiences and hotels strengths.
---
Efficiently dealing with all of your customers and providing them with what they actually need increases your customer satisfaction level. This increases the chance of getting more business which ultimately enhances turnover and revenue for your hotel or venue; leading to a scalable, sustainable, profitable, memorable, and consistent property. Who wouldn't want (or need) that?
---

With more than 1000+ online lessons available in Typsy's video library you can train your staff in the skills they need to help increase your customer satisfaction.
Sign up today and get the first 10 day's FREE!
---
| | |
| --- | --- |
| | As the Founder & President of KRG Hospitality Inc. in addition to being the author of the book 'Bar Hacks', Doug Radkey's impressive career spans more than two decades and includes all aspects of food, beverage, and hospitality development. This storied brand has proven success since 2009, throughout a variety of markets found within Canada, The United States, and abroad by being a creative agency with a focus on planning, development, and support for independent restaurants, bars, hotels, and other hospitality related properties. |
---
You might also like: