Roughly 4 out of 5 travelers start research for their next trip on the web, and they visit a helluva lot of pages in the process. On average, travelers make 12 visits to an OTA website, looking at 7.5 pages during each visit, before making a booking, according to a study by Cornell University.
What does this mean for hotels?
It means that managing your hotel's online reputation is crucial. With so many eyes watching and business hinging off what people read about you online, you can't afford to neglect managing your online reputation
Online reputation management should be part of every hotel's marketing strategy, and it doesn't have to be a pain. There are a heap of tools out there that make it super easy. We've listed some tools that you can use to monitor your reputation on review sites, social media, and all other places on the web.


---
Tools to monitor review sites
ReviewPush collects all your online reviews in one place. You can also respond to reviews from your inbox on the platform. If you have multiple venues, you have the option to manage them all from one dashboard. From $39 per month for a single location.



ReviewTrackers offers a dashboard with valuable data and insights about your reviews, so you can easily see which areas require your attention. Just like ReviewPush, it also bundles all of your reviews together. $49 per month for a single location.


If you need to boost your positive reviews, Get Five Stars could help. With their tool you can set up automated emails to ask guests for reviews. It also offers insights into the reviews you've received. $29.95 per month per location.

---
Tools to monitor social media sites
Social Mention is our go-to tool to monitor social media mentions. It works as a simple search system, so you just type in your hotel name to find out what people are saying about you on social. It will also generate a sentiment score, so you'll know whether your brand is being talked about positively, negatively, or in a neutral way. Free tool.



Trackur offers a detailed dashboard with analytics about your hotel brand on social media. Their analytics go deep and wide, covering 'hundreds of millions of sources'. From $97 per month.


Rankur is similar to Trackur, except that it also offers a basic free plan. It also has additional uses such as a content calendar. Free account or from $24 for a business account.


The cool thing about Sendible is that it combines a social media management platform as well as a reputation monitoring tool. It offers useful analytics and makes managing your social media channels a lot more effective. From $59 per month.

---

Tools to monitor all other sites
Google Alerts is one of the most useful tools for monitoring your online reputation, and it's free. You connect it to your email address and set up a keyword to track, for example 'your hotel name + location'. It will then send you emails at your chosen interval (once a week, once a day, or as they happen) every time that keyword is mentioned anywhere on the web. Again: super useful. Free tool.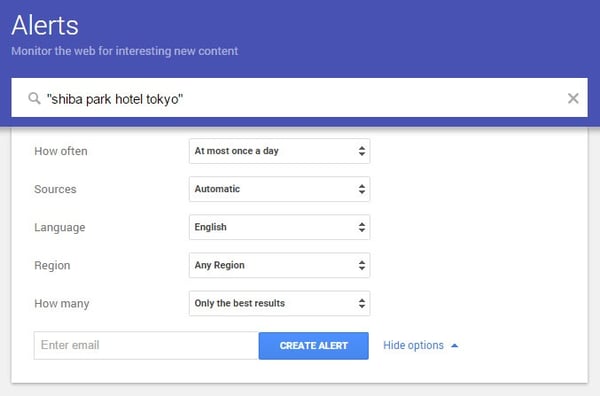 You can use Complaint Search to quickly scan all complaint sites for mentions of your hotel brand. After you've put in your hotel name as a search term, the search tool will scan over 40 complaint sites through Google and lists any mention of your brand. Useful for discovering any harmful comments that may be out there. Free tool.


Talk Walker Alerts is an alternative to Google Alerts, which works pretty much entirely in the same way. The only addition is that you can also choose to get your updates in an RSS feed reader instead of your email. Free tool.


BrandsEye uses real people to rate content their customers are mentioned in, and then bundles all that information in a comprehensive dashboard. A solution for people who want a deeper look at their online reputation. Custom pricing on request.
I hope these tools will help you keep an overall positive online reputation for your hotel. Make sure you also check out our blog How to respond to negative reviews to really smash your reputation management out of the park!


You might also like