Do you prefer to keep things a bit old school? Think you best keep on top of things with common sense and elbow grease? A can-do attitude is essential in a great small business, but it also makes things harder on you when there are so many tools available to help you optimize your operations and marketing. Data sounds intimidating, but it's simply a useful tool everyone can use.
In today's blog post, guest contributor Emily Burton shows us just how easy it is for small businesses to put big data to good use.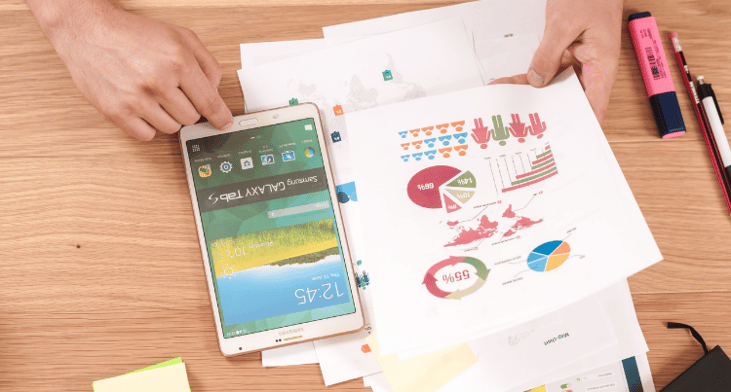 If you're an entrepreneur, the day you first opened for business is probably among your happiest memories! The days that come afterward, though, can become stressful quickly. Even the smallest businesses can't avoid big questions like how to increase growth or revenue, and many of the tools that colossal multinational companies use are unfeasible; they cost too much money, take too much time, or both.
Luckily, there is one idea you can borrow from big businesses to grow your own efforts: data. No matter what type of business you run, you already have plenty of useful information flowing in and out of your shop all day. All you need to do is learn how to harness it.
---
1. Decide what you want to know
One reason collecting and analyzing business data can be intimidating is that there's a lot of it, so it's hard to know where to start. To illustrate, imagine you're running a cookie shop: You could measure the frequency of visits, the average number of cookies purchased, or more.
To prevent information overload, start by brainstorming a few problems you want to solve. Maybe the cookie shop has plenty of repeat customers, but you're not attracting enough new business even though there's plenty of foot traffic nearby.
For this problem, you could decide on a goal of adding 100 new customers per month, and ask the question: What makes people come into the store?
Collecting this data doesn't require a deep understanding of machine learning architecture, consumer psychology, or anything else you won't have time to deal with while you're running your business.
The only thing you really need to be aware of is privacy laws, like the GDPR - and there are a lot of resources to help you out there.
In the cookie example, if your point-of-sale system sends customers an email receipt, you can ask them to opt into a quick survey to determine how they found you, or offer a subscription to your e-newsletter. Keep it short and offer incentives to encourage participation.
Another form of learning insights for your customers is through social media. Features like Instagram stories or Twitter polls are an easy and valuable way to gain information from your followers. Sending out simple and short surveys this way will help you understand how to adjust your marketing and business strategies.
---
Data can help you understand more than your customers - it can help you understand your staff. When you and your team learn with Typsy, you get a one-click overview of how well your team is engaging with learning, and where their interests lie.


Make motivation and productivity easy. Learning with Typsy is affordable, effective, and fun! And best of all, you can access Typsy's 1000+ lessons as and when it suits you. Learn your way - starting today.
---
2. Collect and organize your data
After a few months of asking customers how they discovered you, you're ready to see what the new information reveals about the cookie shop's customer acquisition. The incentive worked, and you have hundreds of surveys on your hands.
While it would be nice to have an on-staff data expert to pore over the results, all you really need to get started on your first project is a good spreadsheet tool.
Once all the information is organized to your satisfaction, you can start looking for patterns that could help you answer your question. For this data, you might generate a bar graph that shows a large percentage of customers who discovered you in the same way: they made their first visit after reading a rave review on a local blog.
Especially if you're used to relying on your intuition successfully, what the data reveals may surprise you! If you didn't see the review because you don't read the blog, you might not have realized how important it was for your business's goals, and the benefits of seeking positive press might never have occurred to you.
---
3. Put your insights to work
How does the cookie shop example end? With a better understanding of how customers discover your business, you start researching ways to work with local reviewers and food critics with influence in your market.
You redecorate the store to inspire reviewers to take engaging social media photos and feature them on the company's page, publicly connecting your cookies to popular tastemakers and encouraging new visitors to take similar photos for their own pages.
Local customers are online, so local businesses should be, too—a fact that's very clear now that your public relations and social media campaign have allowed you to easily surpass your initial goal of 100 new customers each month. Using data to understand how you can reach your business goals will let you reach them that much faster.
Data sounds like an intimidating big business tactic, but it's really just a more organized way of looking for the patterns in customer behavior the way that business owners already do instinctively.
Good information lets you make good decisions, and as your own experiments with data let you make better business decisions, you might find that your small business isn't so small after all.
---
| | |
| --- | --- |
| | Emily Burton is a freelance writer with years of experience in digital marketing. From working for large agencies to running her own, she has lots of advice and tips to offer. She writes about social media management, email marketing, paid advertising, and other fields of digital marketing. |
---
Have a question about the Typsy online learning platform for hospitality? We're always ready to talk.
You might also like: