The risk of cyber attacks happening in your hotel or resort can be managed and reduced.
In this blog post, guest contributor Beau Peters shares with you a series of tips for protecting guest and customer data.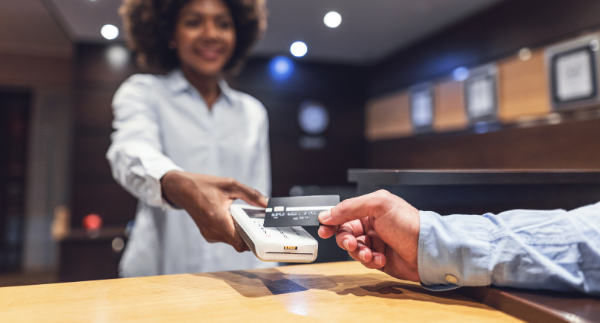 1. Assess all vulnerabilities
The world of hospitality tech is rapidly growing and changing. With new hospitality software and connected hotel devices, the risks of breaching customer and guest data are higher. Hospitality tech tools can be great ways to streamline the management deficiency of your venue. However, without having comprehensive usability standards in place, these systems can present a risk to the guests you're trying to support and protect.
Assess all of your digital vulnerabilities, from your point-of-sale (POS) to your newly integrated touchless systems, mobile access keys, and any other supportive tech that you have operating on the Internet of Things (IoT) and your Wi-Fi networks. All these tools can be open to highly damaging cyberattacks like ransomware.
Ransomware is a form of malware that hackers used to infiltrate a computer system, lock access to necessary files and functions, and then charge the affected organization a fee to restore this access. Hence the term ransomware. To combat this dangerous and costly threat, conduct a thorough risk assessment, then train employees for better digital hygiene.
---
Protect your customer and guest data.
Typsy's 1000+ hospitality lessons are practical, effective, and fun! You and your staff can learn more about everything from GDPR practices to marketing and leadership skills.

---
2. Train your staff
Training your employees is an absolute must when implementing cybersecurity standards across a hospitality network. Human error is the cause of 95% of cybersecurity breaches, as hackers often attempt to reach any employee through social engineering and phishing techniques. Training your staff on how to handle your customer data will allow you to spot these fraudulent attempts and avoid them on a much more consistent basis.
Implement staff training into your cybersecurity approach through an in-house program or by offering online training options. Then, ensure that employees are made aware of cybersecurity issues through continuous training and reviews.
---
3. Move to a secure cloud data system
Additionally, the efforts to protect your guest data can be improved by shifting to a cloud database for all your information systems. Small businesses are particularly vulnerable when they attempt to manage their own secure data infrastructure. Within six months of an attack, 60% of small businesses have to shut their doors permanently.
With a cloud data system, you can outsource your most critical cybersecurity needs to experts who make security a key aspect of their business model. As a result, you can experience an overall improvement in your ability to transfer and store data safely.
---
4. Upgrade and update your tech
Outdated technology can be a critical vulnerability for any venue. While sometimes costly, tech upgrades are a worthwhile investment because they can reduce the risk of a bad actor infiltrating your data network. If you have had a recent breach in your system, it's time to take a look at your current platforms and determine where upgrades can be made.
Additionally, innovations and new data systems like blockchain can be a valuable place to explore upgrading your hotel tech. Any secure and highly encrypted network will be invaluable to increasing guest security. In turn, you will gain a reputation as a reliable and trustworthy hospitality spot.
Ensure all your current systems are fully up-to-date and protected with adequate Secure Socket Layers (SSL), firewalls, encryption techniques, and more.
---

5. Devalue your data
Finally, one of the key ways to improve your guest experience through data is to devalue this data at certain points in the storage process. What devaluing means when applied to data is the action of removing the identified features of private data so that any information gleaned by unauthorized parties cannot be used to commit fraud.
Evaluating data is best achieved through point-to-point encryption techniques. This means that as soon as customer information hits your POS, it is encrypted behind a digital key that can only be accessed with proper authorization. Alternatively, de-identifying your customer data through tokenization can be an effective way to keep private information out of the hands of cybercriminals.
---
These tips can help you stave off the worst of the increased cybersecurity threats the modern age has to offer. With the average cost of a data breach in the ballpark of $8.19 million, every department at your hotel, no matter how small, should consider measures of securing your data systems.
Start by assessing vulnerable access points, then work your way toward devalued, securely stored guest information. Features like cloud data storage and comprehensive employee education can go a long way in assisting these efforts.
---
| | |
| --- | --- |
| | Beau Peters is a writer with an increasingly diverse portfolio and a history in business management. He has a passion for sharing what he has learned with others and enjoys making the world a better place. When he is not tucked behind a cup of coffee and a laptop, Beau likes to meet new people and try new things. |
---
You might also like