There are a lot of good reasons to rebrand your hospitality business, but the idea of it can be intimidating - especially if you have an established customer base. If you're thinking about rebranding, it's probably for a good reason, and rebranding can be incredibly beneficial if you have a clear strategy in place.
To help you get there, Adrian Johansen is talking through the main things to consider when you overhaul your business' branding.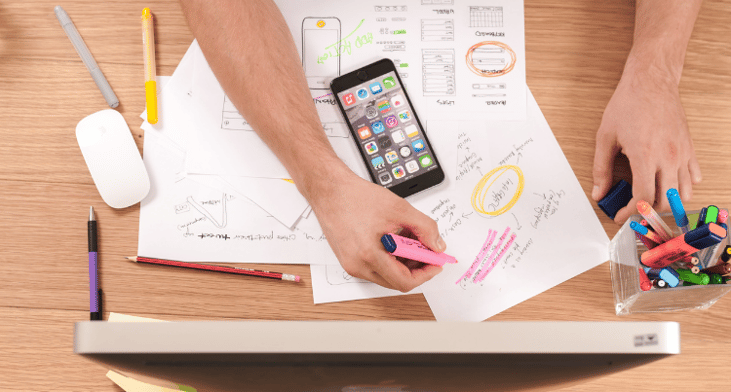 The hospitality industry can seem in a state of near-constant flux. As such, hotels are frequently having to move with the times, revamping their approach to suit the current trends. Sometimes other influences factor into change, such as the COVID-19 pandemic's detrimental effect on hospitality and tourism.
The decision to undertake a full rebrand is rarely straightforward - which is all the more reason to set yourself up for getting it right in the first place. Whether you're rebranding to capture a new target demographic, or just to freshen up your established values, there are approaches you can take to help ensure that you emerge to thrive in a competitive marketplace.
Remember that successful branding will always be underpinned by company values. In fact, this is the best reason to consider rebranding - if your values and your branding aren't well aligned. This might be because your target audience has evolved, or your goals have changed.
Let's take a look at some of the important considerations as you go through the process of giving your hotel's brand a facelift.
---
Putting a plan in place
Before you get down to the nuts and bolts of rebranding your hotel, you must undertake some basic planning. One of the essentials of rebranding is taking a strategic approach to the process.
This includes understanding what the right and wrong reasons are for going through the change, and making decisions about the kind of rebrand you're going for; is it a full makeover, or just a refresh of tired and outdated visual elements?
You also need to establish a clear set of goals and needs. This will help you to more effectively direct your efforts. During your planning process, bear in mind:
What your new target demographic is
How your current brand is failing to serve your needs
What your timetable for implementation will be
The extent of your budget for branding
Which leadership and team members will take charge of implementation
What measurable metrics to gather data on to assess success
What are the core values of your rebranded business
Get key leadership and staff together to undertake the planning process. Discuss the milestones that need to be hit, and how each member should be involved in hitting those.
Invite feedback to make this a collaborative process — after all, you can't expect your target demographic to buy into a rebrand if staff and management don't feel a sense of ownership and confidence in it. Build dates for ongoing assessment throughout your implementation timetable, to understand what is and isn't working, and what adjustments can be made along the way.
---
Having a great brand and operations strategy is important, but it's pretty meaningless if you don't have a well-trained team to back you up. When you communicate new standards and practices, you need to be able to do it quickly, accurately, and consistently.
Learning with Typsy is practical, effective, and fun! And best of all, you can access Typsy's 1000+ lessons as and when it suits you. Learn your way - starting today.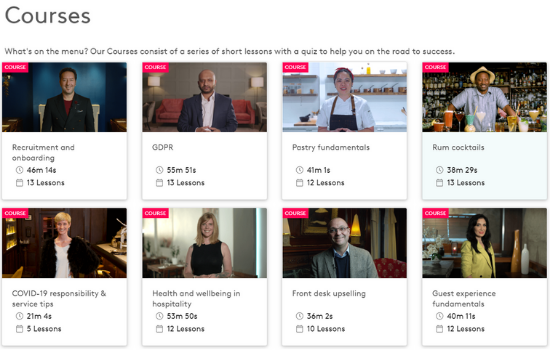 ---
Match design with values and direction
Image is a key component of rebranding. Your messaging must be consistent, and this includes making certain your visual elements fit the new values, direction, and ambition of your company.
If you are undertaking a complete overhaul, an important aspect to consider in your new visual branding is making it distinct from your previous image. In effect this creates a clear separation from the prior incarnation of your business, so you can move forward with a fresh look and direction.
What do we mean by having the visuals match the values? Well, think of your core values as your business' personality, and the branding as how that personality is expressed so that other people can understand it. A person with a shy personality doesn't walk around wearing flashing lights and shouting 'look at me!'.
Apply the same concept to branding. If your new brand is formed around the idea of simplicity and accessibility, then a logo with a complex, cursive script doesn't reflect this. Colors and shapes can help to announce the intentions and values of your venue at a glance — greens and trees can suggest a commitment to sustainability, blues suggest peace and tranquility.
However, it's also worth bearing in mind how your current loyal customer base may react to the new visuals; consider whether you might alienate patrons, who may feel as though a drastic image change confuses or compromises their trust in you.
Remember that rebranding is often more than just the surface aspects of logos, keycards, advertising and websites. Your décor needs to have a clear line of reference to your underlying concept. Consider the style of interior design that best matches your new brand and its values.
A commitment to an uncluttered break from the chaos of life may be complemented by the function over form approach of modern interior design, whereas a hotel that capitalizes on its seafront location could use the natural textures of coastal interior design.
---
Communication
The success of your rebranding can come down to how well you're able to communicate change. This communication needs to go further than a simple announcement that there's new branding on the way.
Whether it's to customers, the wider industry, or staff, you need to make sure that your communication tells your new story. Be authentic and transparent about what is prompting the change, how this will affect everyone involved, and why this will make your venue a better environment for guests.
Use your social media, blog, and even appear on travel vlogs to talk about the exciting new changes you have planned and how this boosts the experience of guests.
Give your guests opportunities to communicate on your behalf by providing Instagrammable moments; offer VIP experiences that showcase your changes, and visual touchpoints that best represent the new direction of your business. Encourage their social media posts by interacting with them in a meaningful way once a photo has been shared, or offering discounts.
Physical methods of communication, beyond the standard digital platforms, can go a long way, too. If your rebrand leans into sustainability, using evergreen trees such as Juniper as screening can communicate a sense of year-round natural beauty.
Think outside of the box to consider what aspects of your business can be used to communicate your new brand quickly and effectively.
---
A hotel rebrand is not an easy task, but it can help provide a new, more positive experience that will attract new customers and retain your loyal patrons. With clear, thorough planning, design elements that match your values, and the use of effective communication techniques, you can help to give your business the best chance of success.
---
Adrian Johansen is a writer and businesswoman in the Pacific Northwest. She loves discussing what businesses can do to thrive, especially during hard times. You can find more of her writing on Contently

.
---
Have a question about hospitality training? Talk to us at Typsy - we're ready to take your call!.
You might also like