Each year thousands of people go on holiday to explore new places, try new foods and enjoy some relaxation for at least a couple of days. But how do you ensure they stay at your hotel rather than your competitors? It all starts with brand.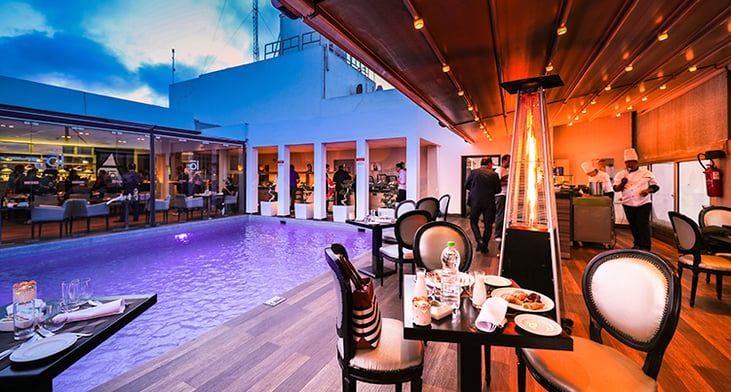 Hotel owners want as many customers as possible to stay at their hotel but the competition can be fierce. So, how do you encourage more people to visit your hotel instead of your competitors? The best place to start is to build your brand. In this blog post, we look at a few ways you can build a winning hotel brand strategy.
Building a brand encompasses numerous factors which contribute to encouraging customers to book lodging at your hotel instead of going to your competitors. The very first step is to determine who you are and what you want people to know about you. In other words, you must tell a good story. The way you create a story, to begin with, is to decide on your company's mission, core values, and brand promise.
Also, decide on what type of customer you want to reach out to and work on your approach. There are many different consumer types so ensuring you know which ones you are talking to will help with building your brand - if you are a business-focused hotel you don't want to be talking to an audience that is centered on backpackers. Once you humanize your hotel brand, it will be much easier to communicate with your target audience and encourage them to try out your services.


---
Every hotel needs a unique selling proposition to make them stand out from other hotels, as well as help them differentiate from other brands. A unique selling proposition should not be copied from others. Instead, you must come up with something on your own, as well as come up with something that no one else has. This is the key factor that will attract and retain customers. What's more, your unique selling proposition must be relevant and valuable to your customers.
If your selling point is off-brand it won't have the same impact as you'd hoped it would. Your unique selling proposition can be associated with your hotel services so that it enhances the customer experience and satisfaction. Just think of something that will cater to your customer needs and expectations because your unique selling proposition will often also be your main selling point.


---
An important aspect of building a brand is a visual hierarchy. This is especially true for hotel brands that want to stand out. Your visuals encompass numerous things from the hotel design itself to your logo and brand merchandise you'll use as gifts and handouts. As an example, every guest at your hotel could receive a welcome gift that consists of personalized pens, towels, care packages and so on to make the visit more memorable.
The main reason why this is important is that 84% of consumers state that promotional items help them improve brand awareness. What's more, 94% of consumers will remember the brand whose gift they received. Another important visual aspect that will make your hotel more memorable, as well as make the guests' stay more memorable, is colors. Colors play a vital role in inspiring an emotional response among your customers and it also encourages their trust, loyalty, and engagement. Therefore, choose a color scheme for your hotel that will match that of your brand to make it more appealing to guests.


An integral aspect of every brand strategy is marketing. Without an effective marketing strategy to help you get out there, your branding won't be as effective as it could be. Therefore, sit down and develop a marketing strategy that will complement your branding efforts.
As an example, you can leverage content marketing to educate and inform your audience about your hotel, the destination, the services and even the small details that might interest your potential guests. Also, focus on visuals, such as images and video to portray the experience to customers as much as possible. You can leverage social media, such as Facebook and Instagram to promote your hotel and the location to the best of your abilities.
Last but not least, have a well-developed website where consumers can get more information and contact you regarding any other questions or concerns they might have. At the end of the day, your marketing, as well as how you communicate your messages to your audience following your branding strategy will determine how much you can capture and hold audiences' interest, as well as encourage them to stay at your hotel for their next vacation.


---
The hospitality industry is very competitive. If you try to lead by price and not value, you'll soon discover that no matter how cheap your offers may be, your competitors can reduce the price even more. That's why it's important to build a brand for your hotel that will offer something valuable and unique to customers. That way you'll ensure a customer experience that any guest would love to experience again.
---


Learn how to become a hospitality marketing superstar with Typsy's business courses covering topics including Instagram, content writing and more. Sign up today and get the first 10 day's FREE!
---
| | |
| --- | --- |
| | Jacob Wilson is a business consultant, and an organizational psychologist, based in Brisbane. Passionate about marketing, social networks, and business in general. In his spare time, he writes a lot about new business strategies and digital marketing for Bizzmark blog. |
---
You might also like: