Providing a hotel experience that's memorable, comfortable and encourages return or referred business is a unique challenge. Hoteliers need to be across everything: outstanding sleeping and leisure spaces, great food and drink offerings, guest support that makes the most of both the hotel and its surrounds. As the base where travelers return, or as a destination in itself, your hotel's performance can make or break a trip.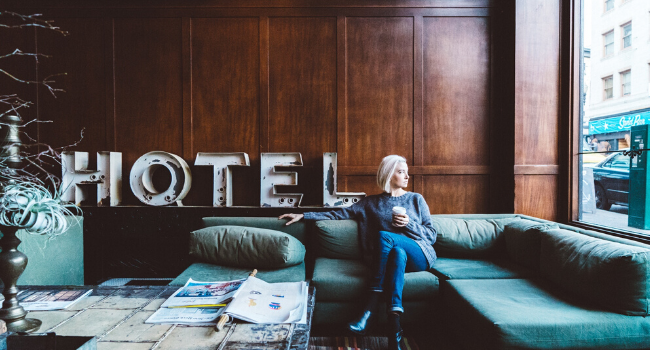 Global travel media company Skift predict that global hotel revenue will grow just 1% in 2020 (down from 2.9% in 2019). This means that hotels need to be more competitive, and it's more important than ever to make sure you're giving your guest what they want – an unforgettable stay.
To help you keep on top of it all and keep up with your competition, we've collected five of the key trends you can expect to see in hotels in 2020.
1. Sustainability and conscience will be a priority
The trend for hotels to 'go green' has been gaining popularity for a while now, and it's no longer a nice-to-have, but something that guests seek out as a priority when choosing a hotel. By building your values of environmental sustainability and making them transparent, you attract new guests. More importantly, you will reduce your impact and expenses by avoiding waste and overconsumption.
Ethically-driven travel is booming beyond the 'green' hotel trend, with travelers avoiding air travel, paying to offset their transport emissions, and finding other ways to shrink the environmental footprint of their holidays.
More than a third of travelers report that they plan to "make concerted efforts" to visit destinations where their tourist dollar will bolster the communities recovering from major setbacks. Sonoma, California is a Forbes pick destination for 2020 even post-wildfire, as the tourist economy helps prop up rebuild efforts and creates further interest in the area as a future tourist destination. So if you're running a hotel in a destination that's on the receiving end of any of the world's flurry of natural disasters, don't panic. Travelers are still considering you as an option for their holiday, because ethical consumption is at the front of their minds.


---
2. Experience will be the most valuable
There's a growing move toward experience-based stays. We know that 67% of high income travelers prefer to spend their money on memorable experiences rather than upgrading to a fancier hotel room.
There's an opportunity here for your hotel to partner with experience providers (think yoga retreats, surf camps, women's getaways), to offer experiences of your own (such as on-site cooking classes or highly unique themed décor), or to act as a middle-man between your guests and the cultural immersions your local area has to offer.


---

Typsy's 1000+ hospitality lessons are practical, effective, and fun! You can learn more about everything from finance to service and leadership skills.
Best of all, you can access Typsy as and when it suits you.
Learn your way - starting today.
---
3. Food will be more accessible
While high-end restaurants are still a destination, the wait list is less of a priority than it has been in the past. Instead, accessibility should be a priority when creating your hotel menu.
Hand-in-hand with the priority of experiences, new and exciting dishes will satisfy your customers most. This means dishes from overseas, local ingredients (there's that sustainability again), and a willingness to cater flexibly to your clientele – by more than one vegan dish, for example.
Of course, it's still important to make your food 'grammable. As always, a social media presence will be a driver for those looking for exciting food experiences. Combine fantastic service with thoughtful and unique presentation to ensure your hotel travels widely on social media platforms.


---
4. Technology will play a bigger role
Technology is coming into hospitality in new and exciting ways, and hotels will benefit hugely from this.
'Smart rooms' can give your guests a highly personalized experience, including features like compatibility BYO music and video streaming. Higher-end hotels include smart features like personalized colour schemes and lighting preferences.
Smartphones also offer opportunities to deliver hotel offers and support to guests during their stay. This particularly appeals to digital natives, who prefer less human interaction and more privacy during their stay. Applications of this kind of technology range widely from suggestions of what to do both in and outside of the hotel to guests requesting turn-down service or cocktails with the tap of a button.


---
5. Stays will be pet-friendly
More and more travelers are including their pets in all aspects of their lives, including their holidays. Studies show that 45% of dog owners take their pooch along for stays of longer than two nights, and this figure rises to 52% for millennials. More support and assistance animals mean that this can also be an accessibility issue.
Including pets in your hotel experience can be a challenging addition, but there are so many payoffs that it's well worth the effort. The benefits of being a pet-friendly establishment include attracting new customers and creating a highly personal and enjoyable experience – all those things we know that guests are looking for.
The pet-friendly trend bumps up against another, where carpet is out and wall-to-wall hardwood floors are in. This is a tricky one for hotels embracing the inclusion of pets in the family holiday, having to think about what finishes provide enough traction for our four-legged friends to get around a space comfortably.


---
Prepare for the new decade, with all its new travelers, new guests, new trends and new opportunities. By embracing these trends in whatever way you can, big or small, you're giving your hotel a head-and-shoulders advantage above your competitors.

Start your online hospitality Typsy training today with our hotel courses designed to take your brand places.
---
You might also like:

| | | |
| --- | --- | --- |
| | | Upselling tips for your front-desk staff |