Your restaurant's menu tells your story. It highlights your culinary strengths and shows off your brand persona. It's the first thing handed to customers as they sit down for a meal.
But, would you be surprised if diners already knew what your menu offered before they sat down? According to research by OpenTable, 93% of people read online menus before dining out. Chances are, your selection of appetizers and entrees were what inspired them to dine with you in the first place.

Your menu matters. Having an online menu matters too. Is your restaurant's menu online? Here's why it should be.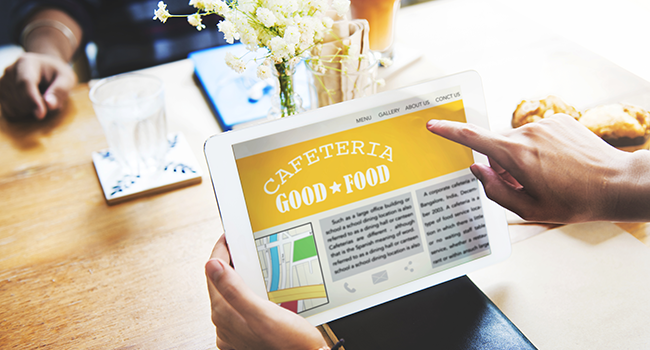 Your customers are online, so should you

As mentioned, it's quite likely that people are looking for your menu online before deciding to make a reservation or stop by your restaurant. Oftentimes, your online menu is the first impression.
With the majority of people turning to the internet to research before choosing a place to dine out, online presence is crucial. Seven out of ten customers visit a business or make a purchase based on info they found online! And without a searchable menu, you risk being undiscovered by new customers.



---
Search engines prioritize searchable text

Search engines love content in the form of searchable text already on the page. When we say "searchable" menu, we don't mean a PDF attachment on your website. There are ways you can optimize a PDF in order to be crawled by search engines, but it's not the best approach.

Menu management companies get your menu into that digestible format. Then, they take it a step further by pushing the content out to all the places people are searching for a restaurant to eat (think Google, Yelp, TripAdvisor, OpenTable, and more).
---
Customers want to find you easily

Think about it - if a potential customer has never dined with you or heard of your restaurant, they're unlikely to just visit your website directly out of thin air. They'll be searching on sites like Google and Foursquare for terms like "Italian food near me," or "Cocktail bar near me," and you want to appear in those results when your business offerings are relevant.
Another great thing about searchable menu content is that specific menu items can be found through search as well. Although 49% of people perform online searches without a specific business in mind, some people know what they're in the mood for already!
---
Improves your local search results

If someone is craving spaghetti in NYC, they'll most likely perform a local search "spaghetti near me." When the search results populate, they'll be able to find the restaurants that have what they're looking for on the menu. See an example below: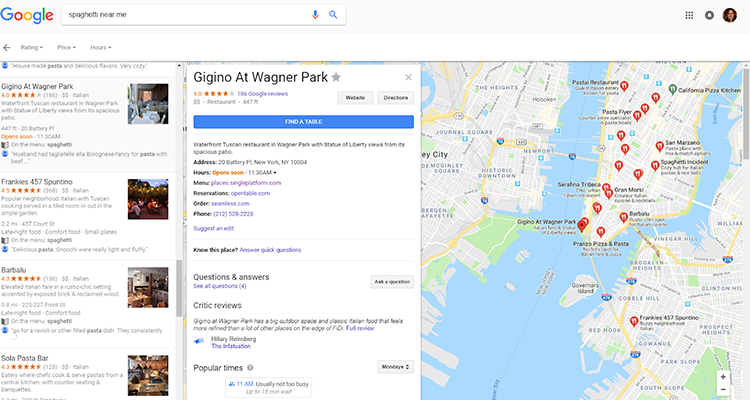 Searchers can then click on the link next to the menu to explore the entire menu for the restaurant. There, the business name, and other essential information, like the address and phone number, will also be available. Diners can quickly navigate to the restaurant's website as well to learn more.
---
Search engines can easily find your menu

If your menu isn't crawlable, you may have just lost a customer. When we say crawlable, we don't mean by real-life insects. But, search engines do have what they call "spiders," which are basically algorithms that follow links.
When Google, and other search engines' crawlers find your website, they'll read it and its content is then saved in an index. Crawlers look for HTML content, otherwise known as the content on a webpage.
Even though you do offer spaghetti, if search engines aren't able to pull information from your menu, as in a PDF version, searchers may not discover that you have exactly what they're looking for.
---
Helps with your marketing

Without marketing, most people won't know your restaurant exists. There are plenty of ways to market, from social media advertising to local media. Having your menu online is yet another marketing tool you can use to your advantage.
People are visiting your bar or restaurant because of the drinks and food! And what better way to show off what you have then with your menu?
Social media posting and paid advertising, are great for building awareness of your brand, having your online menu and business information available to find on search engines online helps to more quickly convert researchers to customers. This is the essential information they're looking for when making a decision on where to eat.
Of course, you'll want to have a full restaurant marketing strategy that includes enticing photos on social media and an eye-catching sign to attract passersby. But, 97% of consumers search online to find a local business, which makes it crucial to have your menu and business information available online.
Customers want to know what to expect

If someone is planning to dine out, looking at delicious photos of your daily specials and reading online reviews can help persuade diners to choose your location. But, knowing all the options of what you offer is essential in making the final dining decision.
Think of it this way - the items on your menu are like a playlist to a concert. If someone loves the majority of the songs on the lineup, they'll be more eager to purchase a concert ticket. Likewise, if your menu has items that interest a hungry diner, they'll be excited to visit you. Having that information readily available on the search engines where people are looking for restaurants helps you seal the deal.
Not to mention, most people are looking for a place to dine out in the same day or in the near future. Unless you're planning a vacation or a special event, most people don't plan too far in advance when it comes to eating at a restaurant. Often it can be quite last minute - 78% of location-based mobile searches result in an offline purchase and 18% of location-based mobile searches result in a sale within one day.


---
So, is your restaurant's menu and business information online? Is it in the form of searchable content that can be crawled by search engines? Does it appear in the places people are searching for food, like Google, TripAdvisor, OpenTable, and Bing?
When it comes to marketing your restaurant in today's world where technology is prevalent, having your menu online matters. Attract more new customers by providing them with the information they're looking for about your business.
---

Typsy's 1000+ hospitality lessons are practical, effective, and fun! You can learn more about everything from finance to service and leadership skills.
Best of all, you can access Typsy as and when it suits you.
Learn your way - starting today.

---
| | |
| --- | --- |
| | Taylor Kelly is the Content Marketer for SinglePlatform, a menu management company that gets restaurant menus and business information online in all the places people are searching. At SinglePlatform, Taylor creates content to help educate the restaurant and hospitality sectors on industry trends, news, and advice. To learn more about what having an online menu can do for your business, visit www.singleplatform.com. |
---
You might also like: