As we know, music is crucial to creating the right atmosphere for a hospitality venue. It can be the difference between welcoming patrons with open arms and potentially driving them away. We've talked before about how to choose the right music for your venue. But there's a very good reason why music deserves some extra thought: it's about creating a cohesive personality for your business.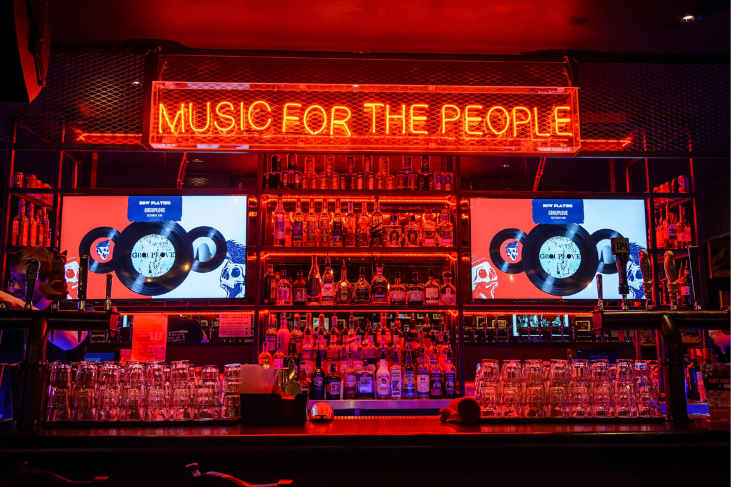 In hospitality, customer experience is as much about brand identity as it is about dining. The next time your customers are choosing a venue to visit, consider what will make your business come to mind.
Just like people express personality through the music they listen to and share, the music you play in your venue makes a statement about who you are and what you have to offer. By making your brand personality clear, you can make a patron's experience comfortable, memorable and distinctive.
For that reason, we need to think carefully about the kind of music we choose to play. Here are 5 things to consider when picking the playlist for the day.
1. Music helps customers understand what your business has to offer
Think carefully about the kind of customers your venue tends to attract – and the kind of customers you'd like to attract. Are you fun and kid-friendly? Are your customers laptop-toting aspiring writers? Are you for the high-energy Saturday night crowd?
By making sure your venue identity is cohesive, you show your customers that you understand what they're looking for – and help your customers understand you. Your interior design might invite customers to come in for a comfortable place to read, but that isn't a useful invitation if you're pumping electronica on the speakers.
Create a cohesive and memorable experience for your customers, and they'll reward you with return visits.
And on that note (pun fully intended) …
2. Music puts your patrons in the right mood

Obviously, you want your customers to feel positive about their experience. But that positive association can be achieved by encouraging a variety of emotions and moods – once again, it's all about creating a cohesive experience (rather than just a happy one!).
Music that matches your overall aesthetic will make your venue feel welcoming to your customer base. Fundamentally, people feel more comfortable when their expectations are met; there's nothing more jarring than walking into a bar expecting classic rock and hearing classical music instead.
Will your patrons want to be chilled out or pumped up? Play to customer expectations and you can't go wrong.
3.

It can help you optimize spend per table



Although we've written before about some overt methods of encouraging patrons to spend more, music is another unlikely tool you have at your disposal.
Strange but true: studies show that listening to music increases food intake.
You can even subtly encourage patrons to purchase different types of dishes depending on the music you play. Need to upsell to a more expensive item? Or an unusual daily special? Different genres of music have been shown to influence menu item selection.
In other words, try playing some music that reminds you of a certain cuisine. It'll remind your customers of it too.
4. Music can make the customer experience more pleasant

This one's a no-brainer.
Happy customers are return customers, and the right music goes a long way to making a drinking or dining experience comfortable and fun.
But more than that, good tunes can help cover unwanted noise in the background. This is particularly useful in a smaller venue where ambient noise is amplified – the sounds of conversation, coffee machines or commercial dishwashers can become quite intrusive, but quite easily masked with music.
Just be aware of the volume level of your music – it can be tempting to turn it up as background noises increase (during a busy lunch rush, for example), but studies show that if patrons perceive music to be overly loud it can leave a lasting negative impression.
(If you're dedicated to serious precision, science says the optimal volume inside a hospitality venue is 62-67 decibels.)
5. Music is an often underutilized marketing tool



In today's world, anything that helps you stand out on social media is a win. With online streaming services like Spotify, you can curate playlists specifically for your venue. Encourage customers to find and share your playlist – a great, underutilized angle for word-of-mouth marketing.
If it's right for your venue, you might even invite requests from customers for your playlist. Let your clientele design the playlist they want to hear from you. Incredibly straightforward market research, and a fun element of interactivity for your patrons.
Not only will these types of approaches offer you additional exposure online, but they actively add – once again – to that all-important brand personality.
Music helps tell the story of what your venue is all about, and customers who understand and connect with that story are much more likely to come back.
Happy listening!
---
Have a question? We're always ready to talk.
You might also like: