While family vacations can be fun, every parent knows that traveling with children isn't always easy. It can add a lot of stress, take longer to get around, and a lot of effort to keep kids from getting bored.
If you want to become a top-tier choice for parents, it's important to consider how your hotel can accommodate families. What are some child-friendly activities and amenities you can offer that would make their lives easier during their travels?
One of the great things about offering child-friendly amenities is that once families know that their children enjoy staying at your establishment, they're more likely to come back and be loyal guests.
The best part about setting this all up? You can have a lot of fun doing it. With that in mind, let's look at some ideas from our guest blogger Adrian Johansen for accommodating families with young children, so you can start marketing to a new target audience.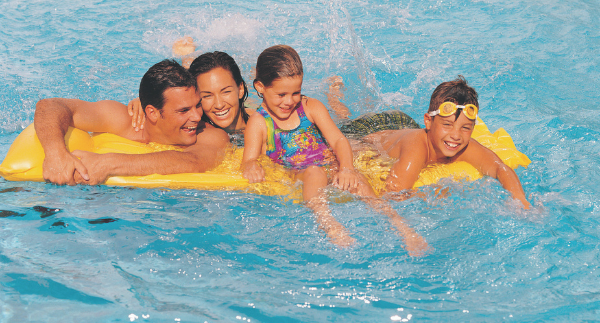 Offer Baby/Child-Friendly Rooms
While most hotels will bring a crib or pack-n-play into a room when requested, most don't have rooms specifically set up for young families. If you choose to make a few of your existing rooms more family-friendly, people may end up staying longer because they feel more comfortable there.
That starts with baby-proofing those rooms. The last thing you want is for a little one to get injured or step into a dangerous situation on your property. Your baby-proofing checklist should include:
Putting finger pinch guards on doors
Adding safety chains to doors
Securing furniture to walls
Using anti-tip kits on any appliances
Using child-proof coverings on electrical outlets
Tying up cords on blinds and shades
Parents have to think about their children's safety all the time. When they see the extra steps you've taken to baby-proof their room, it's something they won't forget.
But, don't forget about older kids, too. If you truly want to offer family-style rooms, invest in appropriate furniture for kids, like a twin or full bed and a dresser in colors and styles that will suit a wide age range. Make sure the room has a little extra space so they can play with their toys or activities provided by the hotel.


---
Being confident, innovative, and motivational are some of the key skills that make a great hospitality manager. Typsy can help you with those.
Typsy's 1000+ hospitality lessons are practical, effective, and fun! Gain instant access to key leadership skills including the difference between managing and leading a team, emotional intelligence, work culture, and more.

---
Manage your menus
Most hotels offer regular meals, whether it's strictly breakfast or you have a restaurant within your establishment. While you might be focused on creating innovative and gourmet menus, don't assume that's what everyone wants. Families who are traveling don't want to have to stress over a fancy menu with dishes their kids won't eat.
So, make sure you have at least a few dishes specifically designed for children on your menu. Spaghetti and chicken nuggets are never going to go out of style with little ones.
You can also offer kid-friendly portions of your traditional menu. An older child might want the same kind of steak as their father but wouldn't eat the same portion. Providing smaller dishes is a great way to help kids feel "grown-up" without their parents having to spend a lot of extra money or waste food.
Adding kid-friendly amenities to your dining experience will also encourage families to stay on-site for their meals. That could include things like:
A self-serve ice cream machine
A water or soda bar
A fresh fruit bar with fun fruit shapes
A window that allows everyone to watch the chefs at work
Offering some type of entertainment during dinner can be another way to keep families lingering longer. Live music kids will enjoy, or someone doing balloon artistry can be a big hit with everyone, and may cause your guests to stay long enough to want dessert.
Train staff to be kid-friendly
When it comes to young tourists with families, they want to feel "at home" wherever they go on a trip. But, even if you have the best facility in the country, it's not hard for a family to feel unwelcome if your staff doesn't deliver. You already know the people who work in your hotel are the heart and soul of the establishment. So, make sure they know how to appropriately communicate with kids.
Not only should your staff be able to show some playfulness and excitement toward children, but they can go the extra mile by offering young guests a small toy when they arrive. It sets the tone for their stay, and parents are sure to appreciate it.
You might even want to consider offering kid-friendly concierge services, where members of your staff can make specific family-friendly recommendations that kids will love. This is another way to take the extra stress off parents who are already trying to keep their children entertained.
A few simple changes and upgrades to your hotel can make a big difference for families with young children. Whether you're trying to revamp your current strategy or you want to open your establishment up to new audiences, consider these ideas to better accommodate families, and boost that word-of-mouth advertising from parents who appreciate your kid-friendly environment.
---
Adrian Johansen is a writer and businesswoman in the Pacific Northwest. She loves discussing what businesses can do to thrive, especially during hard times. You can find more of her writing on Contently

.
---
Have a question? We're always ready to talk.
You might also like: