Online reviews can make or break a business, especially in the hospitality industry. People trust other consumers more than they trust marketing messages from hotels and restaurants, which is why having stellar online reviews is important. Plus, when it comes to putting food in their mouths or staying in strange beds, customers want to
know
what kind of quality they're getting.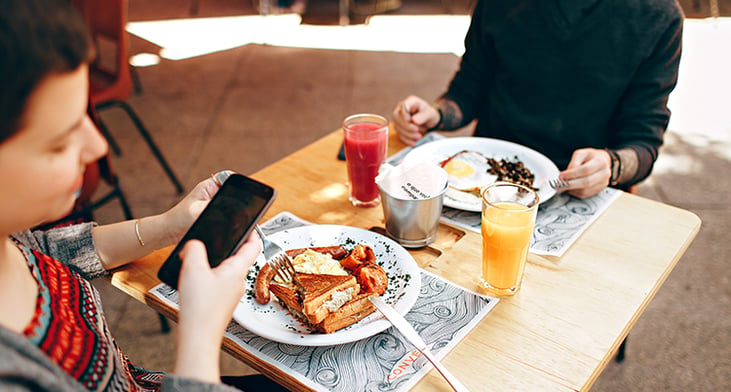 The bad news is that every business will get at least one scathing review from an unhappy customer. The
good
news is that negative reviews are opportunities to exhibit hospitality and
customer service
to attract new customers and change the minds of unhappy customers. Plus, no matter how much they sting, bad restaurant reviews and negative hotel reviews are learning opportunities.
Let's dive into how you can make the most of negative reviews by responding to them in a productive way.


How negative reviews affect the hospitality industry
Customer reviews on sites like Yelp and TripAdvisor impact the hospitality industry more than they do any other industry. Here's how:
About 60% of consumers read restaurant reviews while 40% read hotel reviews online.
A one-star increase in the overall rating of a restaurant can lead to a 9% increase in revenue. If a four-star restaurant earns half a million dollars in one year, it could generate an extra $45,000 in revenue with a five-star rating.
One in three customers say they won't eat at a restaurant with a rating of three stars or lower.
Don't let bad reviews be a living nightmare for your venue. Keep reading to learn how to turn negative restaurant reviews and negative hotel reviews into positive business opportunities.


---
3 reasons why you should respond to a bad review
The first rule of receiving a bad review is to
respond to it
. While this practice may seem counterintuitive (why draw even more attention towards a critical review?), it's a smart business move. Here's why:
1. Potential customers read reviews from past customers
In fact,
78% of diners
read online reviews before making a restaurant reservation. If a customer complains about finding a bug in a bowl of soup on Yelp and management doesn't respond, potential customers will stay away from that restaurant. However, if a manager were to respond to the review and explain what went wrong, how the situation was fixed, and the steps that are being taken to ensure that it doesn't happen again, then the negative restaurant review won't deter as many customers.
2. Responding to reviews can help your business avoid losing customers
Responding to negative reviews
lets you get in touch with unhappy customers so that you can rectify bad situations to ensure that you don't lose their patronage. In the above example, you could send the customer a private message to offer them a free meal at your restaurant, during which their opinion of your restaurant could change.
3. Responding to bad reviews is a PR opportunity
The practice shows how your venue handles frustrating situations or mistakes. While a rude, angry response will look bad compared to no response, a well-thought-out response can recover lost customers. Respond to negative reviews to show off hallmarks of your brand (compassion, hospitality, etc.).


---
How to respond to negative hotel reviews and bad restaurant reviews
So how do you craft the perfect response to a negative review? Here's our review formula to help get you started:
Address the reviewer by name, when possible.
Thank them for being a customer.
Acknowledge something positive in the review.
Acknowledge the problem they bring up in the review.
If the problem was addressed while the customer was at your venue and you did something to fix it, explain what you did.
Explain what steps you're taking to ensure the problem won't happen again.
Here's how to put the formula into practice.
Example of a bad restaurant review:
Let's start with a two-star review of my hometown's Olive Garden by Erica A. on Yelp: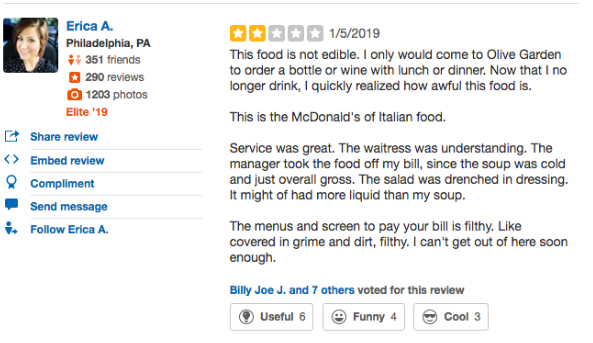 Example of how to respond to bad restaurant reviews:
Here's how to respond to Erica's review, following the review formula:
"Hi Erica, thanks so much for choosing Olive Garden. We are so glad you enjoyed the service you received during your visit. We are, however, sorry to hear about your experience with the food. We were in the midst of a kitchen staff overhaul during the time that you visited. While this is not an excuse, we hope you'll give us another chance soon. We have worked hard to train our new staff on Olive Garden's recipes."
A representative from Olive Garden responded to this review. Here is what they said: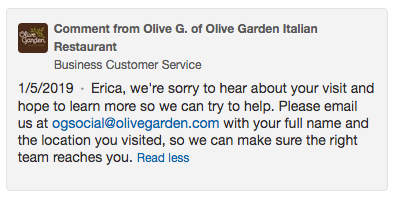 The Olive Garden team referred to the reviewer by name and offered to take the case out of the public view by providing the reviewer an email address to follow up with. Always offer to take it offline (or off of a public forum) so they don't respond directly and continue the negativity.
Example of a bad hotel review:
Now let's see an example of a bad hotel review.
Here's a review of the Loews Philadelphia Hotel from Megan S. on Yelp:
"I never write reviews but after staying here I had to! I was staying at the hotel for my best friends wedding who works the hotel a ton so I was shocked to see how poor my room was when checking in! I went into the bathroom and there was just mold in some of the tiles and around the fixtures and a film it seemed around the mirror and sink. The toilet itself was also so dirty it completely grossed me out. The shower curtain also had mold on the bottom :(. I then went to get ready for bed and noticed brown stuff on my pillow! I inspected the rest of the bed and there was a towel in the bed and hair all over. This was never changed and probably just made after the last guest. How disgusting is that! As I sat and waited an HOUR for the housekeeping to switch it out I noticed a layer of dust and dust on the night stands and side tables. Not to mention the side fabric chair was covered in hair and crap and probably was never vacuumed. This is definitely NOT a luxury hotel whatsoever. I have stayed In many and have never seen something like this. I've stayed in cleaner and better kept holiday inns! I would not recommend this hotel at all. There are many better hotels for the same price and great locations in philadelphia."
Example of how to respond to negative hotel reviews:
Here's the best way to respond to this review to avoid losing the customer:
"Hi Megan, thank you for choosing the Loews Hotel for your stay in Philadelphia. Cleanliness is of the utmost importance to us and our guests, so we are sorry to hear that your room was not what you expected. Thanks to your feedback, and the feedback of our other guests, we have implemented a new communication system for our housekeeping team to assure that no room goes unturned. We sincerely apologize for the inconvenience we caused and hope that we will see you again soon."
In this case, I would send a private message to the reviewer to follow up and offer a free stay or appropriate compensation.


---
No one in the hospitality industry enjoys receiving a bad review. We aim to please! Prevent bad reviews by posting guidelines for dealing with upset customers in your
staff's communication tool
. You can also use the communication tool to let others know if a bad situation or review has been resolved.
In the long run, honest and hospitable communication is key. Answer negative reviews in a well thought out, emotionally neutral, timely and genuine way to ensure that your guests know that you are willing to make things right if they go wrong. Doing this will do wonders for winning over customers that are reading your reviews


Learn how to become a manager superstar in our Introduction to hospitality management course led by Mike Ganino. Sign up today and get the first 10 day's FREE!
---
Ana Cvetkovic is a freelancer and content producer for

7shifts. She is also the CEO of

BLOOM Digital Marketing

, a Philadelphia-based creative marketing agency that helps the hospitality and tourism industries reach new audiences online.
---
You might also like: