The 1950s-style diner Hwy 55 Burgers Shakes & Fries is dedicated to customer service.
Andy Moore, director of communications at Hwy 55, says that using customer feedback data has helped the expanding franchise improve operations.
"Reviews are becoming increasingly important, to the point now where it's one of the major things we look at when we're trying to find really good customer feedback," he says in an interview with the American Marketing Association. "We primarily go into smaller communities and try to become the go-to burger joint, and we really rely a lot on repeat visits. One bad experience can wreck customer loyalty for a long time."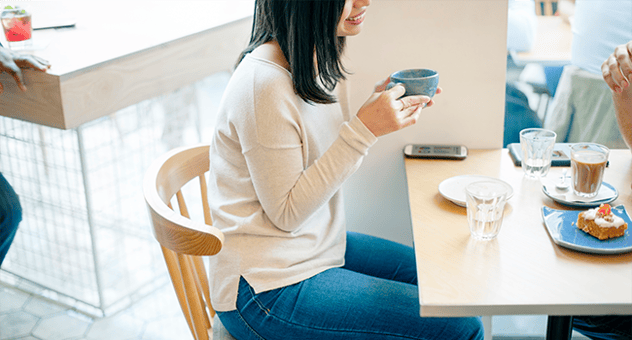 In an interview with ReviewTrackers, Moore said his team analyzed feedback and found an important insight: at some of the Hwy 55 locations, after guests sat down at their tables, the waiters and waitresses were waiting too long to greet the guests.
"That enabled us to make that a priority in our training and onboarding process," Moore says. "We also used the opportunity to remind everyone in a company-wide email on the steps to greeting a customer and serving him or her as quickly as we can. It was interesting because we felt we were doing pretty okay at that and then we realized that it actually was a real pain point for us."
This example shows how important it is to identify an issue before it becomes too widespread to overcome – an issue that might have otherwise been overlooked.
Freddy's Frozen Custard, a fast casual restaurant chain, has also improved its operations with guest feedback.
"Many of our guests have written in requesting a gluten-free bun option," Cowan said in an interview with ReviewTrackers. "We've always had the option available for sandwiches to be wrapped in lettuce, but many of our guests are unaware of this option. We'll be adding to all of our menu boards a line that states, 'All sandwiches are available as lettuce wraps.'"


---
How Do You Get All This Feedback?

According to IBM, 80% of new data is unstructured.
Part of this feedback lives on online review and social media platforms. Facebook, TripAdvisor, Google, and Twitter are examples of sources where customers write about their experience at your restaurant. Reviews, social media and other places where your customer has a voice are essential sources of information for helping your restaurant improve operations.
You should aggregate the data from all of the sources where your guests are talking online. This can be done with a tool or manually with an Excel spreadsheet. The point is: you should have a system in place to manage customer feedback because it's important for your restaurant's reputation to know when a review is posted and where.
In addition, feedback will help you improve operations and therefore, the customer experience.


---
How Do You Understand the Feedback?

Your restaurant should aggregate the customer data from online review sites and social media platforms and look for trends within the feedback. Are there several reviews that talk about how the mushrooms on the pizza are too soggy? What about how the service is too slow?
Also, what are you doing right? What do guests like about your business?
It can be a challenge to understand all of this feedback without a method to analyze the information. That's where text analytics and sentiment analysis comes in.
Text analytics is the method used to make sense of information. Sentiment analysis is the method used to understand whether the opinion of written words is positive, negative or neutral.
Text analytics helps you make sense out of mass amounts of data whether your restaurant is one or hundreds of locations.
Restaurant guests are most likely to leave higher ratings on Facebook when compared to any other site, according to research by ReviewTrackers. The research is based on more than 331,920 reviews of more than 1,300 restaurant locations.
The top keyword associated with positive sentiment scores is "good food," according to ReviewTrackers. The keyword with the highest negative sentiment score is "waitress."
---
How Do You Improve Operations?


With all of the feedback online, how do you use it? Text analytics is a method to understand operation trends within customer feedback and online reviews.
Like in the examples above, look for trends in the feedback about how your staff is engaging with customers. Questions to ask yourself include:
Is there are waiter or waitress who needs additional training?
Is there an issue with the back of the house?
Could you change or modify a menu item?
Does your bartender greet each guest in a timely manner?
Does the waiting area get too crowded?
Are the cups dirty?
The key is to look at the feedback and see what issues you need to investigate. Issues can range from simple to complex depending on the trends in the feedback.


---

Conclusion

Customer feedback is a great tool to use to improve operations at your restaurant. Restaurant managers, owners and operators should be engaging with guests on these platforms and learning how guests feel about their restaurant. Restaurants should improve the customer experience with the feedback customers are providing online.
Did you enjoy this article? Share it with your friends on Facebook.
---
Megan Wenzl

is the Associate Editor for ReviewTrackers, an award-winning business software that elevates the voice of the customer and enables brands to innovate their organizations based on actionable insights from customer feedback.
---

You Might Also Like