What is the first thought that comes to mind when talking about an aggressive customer?
The stereotype of a privileged person who demands proper service, screaming and shouting; without concern for the hospitality staff serving them.
Working in the hospitality sector you will encounter customers who either talk directly to you or the manager or since the internet has made it possible, leave negative reviews affecting the business and your growth professionally.
As a hospitality staff member ensuring guests have a positive experience in your venue is your topmost priority. In this blog post, you will learn 6 quick tips on how to deal with aggressive customers and prevent a hysterical showdown.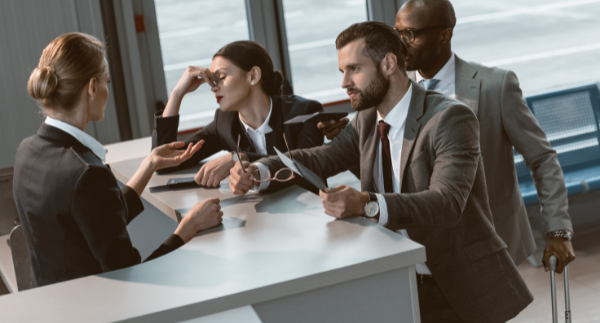 1) Reflective listening
When you're upset and someone says "I understand but…" or "Okay, I agree, but…" does it feel better? Not really. Passive affirmation doesn't make things better, it just adds to the frustration.
Instead of simply agreeing with your guests or using the dreaded 'but', listen to them, nod, and positively understand their concerns. Solve the problem if you can or provide them with alternatives when possible.
For example, you could respond to a complaint about your room service with: "Yes, I understand you are unhappy with our room service, we're very sorry, let us arrange…" this reflective listening method makes the customer feel understood and heard. It encourages them to reflect positively when all their demands are fulfilled.
2) Beginner's mindset
Instead of approaching any situation with prejudice, talk to customers with a beginner's mindset. This means each concern a customer has doesn't deserve a curt reply. Instead, address the issue with concern and unfamiliarity.
For example, if a customer's luggage is misplaced, and they complain to you, instead of telling them to relax and wait for it to show up in lost and found, show immediate concern and arrange for someone to retrieve it. Regardless of what previous experiences you've had with the issue, approach it as though it was the first time and ensure you address their concerns with importance and prioritize their comfort and safety.
3) Face your fear
We get it, the customer is always right. But that doesn't mean your opinion and concerns aren't valued. The fear of negative consequences drives several of our reactions. There are times when the customer's behavior is unmanageable, either they hurl insults or are offensive in any manner. So instead of apologizing out of fear, provide a fix, or validate their feelings by interacting with them and reminding them politely of how you can accommodate them.
---

Access Typsy to watch
Learn your way - starting today.
---
4) Explanation
When it comes to customer satisfaction, giving a proper explanation is the key. Instead of nodding, and saying 'you got it.' you might want to explain what you'll be doing and how you'll make sure that all their needs are met and are properly catered to. It's important to give a proper timeline, and explain the process to the customer which will satisfy their needs, and make them happy and appreciate your efforts.
5) Keep calm
The most important rule of hospitality is to keep calm and maintain a cool composure. Addressing issues with a certain level of professionalism gives the customer a sense of relief knowing that their issues are being handled properly and with utmost understanding. People mirror emotions, so if you are friendly and understanding, the customer will automatically reflect your positivity.
6) Have each others' back
As members of the hospitality venue, you're part of a team. Defending or speaking up for your fellow employees shows great leadership qualities. If you see a guest bullying a fellow staff member, step up and intervene or inform the manager. Many businesses have bullying and harassment guidelines and protocols to follow, so ensure you know what your business has set in place.
Handling angry customers can be overwhelming and scary, so remember to remain calm and focus on passive listening, be sincere and give explanations, set timelines for tasks and face your fears, but most importantly face every issue with a beginner's mindset!
Are you interested in contributing to the Typsy Blog? If you are an up-and-coming hospitality blogger, are interested in hospitality-related concerns, or have a hospitality-related opinion that needs to be heard, reach out to us today!
---
You might also like: