No matter your position in the hospitality industry, your focus should always be on your customers and guests. Making people comfortable and offering them an enjoyable experience is the standard expectation of the industry.
But, there's no question that the world is changing.
We've been through nearly two years of a global pandemic, which has created a shift in the way people work, travel, and live. On top of that, there's growing concern over the sustainability of the planet. Throw in social issues and unrest in certain cities, and it becomes pretty clear as to why shifting your strategies might be important in the coming year.
The good news? Things like an increase in remote work and "revenge travelers" may cause you to see an influx of customers and guests this year. But, it's important to be prepared to meet their needs and have a clear understanding of our world's current landscape. So, what can you do to make necessary changes and keep the customer in the front of your mind?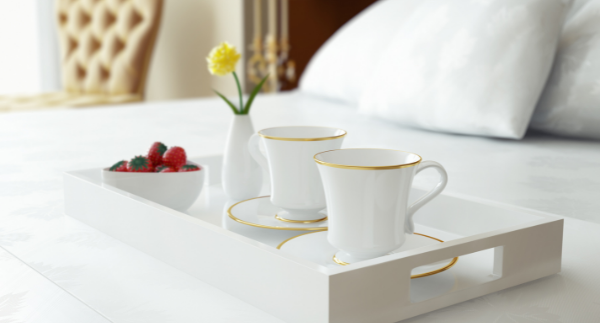 Respond to Remote Workers
Remote work has been on the rise for years. But, the pandemic caused a sudden "boom" in its popularity and made it a necessity for some people. While many have gone back to working in person, some people have made the switch to a full-time work-from-home career. Now, it's estimated that 36.2 million Americans will be working remotely by 2025.
What does that mean for your business?
One of the benefits of remote work is being able to push your career forward from anywhere. As a result, many work-from-home employees have become more nomadic, or have started traveling more. That means a few things for the hospitality industry.
First, as mentioned above, you're likely to see more guests this year. They may not be there for a traditional "family vacation", and it's important to know how to accommodate that. Remote workers want to feel at home, but most importantly they want to feel safe and secure. Some of the best things you can do to draw in more nomadic employees include:
Providing high-speed Internet access
Offering new amenities
Giving guests flexible options
Having quiet workspaces available for use
Advertising special extended-stay offerings for workers
In addition to the suggestions above, now is a good time to upgrade your cybersecurity. The last thing any guest wants is to feel unsafe using your Wi-Fi, and the last thing you want is for someone to experience a security breach or data loss while staying with you. You don't have to be a tech wizard to improve your digital security, but it's worth it to work with an IT professional who can give you and your guests peace of mind. Things like Artificial Intelligence, malware protection, and cloud storage security should all be priorities that will boost cyber safety for every customer.
---

Unbeatable service starts with happy, confident staff.
A fully realised, optimized hospitality venue goes hand in hand with skilled, well-trained staff. Luckily, Typsy can help you take care of both.
Typsy's 1000+ hospitality lessons are practical, effective, and fun! You and your staff can develop a more well-rounded understanding of what it takes to deliver an incredible hospitality experience to every customer, every day.
Best of all, you can access Typsy as and when it suits you.
---
Prepare for Pandemic Travelers
Even though there seems to be a new COVID-19 variant popping up regularly, many people are trying to maintain some sense of normalcy in their lives. That includes traveling again, whether it's to de-stress and get away for a while, or to take a vacation with the family.
People are eager to make up the time they've missed over the last two years. Even people who didn't regularly travel before are eager to get out and find some freedom. The best thing you can do in response is to make your facility as relaxing as possible. For many, traveling has become a "need" rather than a "want," thanks to months of isolation and restrictions. Thankfully, creating that type of environment is easier than you might think.
Consider starting with revamping your interior design with comfort in mind. Keep public areas as clean as possible, offer ample seating, accessibility for all, and maintain sensible noise levels. Whether a guest comes to your establishment for work or fun, they should feel a sense of relaxation from the moment they walk through the door.
Not sure what people are looking for when it comes to design and amenities? Don't be afraid to survey your guests, and get input from your staff. Putting fresh ideas into place (especially when competitors aren't making these changes) will help you to stand out and establish more loyalty from your customers.
Create a Personal Experience
Digital advancements have allowed for improved experiences in the hotel industry. It's easier for people to book reservations, check-in, request specific amenities, and so much more. While it's important to have these convenient solutions in place, it shouldn't be at the expense of empathy.
Retaining customers and turning them into loyal guests who want to keep coming back requires a personal experience. Guests can go anywhere and tap on their smartphones to get what they want. But, hotels that focus on the in-person experience and forming a real connection will always stand out. The interactions you should focus on include:
How to make your customers' lives easier
How to help them with your technology
How to create a more meaningful experience for them during their stay
If every employee keeps those ideas at the front of their minds when interacting with a guest, along with using body language that makes them feel comfortable and welcome, you'll give travelers the connection they're looking for.
You don't need to completely revamp the way your business does things. But, by putting some of these practices in place, you'll develop a customer-focused strategy that will fit the needs of your customers and guests through 2022 and beyond.
---
Adrian Johansen is a writer and businesswoman in the Pacific Northwest. She loves discussing what businesses can do to thrive, especially during hard times. You can find more of her writing on Contently

.
---
Have a question? We're always ready to talk.
You might also like