In some ways, it feels impossible that an entire year has passed since the world went into lockdown. In others, it feels impossible that it has only been one year.
Although we are slowly emerging from a challenging period, we are still learning how to create — and enjoy — a new post-COVID routine. What does this look like for an industry that has been particularly hard hit by the pandemic? How do you welcome your guests back to your spa or your wellness center and maintain physical distance between guests?
In this blog post, Adrian Johansen shares with you three hospitality tips that will help you welcome your guests back to your wellness or spa center and keep yourself, your colleagues, and guests safe.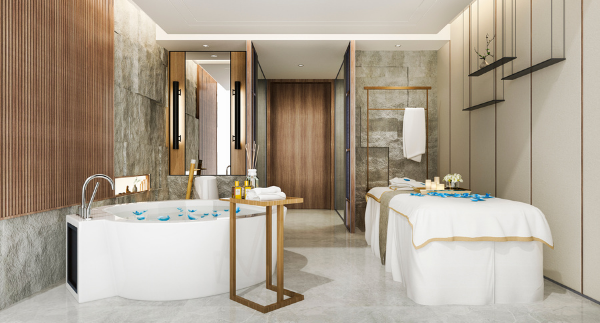 The fear factor
One of the first and most significant challenges you will likely face as you return to physical business operations is the anxiety both your customers and your employees are likely to feel. After all, we have spent the last 12 months in virtual seclusion, fearing that everything we touch might transmit a virus.
But the fact is, we are all starved for human contact. And if there is ever a time when stress relief is needed, it's now.
Even though the gloom may be starting to lift in some countries, significant fear remains for many of us. Your customers may still be hesitant to return to such a close-contact setting just now. Likewise, your employees might fear returning to work and engaging each day with so many different clients whose health status or previously visited sites are unknown.
It is where clear and robust communication comes in. To help regain the trust of your customers and employees, it's imperative to be transparent about all the measures you are taking to keep them safe. It will also show your stakeholders, workers, and guests that their health is the priority in this time of recovery and healing.
Reinforcing this message should emphasize the importance of returning to the world and the company of others. Studies show that social engagement is far and away one of the best remedies for stress and anxiety. Communicating with your guests on how they can enjoy your center as a safe and healing place for all is a must.
---
Unbeatable service starts with happy, confident staff.

Typsy's 1000+ hospitality lessons are practical, effective, and fun!
You can develop a more well-rounded understanding of what it takes to deliver an incredible hospitality experience to every customer, every day.
---
Keep it clean
The good news is, you can still give your guests the luxury treatment they deserve — and paid for — without jeopardizing their health or the health of your staff.
By now, you assuredly know the drill, the rigorous cleaning, and sanitization measures needed to safeguard against the spread of any virus. It includes ensuring that all high-touch surfaces, from countertops to cash registers to employees' cell phones and digital devices, are cleaned and sanitized multiple times each day and that you encourage customers to wash and sanitize their hands.
It's also imperative that handwashing becomes an integral part of your employees' daily routine. Using hand sanitizer is a good option in a pinch, but when you have the choice, nothing is better than good old soap and water. This is especially true in a spa or wellness environment, where making physical contact with the clients isn't just a part of the job description — it is the job!
So, what it means is that, before you resume physical operations, assuming you have not already, you might need to hold a training session with your staff simply on the topic of hygiene and handwashing as a new work habit.
---

Embrace new technologies
Restarting — or ramping up — your physical operations does not necessarily mean returning entirely to business as usual. Even as we move toward a world post-COVID, the virus still has taught us an invaluable lesson. For all our modern advances in science and medicine, we are by no means immune to the threat of illness.
We all know that risk mitigation, in whatever form it may take, is just good business practice. And that should inform your business practices in our new normal after lockdown. That doesn't mean, of course, that you should stop offering the services your business is famous for only because they might require physical contact between staff and customers.
People are always going to want — and deserve — a good massage, a great pedicure or facial, a stellar workout with the help of a trainer. However, there are increasing instances where physical contact is not necessary, instances where technology can serve the customer better.
For example, new artificial intelligence (AI) systems are emerging that can not only instantly analyze your client's skincare needs but can also provide remarkably accurate cosmetics demonstrations. With these technologies, your customer can sample a range of beauty products and experiment with different application techniques, all without requiring physical contact or risking the contamination of product samples.
---
It has been a long and challenging year, no doubt. But some parts of the world are, at least, beginning to return to normal business operations once again. As you prepare to reopen or increase physical operations, it is imperative to institute best practices to reassure, welcome, and protect your guests and staff.
---
Adrian Johansen is a writer and businesswoman in the Pacific Northwest. She loves discussing what businesses can do to thrive, especially during hard times. You can find more of her writing on Contently

.
---
Have a question about online learning? We're always ready to talk.
You might also like