The Covid pandemic initially caused major upheaval for hospitality businesses globally with business closures and staff being furloughed or losing jobs. Many of those businesses are now faced with the difficulty of finding and recruiting staff due to a global hospitality skills shortage as they attempt to open again and resume operations.
There are many factors contributing to the current skills shortage, many of which are beyond the direct control of managers or owners. An aspect where you can make a significant difference is finding people from service industries or students with a natural flair for hospitality and providing training in hospitality so they become confident, engaged, and loyal hospitality workers and employees that will stay with you for the long term.
Hospitality is an industry for those who love customer service. When recruiting, it is important to find people who have some instincts about how to serve guests. They will also need access to high-quality, regular training to ensure that they adhere to your hotel, bar, cafe, or restaurant's high standards.
In this blog post, we share six tips on how to tackle the hospitality skills shortage and recruit and train staff efficiently and effectively. An online learning platform can enhance the speed to the competency of new staff. We will help you understand how to transform your staff into confident, capable, and engaged hospitality superstars in no time!


Let's look at some hospitality onboarding ideas that will save you time and up-skill your team.
---
Interested in how Typsy can get your new staff trained and serving customers quickly?
Request a demo from the Typsy team or start learning now online.

---
1. Recruiting new hospitality staff
Recruiting and onboarding hospitality staff can be a time-consuming process, but it doesn't have to be. In the hospitality industry where the staff turnover is high and the pandemic has seen hundreds of thousands of people furloughed or laid off, right now it's one of the top tasks on most owners and managers to-do-list. The hospitality skills shortage is real. Recruitment of less experienced candidates or staff from other service industries will need to be a consideration.
Find staff via platforms where you can place the job ad yourself or find a recruiter to do the work for you. Online job placement sites include Indeed, Seek, LinkedIn, Coconut Jobs, and H Careers. Also, ask staff if they know of great people interested in hospitality jobs and advertise in local community forums. Letting people know online hospitality training will be a part of onboarding and ongoing will help attract great candidates and set you apart from other hospitality businesses.
There is difficulty in finding skilled hospitality staff at the moment, so look for people with an interest in customer service and train them well, from the outset. Make learning a habit and make learning easy and fun.
---
2. Training hospitality staff
It all begins with a strong orientation program. Let new staff know through the recruiting process that they will have access to ongoing online learning and you will provide the learning tools so they can continuously improve. With online hospitality training platforms like Typsy, a lot of the work is done for you and people can access their own learning pathway before they begin on the floor. Online platforms can assist with providing exceptional fundamental skills training to get started.
With some online learning platforms, you can film your own video content and upload it to share with your staff. Important aspects to cover during orientation that you can either do in person or film videos so they can watch in their own time include:
Welcome: A personalized welcome video message from the owner or CEO can be a great personal touch
Brand story: When was the company founded? Why? What do you set out to do that is different from your competitors?
Team: Who are the key people in the organization? Who are their team members? How do FOH and BOH work together?
HR admin: Collect paperwork and go over staff benefits
Employee expectations: Review staff guidelines, cover compliance and risk guidelines, dress code, working hours, training expectations, covid-safe practices, and plans, etc.
Product training: Provide guidance around how to use products they may use regularly. For example, chemicals.

A comprehensive orientation that is a blend of online and face-to-face training will set your staff training off on the right foot and will help you address your hospitality staff skills shortage.
---
3. Onboarding training courses
Technology is an important part of the onboarding process in the hospitality industry, whether you are training staff who are new to the hospitality industry or training seasoned professionals.
A blended learning approach is always recommended to assist with embedding the knowledge. If you are wanting to onboard hospitality teams at scale, consistently with ease, then technology must be part of your strategy. Doing some online training and some face-to-face will be the most effective approach to building skills and achieving retained knowledge.
Here are a few online video courses that could be a great starting point for new recruits to help them understand different aspects of your business. When watching these, staff can complete a quiz at the end and earn a certificate:
---
4. Mentoring
If you are recruiting new staff with little experience, having access to online learning tools so they can learn in their own time on demand is essential, but so is supporting them on the job when they first begin.
Allocating a mentor or a buddy so the new employee can watch how the experienced employee completes tasks that are specific to the operations in your business is well worth the time allocated. It can be a great idea for a fellow employee to do this rather than a manager. This can also take the pressure off a manager needing to spend time training every new employee. This technique can also be called shadowing and it allows new hires to see their training in the hospitality industry put into action in a low-pressure situation.
Make a judgment call on whether your new recruit needs a small amount of mentoring or more extensive. This will often depend on the experience level of the new employee, how much online training they have done during orientation and onboarding, and how complex some of your day-to-day operational tasks might be.
For example, a new barista may need to be mentored by an experienced barista for 2 days, while an experienced barista may only need half a day of mentoring to master the specific hotel, restaurant, or cafe's processes.
---
5. Manager coaching
Top coaches are sought after on the sporting field and businesses are understanding the value of a coach as a leader too. This concept of leadership sees managers and leaders as coaches who observe the individual's performance to help staff continuously improve.
Managers need to also continue to grow and develop and be given access to online learning tools to support their growth and development.
---
6. Ongoing access to online courses
Continuing education is the key to keeping the skills of your talented staff fresh. Investing in professional development is one of the best investments you can make to decrease employee turnover.
Providing staff with access to online learning tools where they can learn in their own time and build their credentials is a great investment. Quizzes and offline assessments can also be a great way to check the online learning has been retained and can be applied.
It's vital to provide engaging training because it is time-consuming and expensive to recruit! With a global hospitality skills shortage, there has never been a better time to recruit new staff with a great attitude and provide them with online hospitality skills training during onboarding, and ongoing, so they want to stay!
We understand the global hospitality skills shortage is one of the biggest challenges facing the industry right now and creating an online training program is one step you can take today that you can directly control so you end up with an all-star team that stays with you!
---
The Typsy online hospitality learning library contains over 1000 lessons - on a huge variety of topics.
You can assign exactly the lessons that fit your needs and your team has the opportunity to up-skill their own time in areas of need and interest to rapidly support staff engagement and morale.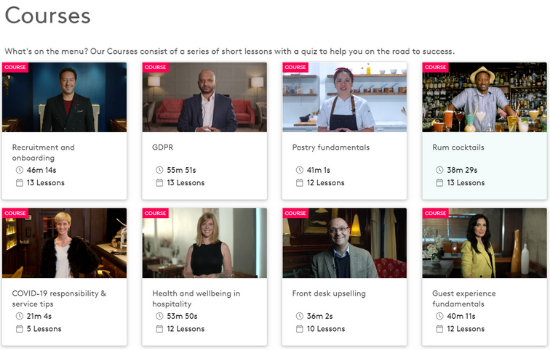 Learning with Typsy is practical, effective, and fun! Best of all, you can access Typsy's 1000+ lessons as and when it suits you. Learn your way - starting today.
---
| | |
| --- | --- |
| | Felicity Thomlinson is Head of Marketing for Typsy, where people in the hospitality industry come to learn online and build their credentials. Typsy provides online hospitality training to over 168 countries globally and supports individuals, businesses, schools, governments and associations. Connect on LinkedIn or Request a demo for your business today. |
---
You might also like: