Good food is what brings people together, right? Whether people prefer to go out to their favourite café which serves the best Benedict eggs or love trying out the latest restaurant in town, the food and beverage culture around the world is more present than ever. To make sure that you offer the perfect customer experience, you have to nurture and delight your guests with different assets.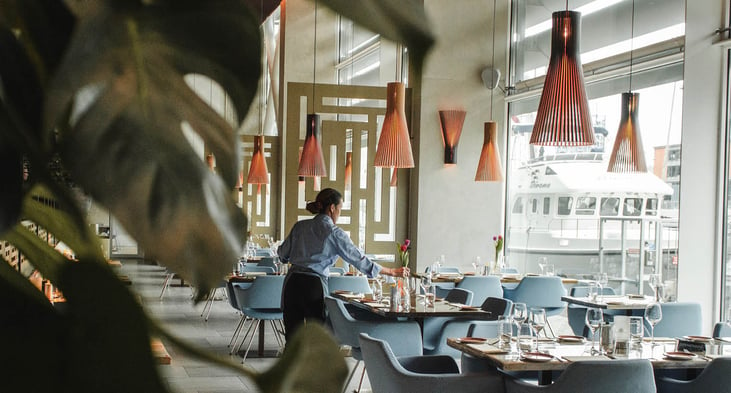 In this article, we look at five restaurant amenities likely to attract guests that will keep coming back.
Update your menu frequently
People love to see changes in different aspects of life, and food is not an exception. Even though you get your usual customers who order the same meal most times, customers will still read through your menu and have a glance at what is new to see how they can spice up their day! Therefore, it would be wise to implement unique, original specialities from time to time. For instance, you can add one or two ingredients to some traditional dish and rename it (John's moussaka, Laura's lasagna, etc.). The same technique can be applied to your beverages menu. You can always purchase new wines, hire new bartenders or mixologists who excel in making cocktails, or upskill your team for them to learn how to concoct great drinks.
---
Set up loyalty programs
Let's be honest, who doesn't love to accumulate points and earn something? Loyalty programs are always a good tactic for restaurants. In fact, implementing loyalty programs are great to drive repeat sales. You can be as creative as you want. From offering a meal to accumulating points and receiving a discount, there are many ways to reward your customer's loyalty. From personal information to food habits, you can also gather data about your customers which will allow you to target birthday marketing emails and tailor your offers directly to your customer's interests.
---
Organize special events
There are two types of restaurant events – you can either rent your restaurant space to third party organizations for them to organize their own events or host your own party. Whether it's a trivia night or karaoke, you can do a lot when it comes to branding and promoting your restaurant. If your restaurant is rented out, you can provide guests with your own branded glassware and other marketing items such as coasters and napkins. Even when you rent your space, those people will still use your branded items , and potentially become attracted to your restaurant. In another case, when you are the one who organizes a trivia night or any other event, there are many things you will have to keep in mind. First of all, you will have to promote it, both offline and online. Again, branding is super important, as well as rewards and the atmosphere in your restaurant during the event. If the event performs well, you can be sure that people will keep coming to your place.
---
Keep the restrooms clean
Keeping your restrooms clean is probably the most important part of any restaurant. Although it seems like an obvious step, many restaurant owners still tend to underestimate its importance. Usually, it is because of financial reasons – some owners may not be willing to hire a cleaning company because of budgeting issues. Don't make such a mistake. Hiring a service to professionally clean your restrooms everyday will help your restaurant's success by promoting your businesses cleanliness to your guests.
---
Provide high-speed internet
The new tech age offers many opportunities and advantages to businesses. However, there are also challenges, as well. The thing is, your competition can also receive the same benefits, and you'll have to think about ways to offer a better service. Even if it might seem strange to you, many restaurant owners are still not aware of the massive importance of high-speed internet fiber. It is definitely one of the crucial points for keeping your guests. With the rise of influencers and freelancers, most people like to check their social media or do some work while waiting for their meal or coffee. Provide the best possible internet in your restaurant, and who knows, it might make the difference between you and the restaurant across the street.
---

Restaurants have their own uniqueness and specialities. From artwork and furniture to cleanliness and staff training, there are many ways that will make your customers come back to your restaurant. Add these five amenities to all that, you can expect to be on every "restaurants-to-go-to" lists.
---

Learn how to provide the best customer service in Typsy's Delivering passionate service course led by Odd Duck restaurant manager Jason James.
Sign up today and get the first 10 day's FREE!
---
| | |
| --- | --- |
| | Jacob Wilson is a business consultant, and an organizational psychologist, based in Brisbane. Passionate about marketing, social networks, and business in general. In his spare time, he writes a lot about new business strategies and digital marketing for Bizzmarkblog.com. |
---
You might also like: