Cleanliness and room quality are not the only factors that travelers consider when booking a hotel room. They look for extra amenities that can make their hotel stay much better. We've done some digging and found seven of the top amenities that your hotel can provide to make your guests' stay more enjoyable and comfortable.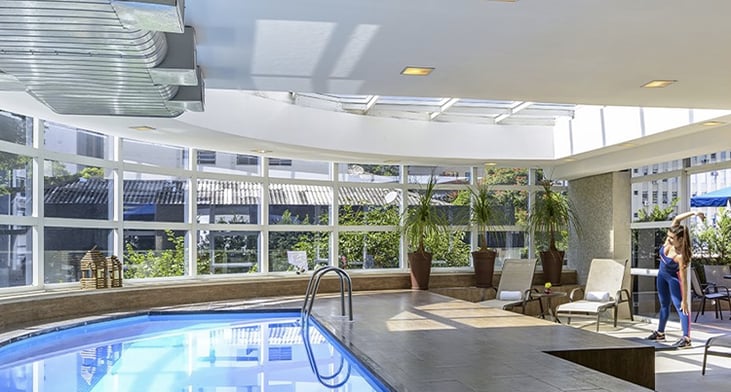 ---

1. Complimentary refreshments
Guests can often travel long distances to arrive at your hotel, so why not offer them some refreshments. For instance, offer them a complimentary drink during check-in.
Add a special touch by keeping freshly baked cookies, local goodies or bottles of water in their room. These are small things that go a long way in making your guests feel special.
2. High-Speed Internet
Don't have an Internet or Wi-Fi connection? It's the easiest way to lose customers before they even step into your hotel. No matter what type of customers you want to attract – business travelers, backpackers or families, they will want high-speed, wireless Internet connectivity.
Offering Internet is also a great way to get your guests posting about your venue. Ensure you provide your hotels social media handles and hashtag with your hotel's Wi-Fi password so they instantly know to tag you on any photos they post.




3. Business center
To attract corporate travelers, you must have business-related services. Invest in a business center that is equipped with computers, printers, fax machines, copiers, and scanners.
It would be great if you can keep it running 24/7 so that guests working at odd hours may use it at different times of the day. This holds for those who have clients or associates in different countries.

4. Airport pickup and drop-off
Nobody wants to get lost in a new city or worry about finding a cab to reach your hotel. By offering your guests an airport pickup and drop-off service you take the hassle out of your guests having to book one themselves.

5. Quality toiletries
High-quality toiletries should be on your hotel room amenities list. It won't be a pleasant experience for guests to squeeze out shampoo or liquid soap out of a tiny bottle every time they step into the shower. It would be worse if the products are of bad quality which will make the skin dry and hair frizzy.
Provide quality bathroom amenities in your hotel such as good quality soap, shampoo, conditioners, body gels, lotions, and mouthwash to leave a mark in the guest's mind. Not only would they feel refreshed but also well taken care of.

6. Fitness and wellness facilities
With the increasing popularity in wellness programs, it's no wonder guests now look for hotels that offer well-equipped fitness facilities, a spa, or a swimming pool.
Your guests would much prefer state-of-the-art weight and cardio equipment, massage services, spas with certified masseuses, saunas and steam baths than out-of-date and run-down recreation spaces.


7. In-house restaurant
If your guests are feeling hungry, the last thing they want to do is dress up and go out to eat, especially if the closest restaurant to your hotel is a drive away. Instead, offer your guests a restaurant experience, or two, that has numerous meal choices.
Not only will this enhance your guest experience, but it will provide a great opportunity to connect with your guests. Why not have the same staff member serve them each night? This will allow them to get to know your guests and make them feel like one of the family.


---
If you provide great amenities, your guests will want to come back the next time they are in your city. Exceed their expectations by offering the best amenities and you may find yourself a loyal customer.


Learn how to provide service with a smile in Typsy's Delivering passionate service course led by Odd Duck restaurant manager Jason James. Sign up today and get the first 10 day's FREE!
---
| | |
| --- | --- |
| | Rishi Kamra works with Grand Mercure Vadodara Surya Palace. He has over a decade of experience in the hospitality and event management industry which allows him to create value-driven content for his readers. Travelling and photography are his two passions and in his free time, he enjoys working with the youth of his city by volunteering his time and mentoring young adults. |
---

You might also like: