Have you heard about the history behind some of these popular restaurants?
Let's start with Jamie Oliver. After he gained worldwide success, he wanted to give back. He decided to open a restaurant where a group of 15 underprivileged youths were given a chance at a better future with a chefs apprentice training program. The first Fifteen restaurant was born in 2002 in London, and it's still going strong today.
Grill'd is a popular burger joint that first opened its doors in Melbourne in 2004. It was founded by a man named Simon Crowe who loved a good burger, but was annoyed at how hard it was to find a burger that didn't make him feel heavy. So he started Grill'd - and people loved it. The healthy fast-food chain now counts over 60 locations nationwide.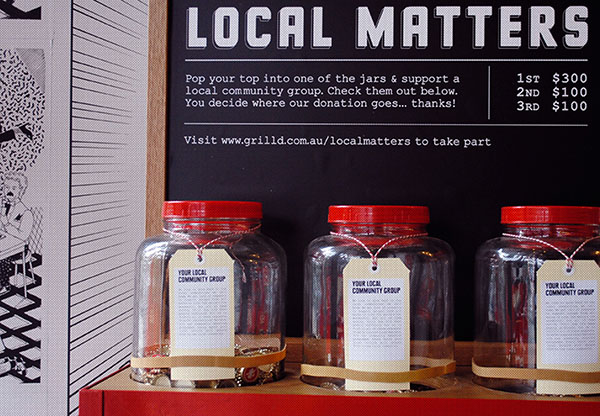 To add to their story, Grill'd donate $500 of their profits monthly to local charities voted on by customers.
And I like this one: two shaggy haired Americans living in London were fed up with the fact that they couldn't find any American burgers, so they started a little burger joint in a Rolls Royce dealership. In 1973, they hosted their first ever live gig, and the singer was none other than Paul McCartney. The venue has hosted live music ever since.
A year later they stamped their logo on some T-shirts in sponsorship of a local soccer team, not knowing those T-shirts would start a worldwide craze. You may have seen them around - their restaurant was called The Hard Rock Cafe.
So why am I telling you this? What could these restaurants possibly have in common?
They all have a story.
The main reason every single one of these restaurants continues to be successful is because they have a story behind them. Their stories are unique, and what's more, their stories are memorable.


---
Why stories work

Stories are said to be remembered up to 22 times better than facts and figures alone. The simple (yet complex) reason for that is that our brains are just wired that way. Humans have been telling stories for centuries. We grow up with stories from a very young age and are constantly stimulated by them.
Chances are you'll have heard parts of these restaurants' stories before, and reading about them now conjured up some lively associations. That's the power of storytelling, and you can achieve the same with your own restaurant or bar.
Here's 4 tips on how you can use storytelling for your restaurant, so that the next time someone is thinking about where to go for dinner, your restaurant will be front-of-mind.


---
Focus on what makes you stand out
What makes your restaurant different from other restaurants? What makes you unique?
Articulate what makes you stand out from the competition. People don't just want to try new food, they're looking for new experiences. They can get great food anywhere else, but it's much harder to be part of something authentic. If you tell a good story, the experience at your restaurant might just be more meaningful for your guests.


---
Make it personal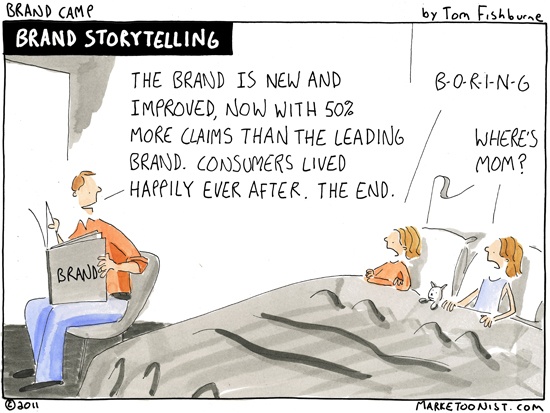 Source: Brand Story Online
People relate to people, they don't relate to business jargon and numbers. A great story succeeds to move the reader emotionally, or at the very least offers something readers can relate to.
What people are important in the story of your restaurant? How did they feel when they were struggling to get it off the ground? What is their mission, and why are they so passionate about it? Answer those questions in your story, and you're off to a great start.


---
Use a dramatic arc

Like any other story, to make your story engaging and memorable you'll need to use a couple main elements. I'm not suggesting you write a 100-page script with plot twists and action conflicts (although how cool would a brand story short film be?), but at its most basic, your story needs a beginning, a climax, and an ending.
Ideally your story starts with a conflict (it's so hard to find a healthy burger!) which is resolved in the climax (meet: Grill'd). Freytag's Dramatic Arc structure was based on ancient Greek and Shakespearean drama, but it can be universally applied to all stories, including your restaurant marketing.


---
Keep your story consistent across all media
For a strong brand, every message you put out publically about your brand should fit in with your story. Look at your story as the foundation of your brand onto which you'll build all your future marketing. Think of social media and email marketing, but also things like partnerships, competitions and even adding new dishes to your menu.
For example, if your story includes the mission 'bringing exotic food to the masses', then an announcement about partnering with a Brazilian soft drink supplier would be suitable.
Your brand story could actually end up serving as inspiration for future campaigns.


Bonus tip: Your brand story is not about your brand

No, that's not a typo. Your story is not about you or your brand - it's about your customer.
It's perfectly fine to share the story of how your restaurant came to be, but in the end your story should offer something that resonates with your target audience.
Ask yourself: why should people care about my story? Am I offering a solution to a problem potential customers might have? Is my story relatable? If you can answer 'yes' to those questions, you're on to a winning brand story.


Learn more about marketing your restaurant with our lesson on How to create a marketing committee.



You might also like