When employees were asked what motivates them to go the extra mile in their organization, how highly do you think they ranked money?
Surely first, right?
No? Maybe second or third then?
Nope. Money was ranked as the seventh most influential incentive to excel at work in TINYpulse's Employee Engagement and Organizational Culture report. Employees actually ranked peer camaraderie as the most important reason to give their best.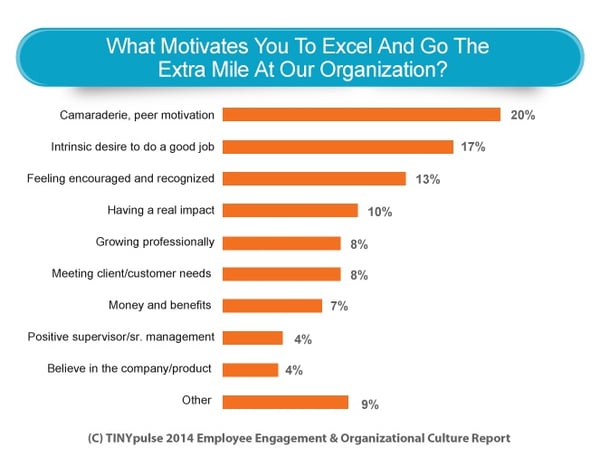 Source: TINYpulse
Wow. So can we say that a good company culture contributes to hard working staff then?
We absolutely can. Happy employees are on average 31 percent more productive, according to Forbes. What should be even more compelling for hospitality managers is this: they also found that companies that successfully engage their employees can reduce their turnover rate by 54 percent.
We know that staff turnover is a continuous problem in the hospitality industry. If the solution is as simple as having an engaged company culture, then that's definitely something worth investing energy in.
So how do you build your hotel's company culture?


---
Do it like Kimpton

Kimpton Hotels & Restaurants has long been one of the top hospitality companies with great culture. Kimpton has earned a high spot on the FORTUNE "100 Best Companies To Work For" list for the past 6 years. So why do employees love working there so much?
Great Place To Work, another website that keeps score of well, great places to work, says Kimpton's secret can be summed up in one word: empowerment.
"Kimpton Hotels & Restaurants was founded in 1981 by Bill Kimpton, whose primary goal was to inspire employees to serve guests from the heart. Kimpton Hotels & Restaurants was born as a company that valued emotional connections, and today that remains the core of who they are." –Jessica Rohman, Great Places To Work
Though Kimpton also offer awesome perks such as fitness classes and dry cleaning, its spirit and atmosphere that really carries their team culture. These may seem like vague concepts, but there are some pretty solid methods for achieving the same in your hotel.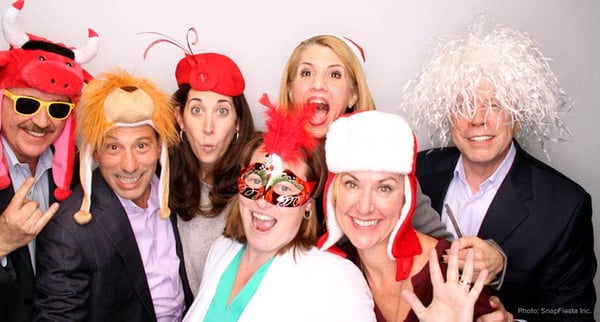 Kimpton employees celebrate their FORTUNE list win with some casual headwear. Source: Kimpton Hotels

---
Hire right

Creating a solid company culture in your hotel starts at the hiring process. Companies with good cultures focus more heavily on attitude than skills and experience when looking for new staff, as does Kimpton.
We talked about this before in our blog about hiring and keeping quality staff; skills can be learned, attitude cannot. If you're after a great company culture for your hotel, you have to look for people that will fit in.
That might mean adapting your interviewing strategy slightly. Some examples of questions Kimpton ask in interviews are: "When was the last time someone thanked you?" and "Tell me about something you're currently looking to improve both personally and professionally right now."


---
Inspire your staff

Think back to when you decided to enter the hospitality business. Why did you choose the hotel industry? What was the goal you set out to achieve in your hotel?
I think it's a safe bet that a desire to provide excellent service for guests was among your ambitions as a young (aspiring) hotelier. That's the core of hospitality, so that's passion your staff will most likely relate to, too.
So share your dream and vision with your staff. Let them help you fulfill it. A sense of purpose is super important to employees, especially millennials.


---
Engage your staff

As well as wanting to work towards a goal, staff work better when they feel involved and know what's going on. Communication is really important for a strong company culture.
A simple way to keep everyone up to speed with the happenings around the hotel is to have a periodic team meeting. Could be weekly, could be monthly, whatever is more suitable. You could give individual team members assignments to make the meetings extra engaging. For example: everyone prepares to share something they've learned at the work place since the last meeting.
If it's logistically tricky to hold team meetings, then find a space to share news online. Email announcements are great, or perhaps you could create your own hotel chat room (here at Typsy we use Slack). Encourage people to share news or other relevant information with the rest of the team, and a stronger hotel culture will follow.


---
Stand behind your staff

As hoteliers, we live to satisfy the wants and needs of guests. We're in an industry where the mantra 'the guest is always right' is lived out to extremes. We also know that this mantra isn't always true.
When an employee gets confronted with a disgruntled guest or bad review, it pays to show that employee you stand behind them. If a manager believes in an employee's abilities, then that employee is far more likely to meet or even exceed the manager's expectations.
Have your staff's backs. When you can't do so in front of a guest, take them aside later and tell them you thought that guest was a bit of a donkey too.


---
Offer flexibility

Flexibility is one of the most sought after job perks for employees. The good news for employers is that it actually makes people more loyal and productive.
With day and night shifts and high and low season, we know that rostering can be a nightmare for hoteliers. But that doesn't have to stand in the way of having a flexible workspace.
Two of the simplest ways to offer flexibility are: 1) allowing employees to ask for time off within a certain time frame, and 2) allowing employees to swap shifts among themselves (with the manager's approval). The good thing about flexibility is that it's a two-way street, and employees are likely to compensate for it and stand in for others as well.


---
Offer extras

I know I said it's mostly about spirit and not reward, but offering the right kind of extras can definitely help build your hotel's company culture too.
Team bonding activities can be grouped into this category. Extra points if this is during working hours. A cool activity for a hotel team could be to try one of the local tours you sell or refer guest to at your front desk. It's fun, and it helps your staff give a better review to guests as well. Win/win.
Kimpton are also invested in educating their staff and keeping staff healthy, and run special learning and fitness benefits. Again, this is something that creates appreciation and loyalty amongst staff and makes them better in the workforce.
Now that you know what it is employees appreciate about their hotel jobs, you know how to strengthen your hotel's company culture. In the end, it makes work, and life, more enjoyable for everyone – and that includes your guests, who are helped with smiles and leave positive reviews in return. But that's a blog for another time...