Right now, almost everyone is being told to stay at home as the dreaded COVID-19 pandemic continues to plague hundreds of countries worldwide. For your own safety and that of your loved ones, it is important to refrain from leaving the house except for essential needs such as buying groceries or seeing a doctor.
In today's blog post, Lianna Arakelyan talks us through the best ways to stay mentally and physically well, even when you're in isolation or stuck inside.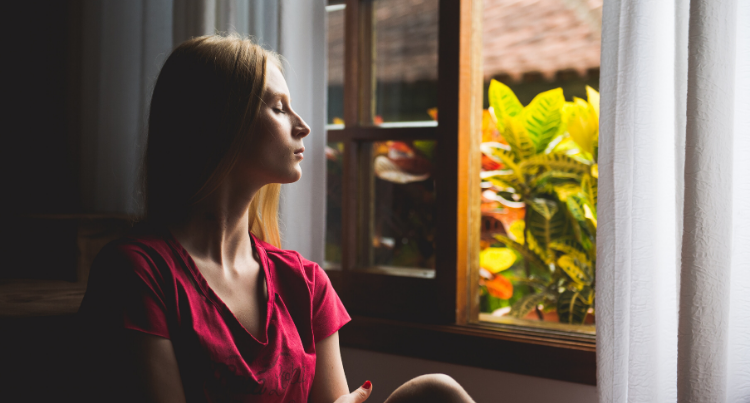 Isolation can be boring, but there are many ways to keep busy and remain mentally and physically healthy at the same time.
1. Stick to a healthy diet
Looking after your physical and mental health is crucial – and as they say, 'healthy outside starts from the inside.' You can maintain your health by choosing nutritious foods and avoiding unhealthy snacks. Having a balanced diet, with three meals a day mixed with items full of protein, fibres and natural vitamins such as green veggies, fresh fruits and nuts, will help you maintain a healthy regimen.
We all know that working from home can be difficult especially when the fridge is right next to you. That's why it is important to choose healthy snacks, such as almonds, nuts, and yogurt, to help you stay focused throughout the day.
And here's some good news - in moderation, coffee consumption can be good for your health! What benefits can coffee give you? Well, the energy boost doesn't hurt - especially if you're struggling to stay motivated and productive at home.
But more than that, coffee is known to enhance brain functions such as mood, memory and cognition. Coffee is also full of essential vitamins and minerals, including B2, B3, B5, potassium, and manganese. So enjoy your cuppa in the morning, and set yourself up for a good day.
Keep in mind that a healthy diet should not be too complicated or confusing. Don't fall into fad diets; focus on a nutritionally balanced regimen that includes natural foods in place of processed ones. You'll notice the difference in the way you feel, look and think.
2. Sleep well, and sleep long enough
Maintaining a sleeping routine is essential for those stuck at home. Sleeping promotes brain functions like performance, productivity, focus, and cognition. In fact, getting between seven and nine hours of sleep can help prevent heart attack and stroke! Insufficient sleep can heighten cholesterol levels and increase blood pressure, heightening your risk factors for these medical conditions.
Take the opportunity to rest, and get the sleep you've probably been missing for some time.
3. Exercise at home
COVID-19 has changed the way we learn, exercise and socialize with others. Now that social distancing and isolation are required, your usual gym routine might have been impacted. However, you don't need to be at the gym to exercise! In fact, there are many exercises that can be done within the comfort of your own home while in isolation, helping you continue to build stamina, strength and burn excess calories.
And thanks to technology, you don't have to be stuck doing star jumps and sit ups on repeat! With fitness apps such as Centr, Fit Body App, or Seven, working out at home has never been easier. Many studios have also uploaded yoga and pilates flows to their websites or YouTube channel for you to stay healthy and active during this difficult period.
4. Entertainment is essential
After you've done your workouts, think of possible leisure activities to help you unwind. You don't need to be at a loss, even if you're stuck inside the house; there are many entertainment options available for you to have a good time without spending a fortune.
Watch your favorite movies on subscription networks such as Hulu, Netflix and Amazon Prime; read new books or old classics; or learn something new, such as hospitality skills!
Otherwise, opt for traditional pastimes such as listening to soothing music, cooking your favorite meals, doing a jigsaw, or playing board games.
5. Socialize online
Although right now we're required to distance ourselves from others, staying in touch with your friends and family is still essential. Socialize with peers, relatives or classmates through the world-wide web!
Developing and sustaining social connections is a significant part of our lives; thanks to technology, we can do that online (and, let's face it, many of us already were). Think outside the box: try organizing a book club through video chat, or hosting an online dinner party. Get creative with all the options social media platforms have to offer.
6. Engage in self-development
Embrace the slower pace while it lasts, and use this time for self-discovery and personal development. You can read books on meditation or other relevant topics such as achieving self-confidence, becoming more productive, and how to become more sociable.
The best way to do so is to install a daily routine. For instance, spend between 15 and 30 minutes for meditation right after waking up, and take the time to reflect on your progress at the end of the day. Be genuine in your self-assessment, and identify areas for possible improvement.
Remember that you can't make this happen instantly, since this task calls for a slow and steady process. In the long run, self-development can become a daily practice that transforms your way of life for the better - something you can take with you long after this difficult period has passed.


7. Try some soothing activities
Amid everything going on, social quarantine does provide an excellent opportunity for you to take a respite from all the disorder. Indulge in peaceful home activities like cooking, gardening, sewing, making repairs, and reading inspirational books.
Doing these will give you tools to cope better with this challenging time by helping you feel productive, engaged, and emotionally well.
8. Clean your home
Lastly, look at this as a chance to tackle those housekeeping chores you've been putting off. Little by little, clean the living room, bedrooms, dining room, and kitchen. Whether doing a Spring/Autumn clean or rearranging your furniture, taking some time for your home is a great way to relieve stress.
Cleaning your house methodically will also help you limit contamination in your home. Make sure you wash your hands with soap for no less than 20 seconds after doing your household tasks, and after going outside, to do your part to stop the spread.
Although it's tempting to use staying inside as an excuse not to change out of pajamas or keep up healthy routines, it's important now more than ever that we keep on top of our mental and physical health. Keep yourself safe and happy throughout this pandemic, and you'll be much better prepared to get back into your usual routine when things settle down.

---
| | |
| --- | --- |
| | Lianna Arakelyan is a digital marketing junkie to the extreme with a knack for social media marketing strategy and implementation at muchneeded.com. She loves her work, with a deep goal of always being updated on online and offline marketing news of the world. |
---
Have a question? We're always ready to talk.
You might also like: