There is currently a staff shortage in the hospitality industry in the aftermath of the pandemic. As hotels, restaurants, and other facilities try to re-open and get back to business, not having enough staff on hand causes things to feel limited and doesn't allow for growth.
A staff shortage isn't the only problem – it's not impossible to find people to work. What's harder is finding individuals with the right skills. You might find that new employees need a bit more training than you're used to, but that's not necessarily a bad thing.
In this blog post, guest contributor Adrian Johansen shares with you some tips to help you train your new hires and get them service-ready.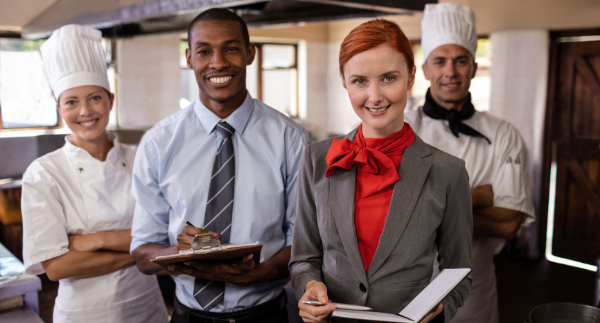 By training your employees yourself, they'll learn the best practices for your facility, they'll know what you expect when it comes to guest interaction, and they'll be loyal to your brand and mission.
Skill shortages make up 69% of staff issues in the hospitality industry. By taking the time to train new employees properly, you can close that gap and teach them the skills they need to succeed in your establishment – and beyond.
So, how can you train new hospitality employees effectively?


A strong focus on customer service
Customer services might be the single most important factor in the hospitality industry. Without satisfied patrons, your business won't succeed. Without extremely satisfied patrons, it won't grow. From the first point of contact to the last moment when a guest checks out, they need to be treated with respect and kindness, and your staff should know exactly how to go the extra mile. Define what customer service is to your employees before you start training, so they know what to expect.
There are several ways to make customer service a priority in your training. You should coach your new employees to:
Be active listeners

Learn how to solve problems on their own

Be adaptable

Show empathy

Take responsibility

Communicate clearly
These are things that can be learned over time, but many of them require soft skills that tend to come more naturally to some than others. Still, soft skills can be learned and employees can grow into them. As a leader, working with your employees to develop strong interpersonal skills will improve other soft skills like customer experience and improve retention among your staff.
One of the best ways to show new employees how to behave with guests (and each other) is to have them shadow a current employee or manager. Handbooks and training programs are great. But, seeing an experienced worker in action will show a new hire exactly what they should be doing. For hands-on and visual learners, this simple activity makes a big difference.


---

A fully realised, optimized hospitality service goes hand in hand with skilled, well-trained staff. Luckily, Typsy can help you take care of both.
Typsy's 1000+ hospitality lessons are practical, effective, and fun! You and your staff can develop a more well-rounded understanding of what it takes to deliver an incredible hospitality experience to every customer, every day.
Best of all, you can access Typsy as and when it suits you.
Learn your way - starting today.
---

Brand representation
Every employee that works for your establishment represents your brand. It's crucial to make sure they know that. Whether they're cleaning rooms, cooking, checking in guests, or serving, they are all branches of your business, and there are certain representation expectations everyone should live up to. A brand identity determines how people see you and think about your business, so building that up internally is important.
To encourage brand loyalty, be open with your staff. Part of your training program should include the history of your business and why it started. Talk about any major milestones or challenges it faced along the way. It's also a good idea to discuss the values of your brand. When an employee can connect or feel just as passionate about certain causes or values, they're more likely to be proud to represent you.
If you want your patrons to be on board with your brand, start by making sure your employees are happy with what you're doing and content with their jobs. A few tips to keep in mind include:
Calling your employees to check-in

Asking what you can do to help

Showing flexibility

Personalizing communications
When your staff feels cared for, they're more likely to pass that on to their fellow employees as well as customers and guests. By showing that care, you're also showing them that you're willing to represent your brand just as much as you're asking them to.


---
Encourage self-care
Part of making your staff feel cared for involves encouraging self-care. Work stress is a prominent problem across the globe. One study found that 1 in 5 Australian workers have taken time off in the last year because they felt stressed, anxious, or mentally unhealthy.
If you want your employees to be loyal to your brand, make customer service a priority, and be excited about their job, you need to establish a healthy workplace environment that makes self-care a priority.
That looks different for every establishment and depends on the needs of your business. But, it could include things like flexible scheduling, extra vacation days, mandatory breaks throughout shifts, or even implementing a wellness program into your business. Allowing your employees to have a healthy work-life balance can actually make them more productive at work, and happy to be there.
The staffing shortage in the hospitality industry won't last forever. But, it's important to make sure the people you do hire have the skills to boost your business. Keep these training ideas in mind as you start to hire new employees and the world returns to normal.



---
Adrian Johansen is a writer and businesswoman in the Pacific Northwest. She loves discussing what businesses can do to thrive, especially during hard times. You can find more of her writing on Contently

.



Have a question? We're always ready to talk.


You might also like