Failure at a new food business, no matter how small, can be heartbreaking. The causes of failure can be multiple or a single significant problem, but it is crucial to understand why a particular restaurant fails.
Guest blogger Damon Shruaner discusses why certain logistics have been accurately pinned down to help new hotel restaurants succeed.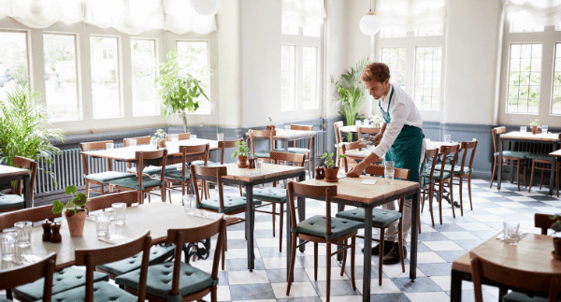 The most common causes of restaurant failure
Insufficient research

Running a restaurant can be an art and to be an artist, a restaurateur has to know the tricks of the trade well. Improper location, menu prices that are too high for the clientele, low foot traffic, and not understanding which kind of restaurant is suitable to the location can be detrimental to the restaurant's success.




Not accurately calculating the costs and returns on investment

Like any other business, restaurants are commercial by their very nature and it is vital to calculate costs and benefits at the end of the day. Establishment costs, staff wages, and taxes need to be worked out before the prices are set. These calculations should be done well in advance before opening the restaurant and the restaurant may fail if the checks and balances do not add up.


Purchasing more than you need

Inventory management is an essential part of the day-to-day running of a food service business. It's important to know how long the food will last in the fridge or freezer, and the cheapest way to procure inventory. Apart from that, if there is inventory left over, it is money wasted. The fastest way to lose profits is spoiling money that has already been invested.


Energy efficiency ignorance

Modern commercial kitchen equipment has come a long way in energy management and innovation. Eating up excess energy can lead to serious dents in profits, and is not viable from an environmental standpoint either. It is essential to know the efficiency of restaurant appliances and if it would make better sense in the long run to replace those that are simply not efficient enough.



Inefficient use of restaurant space

Restaurant kitchens are busy work environments and appliances that are inefficiently placed can seriously hamper productivity. The best way to create an efficient kitchen is to place the equipment in a way that creates a safe and open working environment where it is easy to move about. Better productivity will lead to faster ticket times and happier customers. In case you're not currently using all of your equipment, you can

put it in self-storage

, instead of having it clutter your restaurant kitchen.


Ignoring warranties by not inspecting equipment open delivery

This is a crucial step that many restaurant owners miss. By thoroughly inspecting equipment upon delivery, restaurant owners can save themselves the hassle of warranty returns because of a misdelivered appliance. Sometimes, warranties may need to be filled out and stamped for a claim to be made in the future, so it may make sense to look for the finer print before making any purchase decisions.


---
Used commercial equipment: pros and cons
Pros of used equipment

Used commercial kitchen equipment is cheap, easy to acquire, and great for saving on initial startup costs. It can be fairly easy to find used equipment online or in the market and in good condition. Advanced equipment can be had for reasonable prices as well.


Cons of used equipment

Used equipment can be unreliable and it is often unknown how the previous owner treated their appliances. Warranties do not always carry to new owners and it may be difficult and expensive to perform repairs on used equipment. There's also the issue of energy efficiency with older-model appliances, as the latest technology is designed with eco-friendliness in mind.


---
Factors to consider when purchasing used commercial kitchen equipment
Most of these factors are just common sense, but it is a good idea to understand how much the used equipment has been put to the test. Have there been regular repairs? Has the owner/staff treated the equipment with respect and care? Also, why is the equipment being sold - is there a defect with the appliance or does the owner want to upgrade/move on to another business?
New commercial equipment: pros and cons
Pros of new equipment
New commercial kitchen equipment is usually equipped with the latest technology, so it is energy-efficient and eco-friendly. It also comes with comprehensive warranties so that parts and labor are covered. They are reliable and can be counted on to perform their tasks for years to come.
Cons of new equipment
New equipment often comes with a higher price tag, especially flagship models. It can be difficult to find the best deal, even with good online resources. However, if owners can afford new equipment, it is by far the better choice of the two.


---
Factors to consider when purchasing new commercial kitchen equipment
Buying new commercial kitchen equipment is like purchasing a new car. After looking for the best deals on the brand that suits them best, the restaurateur can either go online or to a brick-and-mortar store to make the purchase. Warranties need to be signed to cover equipment and shipping prices need to be discussed. It's often a good idea to look for the best-suited accessories to the appliance to make the kitchen workflow smoother.
Checklist for purchasing restaurant equipment
Restaurant requirements

Cost and return on investment

Space utilization

User-friendliness

Speed

Maintenance

Energy efficiency

Materials used

The choice between used or new equipment

Safety features

Taking a demo before purchase

Opening a new hotel restaurant can be a daunting task, but with some guidance and expert knowledge, it is possible to overcome most pitfalls that new restaurant owners face. It's a good idea to do proper research and understand the hurdles of new restaurant owners. It is hard work picking out a suitable location and setting a proper menu, but these obstacles can be overcome with some research on the topic. The same is true for picking out restaurant equipment, whether new or used. With some care and consideration, it is possible for a restaurant owner to reach new horizons of success with the perfect equipment for their kitchen.


---
Damon Shrauner

, Senior Sales Consultant and VP on B2B Sales at CKitchen, working in the food service equipment sector since 1994. With his expertise in market analysis, product placement, sales and project management, he will always tell you what to do for the best of your business.
Have a question? We're always ready to talk.
---