Alright Typsy tribe – it's mid-February, and we know what that means: loosen your belts, turn off your phone and maybe bring out a blanket to shame-eat under… because Pancake Day is here!
With that in mind, it's the perfect time to add some new pancake recipes to your menu. To help you out with some sweet (and savory) inspiration, we're looking at some of the most interesting pancake styles from around the world.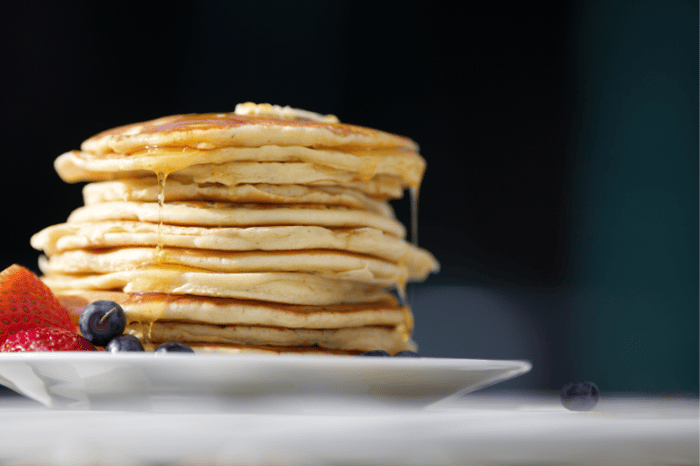 Also known by Shrove Tuesday, Fat Tuesday or Mardi Gras, Pancake Day is celebrated across the world as the one day of the year when it's socially acceptable to eat pancakes for every meal. With these recipes, you're going to want to!
Albania – Flija

A local favorite, this is a layered pancake traditionally slow-baked in a barbecue. Best served with honey or Greek yogurt.
Bhutan – Buckwheat Pancake

In Bhutanese tradition, these pancakes can be 'read' while cooking – if a mark appears, it means you're about to welcome guests! These slightly bitter flat pancakes can be made salty or sweet – try serving with salted butter or ricotta.
China – Jian Bing

Jian Bing are typically served as a side to a main dish, and can also be filled and rolled up. Favorite accompaniments include spiced shredded potato, pulled pork, or stir-fried noodles.
Denmark – Æbleskiver

These Danish favorites are somewhere between a pancake and a donut. Serve sweet and filled with jam or stewed fruit.
Ethiopia – Injera

Injera is a sourdough flatbread, usually served savory. The combination of Injera with Doro Wat, a traditional Ethiopian chicken stew, constitutes Ethiopia's national dish. Its main ingredient, teff flour, is one of the oldest domesticated grains in the world!
France – Crepes

Okay, so chances are you've heard of crepes. But come on. How could we not?
Greece – Tiganites

These sweet pancakes, traditionally poured over with honey, were packed into satchels of fruit pickers during the olive season in Greece. These pancakes are designed to be shared. Make a large batch and serve as a treat to enjoy with friends and family.
Hungary – Palacsinta

Similar to French crepes, these sweet pancakes are best served with apricot jam and walnuts for a twist on a favorite.
India – Thalipeeth

Packed with veggies, spices and whole flours, these pancakes serve a punch of flavor and also make a great side dish. To bring out the complex flavors, try spreading a traditional Indian pickle on top.
Japan – Okonomiyaki

Sometimes called 'Japanese pizza', these cabbage pancakes are all things in one – pancake, main meal, bacon delivery system. Enjoy as they are, because what else could you need?
Jeon are similar to what we might call a fritter: a filling of your choice, fried in Jeon batter. This is a dish where you can really let your imagination run wild – but kimchi, green onion, or fish are all great places to start.

Another regional Shrove Tuesday go-to, these sweet pancakes are made smaller than traditional pancakes. Try adding grated or dried fruit to the batter before frying.
This corn-based savory pancake is cheesy, salty, and makes a great side dish to spicy pulled pork.
Roti is a savory, thin pancake similar to flatbread. These are great for soaking up gravies – serve with saucy dishes, like curries.
These traditional pancakes are made with a thin batter and spiced with cardamom.
Not strictly pancakes, but traditionally eaten on Shrove Tuesday, these Portuguese sweets are similar to doughnuts. Serve coated with sugar and cinnamon.
Small and thick, these leavened mini treats are popular in Eastern Europe and can be served either sweet or savory. Fun fact: Latkes, Jewish potato pancakes, are believed to share the origin of their name with Oladyi – from Old East Slavic Oladka.
Cambabuur is a fermented crepe, spiced with turmeric, saffron, garlic, cumin and onion. Despite the savory spice palate, it's often served with melted ghee and sprinkled sugar as a sweet-n-sour dessert.
These round pancakes are deep-fried, rather than pan-fried, giving them their rounded appearance. Panikeke make a delicious breakfast dish, accompanied with jam and cream or butter.
Kabalagala are traditional plantain mini pancakes, shallow-fried in small batches. Naturally gluten-free, these can be served either savory or sweet.
These butter corn-based pancakes make for a great savory breakfast. More flexible than traditional pancakes, they can be folded in half and filled with cheese for a heartier meal.
Another recipe traditionally made for Pancake Day, Crempog is believed to be one of the oldest surviving recipes in Wales. Best served with butter.
Lahoh is part of a traditional Yemeni lunch – a sourdough flatbread, it is usually eaten with Shafout, a spicy yogurt dish popular in the region. Serve savory as a side dish or with toppings of your choice to make it a meal.
Apologies to the letters Q, X, and Z.

And with that, we come to the end of our search for pancake perfection. No matter whether you're looking for something savory or sweet to spice up your menu this coming Tuesday, an unusual pancake recipe is bound to impress.
Until next time – happy eating.
---
Have a question about online hospitality training? We're always ready to talk.
You might also like: