Who doesn't like getting freebies every now and then? Customers have their favorite café, hotel or restaurant and let's be honest, it's always nice to feel rewarded when you are a regular guest somewhere. In this blog post, we look at five different ways to create a successful restaurant loyalty program.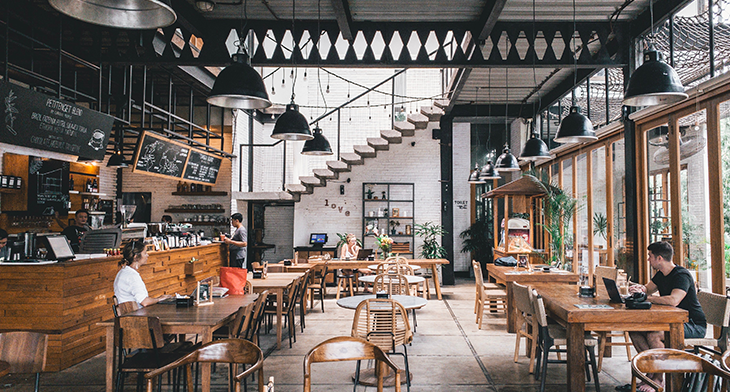 Harvard Business Review report that it's between 5 and 25 times more expensive to attract new customers than it is to retain existing ones. If the churn rate of your customers is high, you'll also be churning through your marketing budget. Loyalty programs are a great way to stretch the reach of a limited marketing budget, particularly if you're running a small business.
It's a win-win situation: your customer earns benefits (points, discounts, and special offers) by being a return-patron, and you get repeat customers, building rapport, loyalty, and even increasing their average spend.
Implementing a successful loyalty program in your restaurant can be tricky, so here are five tips to making your loyalty program worthwhile for both your business and your customer.
1. Make it easy to use
It's essential to make your loyalty program simple to understand (in terms of exactly what the rewards are), and easy to use.
With so many loyalty programs in the world, for everything from fuel to online shopping, most diners will have a wallet stuffed with plastic cards already. A simpler solution might be to retain their loyalty details on your own system, attached to the customer's mobile number, or by providing a digital 'card' that can be uploaded to an app that allows customers to 'carry' their 'card' on their phone.
Digital also gives you an opportunity to retain insights to customers' spending habits. This information can be incredibly valuable to your staff as they try to provide your loyal guest with an outstanding dining experience – for example, reserve their favorite table or create targeted campaigns that offer buy-one-get-one offers to those who order particular dishes again and again.
---
2. Make sure your FOH staff are on board
It can be embarrassing for customers to try to redeem a loyalty bonus only to be met by front-of-house staff who don't know how to process the claim.
It's essential that your FOH staff are aware of:
the program and its benefits
checking whether guests are existing members
encouraging (but not bullying) new customers to join the scheme
how to process claims without any fuss – make sure your reward scheme is easily compatible with your POS system.
You can also incentivize your staff for sign-ups – create a leader board and reward those who are signing new members up particularly well.
---
3. Create a sign-up benefit
It's far easier to build a database of loyalty customers if you include a signing bonus – like 10% off their meal, or a free drink for joining and sharing their dining experience using a hashtag on Instagram. Social media engagement also provides you with an opportunity to engage with this customer outside of their visit – re-share their post, and respond in a friendly and personable way.
---
4. Include offers
Loyalty reward programs that give an initial benefit and then accrue points per dollar on a spend work well. A full 73% of diners report that they think points accumulation is a 'very important' or 'extremely important' feature in a restaurant loyalty program, according to Software Advice.
What works even better than points accumulation is to combine this with strategically timed and targeted benefits for your loyalty customers that aren't available to non-members.
These could include:
a free birthday item
an off-menu option available on request
bonus points periods (days/weeks)
tiered loyalty programs to reward customers who visit often or spend large amounts by giving them more points per dollar.
Gift certificates are also a great reward item, because it gives diners the freedom to order whatever they want.
---
5. Seek feedback
Seeking feedback from both your staff and customers will help you fine-tune your loyalty program over time.
Ask your staff whether they find it easy enough to register new loyalty customers, and to track or redeem related rewards. Are there any particular frustrations or pieces of feedback they receive from customers?
You can get feedback from spending patterns and data attached to your customers' accounts – what's the redemption rate when you email out a special offer? How much more do people spend when they get a freebie, or when they're upgraded to a 'gold' loyalty card? It's also important to go straight to the source – by email or in conversation, ask your customers what they find the most rewarding, and gear your program to fill gaps and provide what the customer actually finds most meaningful.
---
Setting up a loyalty program in a restaurant can bring your most valuable customers back again and again. Making it a big success, however, requires a lot of thought from you when setting it up. It also takes a lot of effort from your staff, to make the scheme worthwhile for customers. If you're smart, you can use your loyalty program to personalize diners' experience, and quickly become their favorite regular lunch or dinner spot.

Start your online hospitality Typsy training today with our service courses designed to take your brand places.
---
You might also like:

| | | |
| --- | --- | --- |
| | | Upselling tips for your front-desk staff |