Many believe that restaurants need to constantly attract new customers, however, the biggest part of a restaurant's income is generated by repeat customers. In fact, it costs six times as much to attract a new customer than to keep an existing one.
New customers are also a priority, but you should operate in such a way that new customers will turn into loyal clients.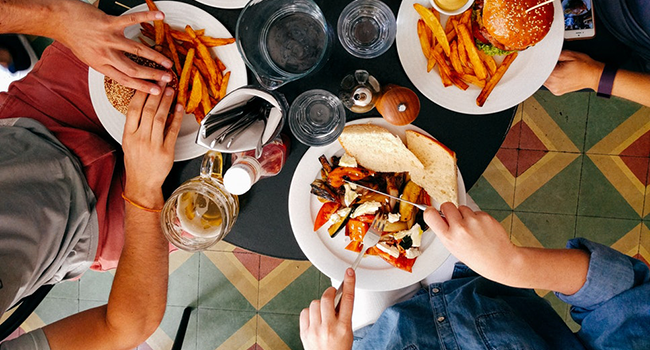 Every restaurant business is built on the loyalty of their customers. So the primary target of every restaurant owner is to build trusting relationships with their customers and make them feel comfortable and interested in their food and drinks.
To help you learn more about building an army of loyal customers, here are six ways to drive repeat customers.


---
1. Consider using digital menus

If you own a fast food restaurant or a café with a smaller amount of food choices, you might want to think about implementing digital menus. You've probably seen these at McDonald's, Wendy's and many other popular fast food chains.
How will it help you drive repeat customers? Interactive digital menus attract more customers as they can easily see menu options upfront. It's also easier for them to communicate their choices with a server when placing their order.

Digital menus can also help you boost sales. For example, the UK-based burger chain, Prime Burger saw a 50% increase in sales after they implemented digital menus.

However, note that this option may not suit all restaurants, so if it doesn't fit within the context of your venue, it's better to stick to hard copy menus and try some other ways of driving repeat customers.



---
2. Engage with your employees

It's easy to overlook the value of your employees in terms of driving repeat customers to your restaurant. However, they probably know your customers better than you do (they might even be one of the reasons customers return to your restaurant!), because they're always working around them, so engaging with your employees in this process is crucial.
"Let your employees identify what attracts your customers and what should be changed in order to attract them even more", says Anne Chadwick, a former restaurant manager and HR specialist at A-writer. With your employees' input
and feedback, you can identify how your restaurant can improve.


---
3. Make some changes to the tables

The table your customers eat at says more about your hospitality than the treatment they get from staff. Think about it, if customers walk in and spot a messy, unclean table, it's unlikely they will eat there.

Don't be surprised if some of your customers even have a favorite spot. Why? It's because they have an affinity for it — whether it's a good spot to catch the sun, or it's tucked away in a corner, table arrangements are important, especially for loyal customers. So to drive more repeat customers, you should take exceptional care of the tables they eat at.
Consider adding some technology to your tables. An electronic system that allows customers to call for a waiter is a nice addition, as your customers don't need to chase up a waiter.
Or, you can completely change the way your dining tables look. For example, some Pizza Hut restaurants have purchased digital interactive tables, which allow customers to design their own custom pizza and place the order. It's very convenient and makes your customers enjoy their time even more.


---
4. Create a loyalty program
With a loyalty program, your customers will get more for dining at your restaurant. By offering them a loyalty program, you are able to show them how thankful you are for their attention to your place, and it encourages them to return.

Starbucks has one of the most effective and attractive loyalty programs. After downloading an app or signing up on their website, there's an opportunity to get free in-store refills, get a birthday reward and more. After reaching 300 Starbucks stars (i.e. loyalty points) you gain 'gold status', which allows you to get a free beverage or food item.

A successful loyalty program will depend on what you can and
want to offer your customers. So identify what your customers
would like to receive after becoming a member of your loyalty club.
---
5. Provide online delivery options

It's no doubt that your customers want your restaurant's food to come out quickly. So, when they don't have an opportunity to go into your restaurant, but still want to enjoy your food, you should offer them a delivery option.
Many restaurants are adapting to the food delivery boom, so make sure that you can provide a decent delivery service to keep your customers satisfied — they will definitely appreciate it!


---
6. Be accessible to your customers

Don't shy away from your customers, whether that's face-to-face, or online. Should there be issues flagged by your customers, you should be available to help resolve them. Customers like to be treated and respected equally, so don't prioritize some customers over the others. Fair treatment helps with receiving positive feedback from customers and becoming a more reputable restaurant.


---
Owning a restaurant business requires a lot of work, including finding out how to drive repeat customers. But the key to the heart of any loyal client is listening and understanding their needs. This way you'll be able to build up an army of the loyal customers and make your restaurant business a success.



Start your online hospitality training with Typsy. Start your 10-day free trial and join now!


---
Tom Jager

is a professional blogger who works at A-writer. He has a degree in Law and English literature. Tom has written numerous articles and online

journals. You can reach him on

G+ or Facebook.
---
You might also like