If you are offering in-person dining again, you may want to try innovative approaches to customer experience. With new safety regulations coming into force and new technologies becoming available, now is the time to adapt and change the way your venue operates. Even though investing in technology can be a little daunting at first, it will help improve your customer service as well as help your restaurant grow and succeed.

In this blog post, guest blogger Sara Carter shares with you some of the best technology solutions for your restaurant that you should consider. From contactless interactions to loyalty programs, these options will help you offer the best dining experience possible.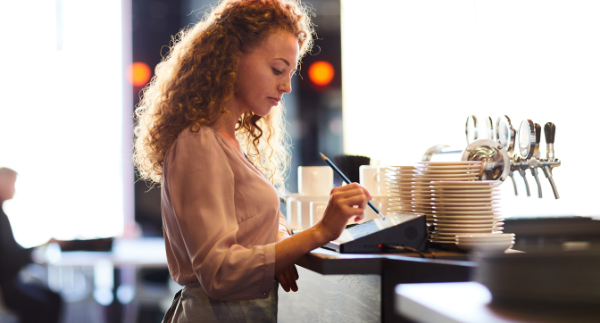 Embrace self-service to minimize contact
Even before COVID-19, many restaurants were deploying self-service technologies. Some venues have started to implement ordering kiosks for those who want to grab takeaway meals, whilst other restaurants are adding self-checkout tablets at tables. These technologies make it possible for wait staff to focus on their customer service. It also allows the customer to decide when they want their food to arrive.
If you haven't set up either of these options in your restaurant yet, now is a great time to do it. Kiosks and tablets at dining tables cut down on the number of people moving through the dining area. Many customers are hesitant to eat out due to safety concerns, but you can re-establish trust by using these tools to make their visit smoother and cut down on extra traffic through your restaurant.
---

---
Update your POS system
Operating without a Point of Sale system can affect your restaurant. This system is vital to help you control tables, check whether your customers have ordered or not, and ensure your customers receive the best experience possible. With new health guidelines currently in place, you need to have a good grasp on table placement and spacing. Updated POS systems allow you to see your whole dining area layout and how you can space out tables without compromising your customer service.
Menu planning is also a crucial option for you to consider. Menu planning can help with food shortages and reducing food waste. When outlining your specials for the week, your POS system will help you map which items are in stock or what you will need to source out and facilitate communication between your kitchen staff and wait staff.
Along with meal planning, your POS systems can help with inventory management. Need to restock your delivery station? Make sure that these issues are solved ahead of time to limit the impact on your customer service. Guests often don't like to be kept waiting while your staff runs around trying to find a to-go container.
---

Set up an online ordering system
Over the past few years, online ordering and food delivery services have increased around the globe. Setting up an online ordering system is a must for many restaurants. It will take some work on your end but combining your technology already in use in your restaurant, like your POS system, with an online ordering portal from your website will make delivery an easy add-on. It will also give you complete control of your customer experience while keeping your brand front and center.
---

Optimize your booking service
Even though 57% of restaurants still rely on phone calls and walk-ins to fill up their reservation book, don't fall back on it as a safety net. You will have to follow capacity guidelines currently in place. However, you can plan and know when and who will be showing up to eat with an online reservation system.
With this system in place, you can stagger arrival times to allow your staff enough time to clean and re-set tables. Also, you'll have a direct way to contact customers if you need to. This type of booking system allows you to text, email, or call a booking to let them know about a delay or to ensure they are still coming to your venue.
---

Reward your loyal customers
Loyalty programs are not new, but they're more important than ever when it comes to engaging with your customers. A survey conducted by Square found that 42% of restaurants plan to invest in their customer loyalty programs. They're a great way to collect information and send targeted promotions. Do you have a lot of mums coming in? Offer them a free pastry with their coffee now and again. The college crowd coming in on Thursday nights? Run special offers such as happy hours to retain your customers.
Having a digital record of who frequents your establishment will give you a picture of who your loyal base is and what they like. Providing a unique and customized experience will draw more customers to you and help you keep your restaurant busy at any time.
---
As your restaurant starts to reopen for in-person dining experiences, modern technology can give you a leg up. By using any of the technology systems mentioned above, you can simplify your daily tasks while also providing great customer service. Remember, the key to a booming business is using the right tools for your restaurant.
---
Sara Carter is a c

o-founder of Enlightened Digital, entrepreneur, and Bostonian. She enjoys writing code and spending time with her kids.
---
Have a question about online hospitality training? We're always ready to talk.
You might also like