It takes happy, engaged employees to create memorable guest experiences. To do this requires leadership, culture, and accountability. This in turn will develop a cycle of improved revenue, loyal customers, and a decrease in employee turnover.
One of the many methods used to create culture and accountability, is that of performance evaluations. This type of evaluation is extremely helpful to track an employee's step-by-step development and is highly beneficial; for the employee, restaurant owner, operator, or manager.

Staff evaluations highlight areas the employee may be excelling at and areas that are in need of improvement. It also provides an opportunity to develop performance based rewards, which is an excellent way to reduce employee turnover costs and keep employees engaged in their day-to-day tasks.

The key ingredient however to a winning employee evaluation program is consistency. Be consistent in the timing of evaluations, your required standards, and with all employees (meaning do not single any one employee out from the others).

Asides from consistency, it's ideal to also keep the following six tips and steps in mind when conducting staff performance reviews:
---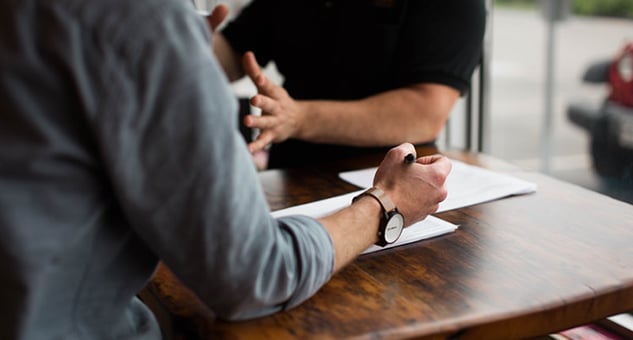 1. Create the foundations early
Make it known during the on-boarding process that all employees are subject to both regular and scheduled evaluations.

Design a complete staff performance plan by formulating accurate job descriptions, job expectations, standard operating procedures, on-boarding processes, pay scale development, training programs, and team building exercises.

These systems will create the foundations to work from, for future performance based evaluations.



---
2. Schedule evaluations in advance
When it comes time to complete an evaluation, the employee shouldn't be surprised. It's either part of the scheduled evaluations that they've been made aware of from the start, or you've had regular discussions with them, leading to a required off-schedule evaluation.

When you schedule an evaluation in advance, you can explain to them the entire process and provide them with a copy of the evaluation forms, so they're equally prepared.


---
3. Encourage self-evaluation
This form of evaluation is often over-looked by many employers, though it is an extremely important aspect to the overall evaluation process. It is best practice to have employees fill out the exact same evaluation form to see how their personal observations may pair with your observation.

Finding out how they feel about their own performance will set the tone for the evaluation meeting. It will also open a brief discussion period about any obstacles they may be experiencing to achieve a stronger performance.


---
4. It's not all about your employees
Performance reviews should develop an opportunity to create 'two-way' communication. Don't make it all about the employee. Use this time to ask if there is anything the restaurant can do to make their job or employment experience better for them and their team mates.

Make note of this discussion and see if there are any trends or consistencies among the answers from multiple employees so you as the owner, operator, or manager can take immediate action to improve.


---
5. Provide balanced feedback
The overall staff evaluation should look at the quality of their work, including their dependability, attendance record, customer service rating, team-based communication, openness to feedback, and how they've handled unique or stressful situations. It is ideal to score and rank each category out of 10, to provide a measurable goal for improvement.

You want to take this time to provide honest feedback with a solid direction to improve on the requirements of the hospitality driven business.

Discuss the previous period, but keep in mind that at least 50 percent of the performance evaluation should be spent on the future. When talking, use simple, direct language while comparing each issue to a note within your completed standard operating procedures. This is how effective leadership is then respected.

If there is a below average score, anticipate the possibility of a confrontation or negative reaction. However, as the leader, if you're properly prepared for the evaluation, you can take a proactive measure by following every negative with a positive, to reduce this possibility and to keep the momentum of the meeting in check.

You want to spend more time on the positives to enhance the performance improvement plan.


---
6. Set up a performance improvement plan
This is the opportunity to improve on performance, morale, motivation, personal development, and overall profitability. By using a series of 'SMART' goals (Specific, Measureable, Attainable, Realistic, Timely) an employer can create a system of reward and accountability.
Whether it was an excellent, average, or below average review, there should always be an improvement plan in place. It's ideal to provide three SMART goals for each individual to work on between now and the next review or specified time for improvement. As the employer, is there any further support and/or resources they need from you to achieve these goals?

Write these goals on the performance review form, discuss any rewards/incentives, and ensure both parties sign it for optimum accountability.
Completing these reviews on a consistent basis will provide employers with the opportunity to develop happy, engaged employees.

Take our Typsy course now about effective performance reviews with Mike Ganino



| | |
| --- | --- |
| | As the Founder & President of KRG Hospitality Inc. in addition to being the author of the book 'Bar Hacks', Doug Radkey's impressive career spans more than two decades and includes all aspects of food, beverage, and hospitality development. This storied brand has proven success since 2009, throughout a variety of markets found within Canada, The United States, and abroad by being a creative agency with a focus on planning, development, and support for independent restaurants, bars, hotels, and other hospitality related properties. |
You might also like