One of the great advantages of learning with Typsy is the opportunity to earn micro-credentials for hospitality as you complete courses. But what are micro-credentials exactly, and why should you be excited to earn them?
In today's blog post, we're talking everything you need to know about micro-credentials and how they work when you learn about hospitality with Typsy.
Typsy is all about supporting hospitality workers to develop their skills across multiple areas. Having a wide variety of hospitality skills is not only great for your career, your resume, and how other people view you at work, but also about how you feel about yourself.
Learning a new skill is a great achievement. When you've made a commitment and put in the effort to see it through, there's nothing more satisfying than seeing your name on an award you earned. That's why Typsy provides micro-credentials for every course on our platform.
In this post, we're going through:
---
So what exactly is a Typsy micro-credential?
Just like the award you earn for completing any other educational milestone, Typsy micro-credentials are proof of your accomplishments.
Every time you successfully complete a course on Typsy, and pass the course quiz, we provide you with a certificate that shows your name, the course you completed, and the date you earned your certificate – all signed off by Typsy CEO Jonathan Plowright and Instructional Designer Ruth Langley.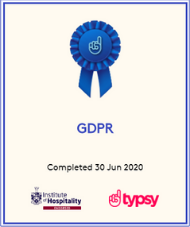 ---
Why does Typsy offer micro-credentials?
Typsy awards micro-credentials for four main reasons:
1. No waiting
When you complete a Typsy hospitality course online, you are immediately awarded a full certificate with your name, the course title, and the date of completion. No matter whether you're using the Typsy website or our app, micro-credentials are instantly available for you to access through your profile, and download.
Where can I find my Typsy certificates?
2. Share anywhere you like, with the click of a button
Typsy micro-credentials can be downloaded as a PDF with one click from your typsy.com member profile. From this page, you can also share directly to social media, Whatsapp, and email.
3. Get formal recognition for your efforts
Typsy courses are endorsed by the Institute of Hospitality, which means every hospitality micro-credential you earn on Typsy is also formally recognized.
Our courses are about self-development and fun, but they're also about developing real-world skills in a way that has real benefits for your career. Your certificates are an official record of your achievements.
4. Quickly prove your work ethic and new skills to anyone who wants to know
Finishing a Typsy course gives you great skills you can take with you as you progress in your career. It is also a testament to your dedication to self-development, learning, and taking initiative.
Micro-credentials are evidence of all these attributes, and Typsy's platform makes them easy to share with employers, colleagues, teachers or friends in one click.
---


Learning with Typsy is practical, effective, and fun! And best of all, you can access Typsy's 1000+ lessons as and when it suits you. Learn your way - starting today.
---
How do I earn a micro-credential on Typsy?
You are automatically awarded a Typsy micro-credential every time you finish watching all lessons in a course on the Typsy learning platform and complete the final quiz.
---
Where can I find the micro-credentials I've earned?
For desktop users, you can find your micro-credentials by logging in to your profile, and moving your cursor to the achievements tab at the top of the page. From there, simply choose 'Certificates' from the drop-down menu.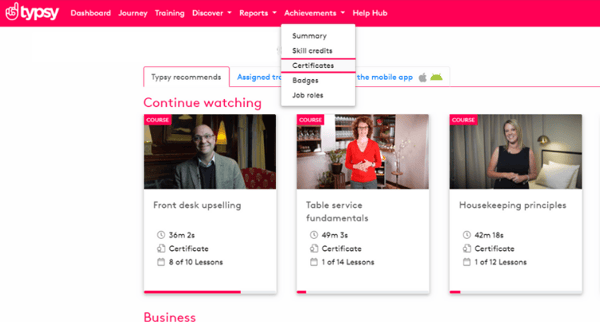 For members using the Typsy app, simply tap the three bars at the top left corner of the app and go to your profile. From here, you can view your certificates, check how many skill credits you've achieved, and find out interesting stats about your progress with Typsy (like how you are comparing to your teammates!).
---
Can I earn micro-credentials for training provided by my suppliers?
Suppliers often provide training to ensure you have the most up-to-date information on the best way to use their products. Now, your suppliers can host their training on Typsy – meaning you get all the great advantages of online learning combined with the specific training you need to know about products and machines for your venue.
With Typsy Hosted Supplier Training, you can track and earn micro-credentials for supplier-provided training – called 'Badges' – just as you do when you watch any of Typsy's courses. We work with your supplier to provide Badges that officially recognize your successful completion of their specific training.
Online supplier training has a huge range of benefits, for both venues and the suppliers themselves - especially in light of COVID-related work and travel restrictions. You can learn more information about these benefits here.
Interested in asking your supplier to host their training on Typsy? Send them here, or get in touch with our friendly team today.
---
You might also like