Using a mystery shopper to improve customer service is a tactic that's been used by the hospitality industry for years. This program allows businesses to assess their customer service from their guests' perspectives. This can also serve as an employee evaluation in certain instances.
However, it's not just an outside guest that your business should be using for this program, you can also recruit fellow employees to participate. Allowing other staff members to take part in mystery shopping scenarios provides countless opportunities to teach your team about improving customer service. Find out the benefits in today's blog post from Sara Carter.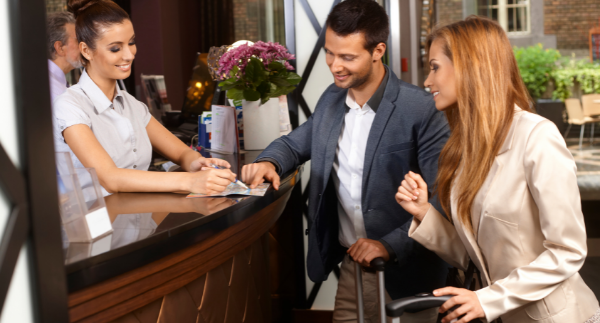 Why start a mystery guest program?
Great customer service is the key to keeping your business going in the right direction. According to a survey from Ameniti, 73% of consumers say that friendly interactions are what makes them fall in love with a brand. If you cannot keep guests loyal to your company then you will continuously struggle to keep those customers coming in.
That's where mystery shopper programs come into play. They allow you an outside look at your guest service and how your employees respond to customer problems. An evaluation of your staff is one of the leading benefits of this program. Yes, you may be giving employees feedback on a regular basis already, but a mystery shopper will give you input on things you may not see when you're reviewing your team through a management lens.
When you receive feedback from the mystery shopper, use it to help your staff members improve themselves. In no way should this opportunity lead to 'gotcha' moments with employees. This is meant to be a serious matter that will lead to optimal customer service, and train new team members. When you take it seriously, your team will too.
This is also a chance to get an outsider's perspective on your processes and highlight where issues or potential problems are arising. For instance, you may have rolled out a new way for staff to introduce your rewards program, but the mystery shopper notes a point of confusion. You'll then be able to take that feedback and fix the issue using the shoppers' insight.
Additionally, this is an opportunity to see how your team works together when providing customer service. While your employees might have individual tasks, create a scenario where a guest will need help from multiple people to give you insight on how staff alert one another or step up to help each other. It's a great way to see if your team can work together when solving a problem.
---

Typsy's 1000+ hospitality lessons are practical, effective, and fun! You can develop a more well-rounded understanding of what it takes to deliver an incredible hospitality experience to every customer, every day.
Best of all, you can access Typsy as and when it suits you.
Learn your way - starting today.
---
5 tips for starting the program with your employees
1. Keep it secret
The first aspect of a successful mystery shopper program is keeping it a secret. Employees will talk, but a way to avoid the secret getting out would be to surprise both the staff member assigned to be the shopper and the one providing service on the day. That way, others will think it's just a normal day and allow you to see everyday results. If employees were to know this exercise was happening ahead of time, their want to impress can mask any problems that need to be addressed. Secrecy can keep the bias at bay and allow one to truly see an average customer's view.
2. Set up parameters for the visit
If the mystery guest doesn't give employees a chance to provide service, then what is the program for? Give a suggested list of questions for your shopper to ask or what interactions they should attempt. For instance, the last-minute switch of the number of rooms required for the stay or assistance with booking a restaurant. This is a chance to see how employees respond to curveballs and the fundamentals of guest service.
3. Pay attention to details
What time of day did they visit? How crowded was the area? How many staff members were there? These details give a full picture of what a typical day in your business looks like and what employees are dealing with. Also, if you have a set time for when certain tasks should be getting done, say janitorial staff cleans a specific room during the afternoon, you will learn if that's actually happening.
4. Pick someone your team may not know
If you're using your own staff as the mystery guest, try to make sure it's someone that people won't recognize. You, as their manager, will unlikely be a viable candidate since they know your face. However, maybe asking a restaurant employee to pose as a guest checking in or a janitor wanting your spa venue is a better way to go. This will also give your company's wide range of employees a chance to see other aspects of your business and understand how it all works together.
5. Reimburse when you need to
Remember, if the mystery shopper has to pay for anything you will need to reimburse them. You can cancel out the transaction or give them their purchases for free after the fact. People will not volunteer if they're not properly compensated for their work.
Mystery shopper programs are a great way to assess your team's customer service performance. It's meant to give you insights as well as areas of improvement. When you use your own team to pose as a shopper, you expand the learning opportunities and give your staff a chance to see how the entire business works as a whole. At the end of the day, improving customer service will help your business successfully grow and thrive.


---
| | |
| --- | --- |
| | Sara Carter is a co-founder of Enlightened Digital, entrepreneur, and Bostonian. She enjoys writing code and spending time with her kids. |
---
Have a question about how Typsy can help your business? We're always ready to talk.
You might also like