2022 is a pivotal year for businesses in the hospitality industry. COVID-19 restrictions have slackened, opening opportunities for hotels to recover the revenue they lost during the pandemic. Advances in technology have also created new avenues for profit.
Here are five vital hospitality trends that will give your hotel an edge in 2022 and beyond.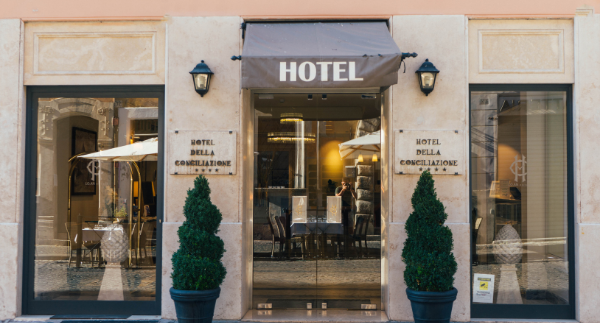 1. Tech-based experience
A website and social media accounts are no longer enough to maintain your hotel's digital presence. You should take advantage of these new technological innovations if you want your business to grow:
Software as a service (SaaS):

This cloud-computing project management software

introduces new ways to collaborate

with employees, guests, and other hotels. It aids with essential everyday operations, including rate management, booking, and guest engagement.

Application programming interface (API):

This technology allows your hotel's various digital tools to communicate and share information. It makes your operations more user-friendly and efficient.

Guest room tech:

Your hotel's rooms should have voice-activated features, streaming services, and tablets for guests to order food and room service.

Wi-Fi six:

The latest version of Wi-Fi can handle the aforementioned software and devices better than your current internet connection.

Cybersecurity:

Hotels

have always been vulnerable to hackers

. However, recent advancements like behavioral analytics and blockchain cybersecurity provide multilayer security, support safe financial transactions, and keep your data private.
The hospitality industry is getting sleeker and faster, so you must adopt the latest advancements to keep your business ahead of the pack.
2. Mobile-optimized service
Your hotel's operations must also expand toward mobile services, starting with your own app. This app should serve as your hotel's main point of digital contact and offer two essential benefits: mobile booking and keyless check-in. Guests should be able to book their rooms with ease and check-in and out of the hotel without stopping at the front desk for a prolonged period.
Travelers often use multiple devices to plan their trips, especially their cellphones. A mobile app with a convenient booking process allows you to capitalize on this trend and get a more consistent flow of guests.
---

Stay up-to-date with hospitality trends
Typsy's 1000+ hospitality lessons are practical, effective, and fun! You can learn more about everything from service to cocktails and leadership skills.

Best of all, you can access Typsy as and when it suits you.
Learn your way - starting today at www.typsy.com.

---
3. Upgraded sanitation practices
COVID-19 has not disappeared, although government restrictions have loosened. Health and safety are more important now than when the pandemic began. You should take this opportunity to upgrade your building's sanitation practices before another outbreak occurs. Here are a few ways you can create a cleaner environment:
Space out the floor plans in your lobby, restaurant, banquet hall, and other necessary areas to encourage social distancing.

Provide each room with masks, hand sanitizer, and other cleaning supplies.

Add outdoor dining arrangements, if possible.

Clean your HVAC system and replace the filter often to ensure healthy air quality.

Make your cleaning schedule more frequent, especially in high-traffic areas.

You don't have to keep your recreation areas closed anymore, but it's still good to establish capacity limits and reorganize those facilities to prevent overcrowding. These practices will reduce the chance of an outbreak and keep your business running smoothly.
---
4. Greater focus on sustainability
Another priority that has changed in recent years is an increased focus on sustainability and environmental health. Guests expect your hotel to engage in eco-friendly practices. Here are some ways you can pull it off without consuming too much of your budget:
Minimize water usage:

Run smaller laundry loads, consolidate your landscaping water usage, and invite guests to be conservative with their showers and bathrooms. You can put up signs and other reminders around the building to encourage this practice around the building.

Phase-out plastic products:

You no longer need to rely on plastic for everyday products. Phase it out from your business and stick with glass and other natural materials.

Eliminate food waste:

Conduct a waste audit to find where your hotel discards the most food and figure out new methods to alleviate the problem. Reevaluate your restaurant's menu and portion sizes so guests eat everything on their plates.

Introduce allergen-free amenities:

Switch to tile or hardwood flooring where possible and stick with houseplants that don't cause allergic reactions.

Control your carbon emissions:

Do little things throughout the day. Install motion-sensor lights and turn off the AC in rooms not in use. Consider investing in renewable energy sources like solar power.
The entire developed world must adopt sustainable business habits to ensure the planet's long-term health. Your hotel can do its part by applying these tools and policies.
---
5. Accommodations for new travel habits
The increased emphasis on sanitation and sustainability has caused people to develop new travel habits. We have seen three notable changes occur in recent years that will become integral parts of the hospitality industry in 2022:
Staycations:

Guests are more likely to book a trip closer to home.

Last-minute trips:

We can't predict when governments will lift or ease COVID restrictions, so guests can't plan trips as far in advance.

Solo travelers:

More people travel alone, primarily for remote or hybrid work.
Expectations might be higher than usual if people know your hotel and the surrounding community, so you must work extra hard to please them. You can add more local-themed decorations to the building and give staycation guests resources about the area's various attractions.
A mobile-optimized service will make the lives of solo travelers and last-minute guests much easier, but you can also do a few smaller things to accommodate them. Reserve quiet workstations throughout the building and consolidate your front desk to make check-in smoother. Clean the bedrooms daily so these guests have everything they need upon arrival.
---
Prepare your hotel for the future
Business practices in 2022 and beyond will look much different from pre-pandemic life. Tech-based service will become more important with each advancement, sanitation and sustainability are higher priorities, and travel habits will continue to change. Hop on these five trends to prepare your hotel for the future of hospitality.
---
---
| | |
| --- | --- |
| | Cora's passion is to inspire others to live a happy, healthful, and mindful life through her words on Revivalist – wholeheartedly convincing them that everyday moments are worth celebrating. Cora has spent 5+ years writing for numerous lifestyle sites - hence her sincere love for both life and the beauty of style in all things. Keep up with Cora on Twitter, Pinterest, and Facebook. |
---


You might also like