Fady Hachem got his kickstart in interior design while he was still in university and somehow convinced the owners of Bond Bar to let him run the venue's $2 million dollar overhaul.
He managed to pull off an elegant and unique look for the Melbourne venue, and he hasn't slowed down since. He took on the Adelphi Hotel as just one of his projects and has been in and out of the Middle East for work.
We were quite impressed when we heard about Fady's achievements, so much so that we have asked him to share his stories and wisdom at our next Typsy Live event in Sydney. We're already counting down the days to the event (less than a month to go!), but we got a chance to talk to him recently about his hospitality interior design experiences and how he tackles his projects.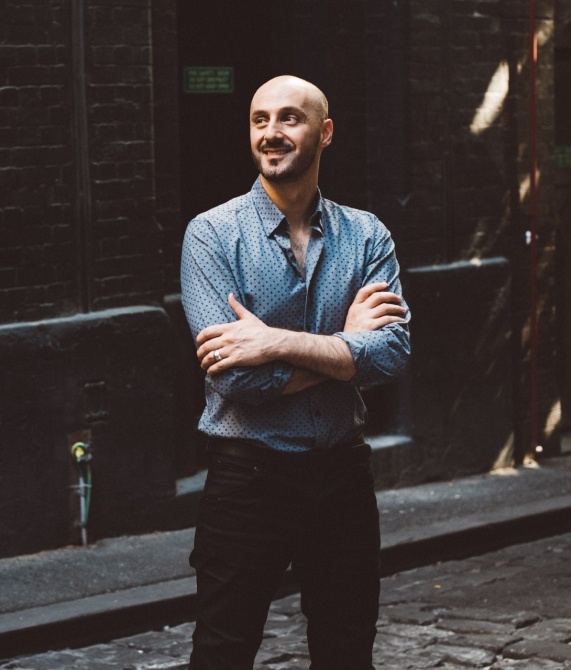 How did you get into what you are doing now?
I started in branding and was doing some projects while I was in uni, and during that time I was working as a bouncer at bar in Melbourne. The owner wanted to open another bar, and I just put my hand up to do the interior, the branding and all that. That was my first project, with Bond, I was about twenty-one.
After that I won numerous awards and things just flowed. I got more interest and I started my business while I was at uni. I then moved into architecture from branding. Now we do the whole three main disciplines [architecture, interior and branding].

Wow. I read all about the two-million-dollar project that was Bond. What was it like for you to tackle that at that age, when you hadn't really done any architecture or anything like that at the time?
That's the thing, I very much just chucked myself in. I did a lot more hours than I'd normally do now, with similar results. I slept on site, and I got my hands dirty. I was finding out how to do things, talking to the tradies, doing the details, doing the promotion, selling the concept and idea.
The funny thing was that at the time I had a few employees who were my peers at uni. They were assisting me, and I was more managing the process and really coming up with those big ideas. But I'll tell you what, it was hard work. It wasn't easy, when you're twenty-one, dealing with tradies that are forty and they thing I'm insane and I don't know what I'm doing. For the most part they were right, but I did have a vision. And I was really adamant about that vision.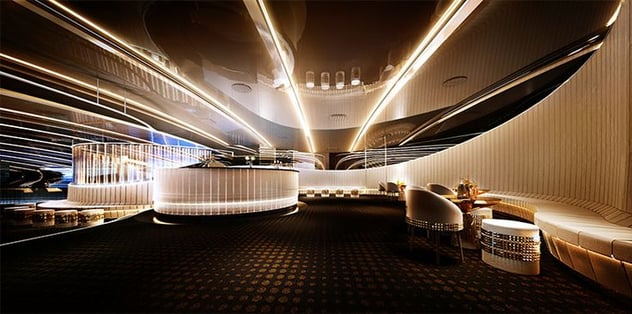 The swanky interior at Bond Bar, Melbourne
At the time I was single, so I had a lot of time on my hands. I could do those really long days and long nights. When it opened, it was quite a rush, because one: it was something I'd never done before, and two: it only came from a gut feeling, so it wasn't necessarily a technical achievement. Although it was quite technical in terms of design, it was more about producing this product that I really though the industry needed. It was really out of the box at that time. I really wanted to do something completely different, and the business just flowed from that.

So how do you normally draw inspiration for a project? Is it about that gut feeling, or do you have places you go to for inspiration?
Well, there's two things; there's gut feelings and there's also know-how. The Adelphi Hotel for instance, I knew they really needed more than just interior refurbishment; they needed a different brand and a different direction. That came through knowledge over many years.
And I'm always going for that big idea, that idea that will actually generate more revenue for my clients and makes it an inspiring space and catches your immediate attention. Because that drives the project for us. Technically anyone can do a beautiful interior or beautiful piece of architecture, but if it doesn't resonate with what the clients are doing and what their goals are, it's really just a piece of art. It's not an actual venture for them, and our job is to make money for our clients.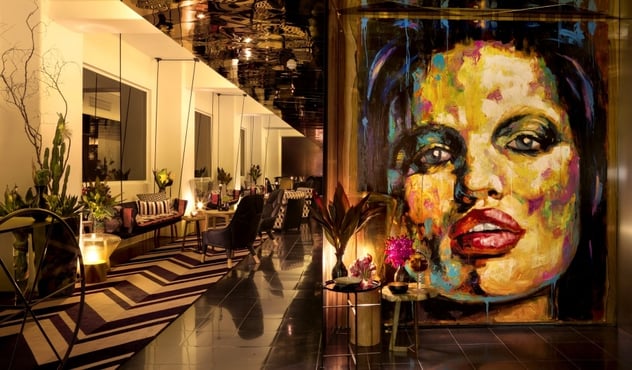 Adelphi Hotel Interior

Absolutely. So let's talk innovation – the theme of Typsy Live Sydney this year. What does innovation mean to you?
Innovation is a highly overused word if you ask me. Innovation is something that breaks new ground or creates new trends. Innovation can come not just through interiors or design, it can come through the way the business is managed and technology.
There are many forms of innovation through a project, but for me, if you look at it specifically from a design perspective, it's about inspiring: creating that experience that they can't get anywhere else. And that to me is all about experience. So innovation comes through experience that people have through their venues.

What kind of exciting innovative things have you seen recently in venue design and other people doing cool things?
I travel a lot, and I did a lot of work in the Middle East, Dubai particularly. It was a big learning curve me for because Australia is very conservative compared to Dubai. I was there on and off for six years doing some pretty far-out projects. What I learned there and what inspired me is that they push excellence. Here, we push excellence but in a very conservative way. They push in a completely different way.
The level of design is increasing yearly. Year by year, the talent out there is fantastic. It's much more profound in terms of skill than it has ever been. You keep seeing these beautiful venues and buildings and pieces of architecture that only a handful of people could have done fifty years ago.
What inspires me is looking at those projects that break the norm. Like a project somewhere in a greenfield site where they've created this beautiful sculpture architecture. That to me is exciting because how would they have gotten that opportunity to do that in a place that's so far out. Those people have really sold and really pushed hard for excellence, and that's what inspires me.

I think some people might be surprised to hear that Australia is conservative compared to some places in the Middle East.
Yeah, there's just a lot more money over there. We're only just starting to use technologies in Australia that they were using there 10 years ago. In Australia, every cent counts. Over there, it's not about that. It's about having the best in the world, no matter what the cost is.
We did a Japanese restaurant in the Middle East. When I first presented I thought it was like, really over the top. They turned around and said to me, "I want you to spend double the amount. I want you to make it so out of the ordinary, that when I come in there, I want to feel proud of that place." That's the mentality, and so a five-thousand-dollar square meter interior went to a ten-thousand-dollar square meter.
I didn't even know how to spend the money, because the labor was so cheap, so I had to gold plate everything because that's what they wanted. And that's the experience you get from there. Here it's completely different. It's: put the money where it's needed the most. And be very careful how you approach it. It's more sophisticated here. The designs are better in terms of sophistication and elegance, but the technology and the way they push projects over there is far more exciting.

It must give you so much freedom when you work on a project where the budget is pretty much limitless.
It is, you're lucky. You don't get that with every job, right? At the Adelphi we didn't have a lot of budget, it was very minimal. So we had to be very selective on where we put the money. And I really wanted to put the money on the brand. The interior was elegant and finished nicely, but it wasn't about the interior. It was really about that whole idea of a dessert hotel, to generate interest.
When my client picked it up after it had gone into receivership twice the year before, I went: "What do you want from this? What kind of experience do you want?" And they didn't even know. They just wanted to open a hotel. That's really interesting and that to me is far more exciting than having a very big budget.

Cool. So to conclude with, can you share what you'll be talking about at Typsy Live?
I'll be talking about innovation and revenue, and how innovation can increase revenue. How can you think up innovative ideas on a low budget? And how do those innovations increase profits. Because [an innovative idea] draws people in and it's quite easy to upsell, because it's a unique idea. It's a unique offering, it's a new experience and people tend to draw to those things. That helps generate higher rates for rooms etc.
The Adelphi project was done on a very low budget. I had nothing to spend. You know, we had to keep the toilets the way they were. There were areas we didn't touch in the hotel, because we couldn't afford to. But when you look at it, it looks very polished, very creative, a very inspiring project. And it didn't have anything to do with money. I'm excited to tell that story.

If you're in or near Sydney you're in luck, because you can come see Fady Hachem speak about interior innovation at our live hospitality event, Typsy Live Sydney. Tickets are on sale now. Find out more.


You Might Also Like
| | | |
| --- | --- | --- |
| Typsy Live Sydney - First Speakers Announced | | |