Whether you learn them from a manager, from co-workers, or through your own rapport with customers, there are probably a few phrases you use every single day when interacting with customers. Maybe it's in the way you greet people, the way you present the specials, or your technique when it's time to clear the table.
It can be easy to fall into a routine and not notice when customers aren't responding too well to these phrases. So how do you know that you're communicating effectively with your guests? How can you upsell in a way that is positive, rather than overbearing? And what should you say if you simply don't have the answer to a customer's question?
We've put together a few do's and don'ts when it comes to service and upselling phrases.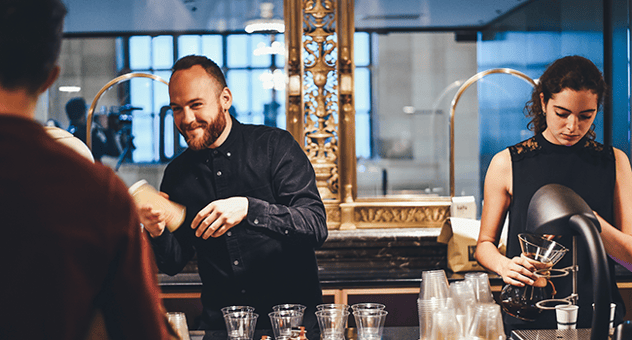 Don't: "Are you still working on that?"
This is one of the most complained about phrases in the hospitality industry, yet still one of the most-used by wait staff. It can come across as pushy; as if you are rushing the customer to finish up. It also asks for an explanation, and doesn't offer a service – which is something you don't want to promote.


Do: "Would you like me to clear your plate?"
There are two ways to take positive action if it looks like a customer might be finished with their meal. First, you can choose to wait until everyone at the table is finished to approach – there is nothing more frustrating than being rushed into finishing, or feeling guilty if a dish isn't finished. Second, you might like to quietly approach and ask if you can clear away their plate – it gives the power to the customer, and doesn't have any negative connotations.


---
Don't: "There are only two crayfish left"
Sometimes, this one can't be avoided – you may really only have a few of a popular dish left in the kitchen. But if you are using it as an upsell tactic (and you actually have a fair few crayfish left!), the customer will likely see right through it.


Do:

"Have you heard about our crayfish?"
If your manager or the owner has asked you to specifically upsell the crayfish dish, it's time to get creative. Don't pounce on your customers or try to sway them if they appear to be set on a dish – but when you're handing out menus, you could mention the crayfish as a special. If a customer seems unsure or indecisive when ordering, you could gently mention the crayfish as an option.


---
Don't: "I don't know"
Never, ever throw this phrase onto the table! If a customer asks you a specific question – whether it's about a menu item, new beverage, or reservation availability – and you don't know the answer, never make that clear. The customer wants to know that you are in control of the situation and they are going to be looked after; that it will be a smooth experience.


Do:

"Let me check on that for you"
There will be times when you genuinely don't know the answer to a question – so, keep it positive and let your customer know that you'll do everything in your power to get the answer. Make sure you do get the question answered as soon as possible, so that the customer feels comfortable and well looked after.


---


Don't: "That dish is my favorite!"
This is a tactic long used by service staff that rarely works in anyone's favor. The steak sandwich really could be your favorite dish, but the customer isn't likely to believe you – it feels far too much like a sales tactic. Plus, some customers may feel guilty for not choosing that item, or uncomfortable about you bringing a personal opinion into the mix.


Do: "That dish is very popular"
If a customer asks about the popularity or taste of a specific dish, that is when it's okay to swoop in and use some gentle upsell tactics. Try not to bring your personal opinion into it, but do use the collective: that dish has been popular, we've had great reviews about the taste of that pasta sauce.


---

The key when it comes to service phrases that your customers won't hate is to focus on the positive. Turn statements into questions, put the power and decision-making in the hands of your customer, and be as gentle and honest as possible when you are trying to upsell. Being assertive is great, but being pushy won't get you too far!
Continue reading: Body language – how to read it and how to use it

To learn more do's and don'ts for servers, check out our short online courses with restaurant manager Jason James.
You Might Also Like